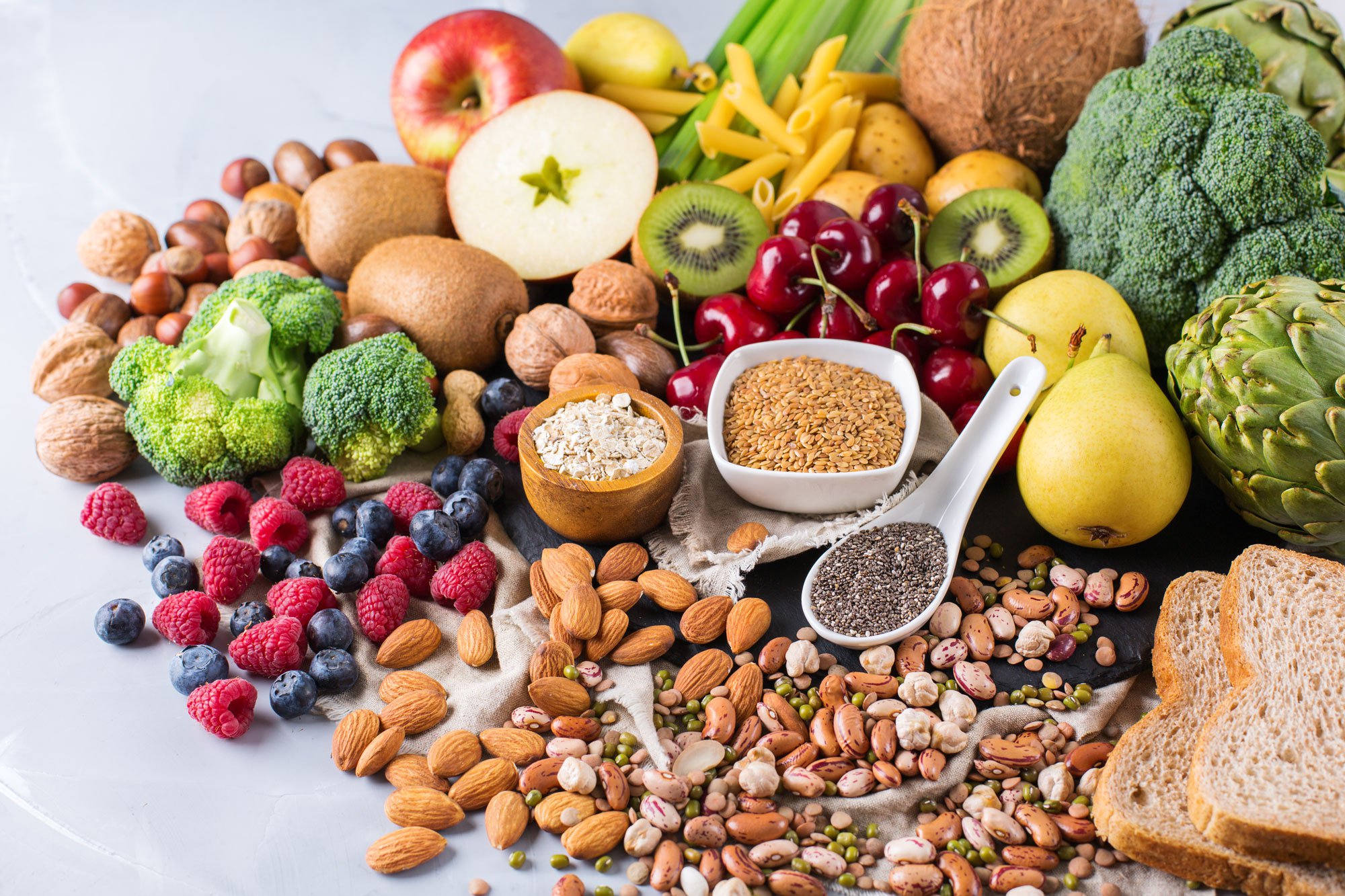 Clinical Editor: Toni Ferrara, MSN, NP-C

From your exercise routine to your daily stress levels, many factors can affect your heart. Luckily, one of the most important components of heart health is also relatively easy to control: your diet.
You probably already know that certain food groups can negatively impact your heart health. "What you eat can affect your heart health in different ways, and it's important to limit foods that heighten your risk for cardiovascular disease," says One Medical provider Toni Ferrara, MSN, NP-C.
For example, excess sodium can cause water retention, which can increase your blood pressure. Likewise, saturated fats and trans fats — often found in fried and fatty foods — can elevate your cholesterol, while a high-sugar diet is a risk factor for diabetes. High blood pressure, cholesterol, and diabetes are all associated with a higher risk of cardiovascular disease, says Ferrara, so it's important to be mindful of your sodium, sugar, and saturated and trans fat intake.
On the other hand, some foods can actually protect your cardiovascular system and reduce your risk of heart problems. In general, Ferrara says focusing on whole (unprocessed), nutritious foods benefits your heart, but research suggests some specific items may improve your heart health more than others.
Here are eight research-backed foods to work into your diet for a healthy heart and life.
1. Fish
Coldwater fish, like salmon, tuna, and herring, contain high levels of omega 3 fatty acids (a.k.a. "good fats") that can lessen your risk of heart disease by slowing the buildup of plaque, a fatty substance that can block and harden your arteries. Omega 3 fatty acids found in fish can also reduce your risk of arrhythmias, or irregular heartbeats.
To benefit from fish, try to eat it a few times each week. One well-known study published in JAMA found that people who ate fish one to two times a week had a lower risk of sudden heart attack death than those who ate fish less than once a month. You'll want to limit your intake of shellfish though, which Ferrara says often contains extra cholesterol.
2. Nuts
Like fish, nuts also contain omega 3 fatty acids that can reduce your heart attack risk. A meta-analysis of three studies on tree nuts and peanuts concluded that higher consumption of nuts (two or more times a week) can reduce the risk of cardiovascular disease by as much as 19%.
What's so special about nuts? The unsaturated fats and fiber found in nuts can help to lower your cholesterol levels, while vitamin E can prevent plaque from developing in your arteries (and, hopefully, lessen your risk of coronary artery disease and heart attack). Plus, nuts are high in protein, so you'll be less likely to reach for unhealthy alternatives when you snack on them.
3. Olive oil
Next time you make a salad dressing or oil up a pan for cooking, add some olive oil. Another healthy fat, olive oil has been shown in numerous studies to reduce the risk of heart disease.
For example, a 2020 study found people who ate more than half a tablespoon of olive oil every day had a 15% lower risk of cardiovascular disease in general, and a 21% lower risk of coronary heart disease. The study also found olive oil to be beneficial as a replacement for butter or margarine, which can increase the risk of heart disease.
It's thought that the monounsaturated fats in olive oil can help lower LDL cholesterol, or "bad cholesterol." Olive oil also has antioxidant and anti-inflammatory properties, which can benefit your overall health and even help you live longer.
4. Green veggies
Any vegetable can benefit your health, but research suggests filling your plate with green ones may be extra useful.
One study found people who ate a cup of leafy greens — think kale, spinach, or collard greens — per day had a lower risk of heart attack, peripheral artery disease, and stroke than those who didn't. Cruciferous vegetables, like broccoli, brussels sprouts, and cabbage, have also been shown to lower people's risk of heart disease.
No matter which green veggies you choose, Ferrara suggests opting for fresh and frozen over canned vegetables, which are usually higher in sodium and can increase your risk of high blood pressure.
5. Berries
Have a sweet tooth? Try replacing sugar-laden desserts with berries. Studies show eating blueberries, raspberries, raspberries, and other types of berries can reduce the risk of several types of cardiovascular disease due to their high antioxidant levels.
Another study found eating a cup of blueberries a day can decrease the chances of heart problems, especially in people already at risk. Lastly, berries are also associated with a lower risk of developing type 2 diabetes, which in turn lowers the risk of heart disease.
6. Legumes
Beans, lentils, and peas are high in fiber, protein, and micronutrients while low in fat, sugar, all of which make them a great option for a heart-healthy protein source. Legumes also contain virtually no cholesterol, and some studies show they can actually lower cholesterol levels, which can improve heart health.
A recent study found those who consume more legumes have as much as a 10% lower rate of heart disease and high blood pressure compared to people with the lowest legume intake. If you want to incorporate more legumes in your diet, consider swapping fatty meats for black beans, white beans, soybeans, or chickpeas. Just keep sodium levels in mind when buying canned varieties.
7. Whole grains
While refined flour and other grains can negatively impact health, whole grain products like brown rice, barley, buckwheat, and farro can benefit your heart and overall well-being.
For one thing, Ferrara says whole grains are filling, which can help people eat less at each meal. According to the American Heart Association, whole grains also contain plenty of dietary fiber, which can improve cholesterol levels, and lower your risk of obesity and type 2 diabetes. Want to incorporate more grains into your routine? The AHA suggests choosing whole grain products that contain at least 51% whole grains versus refined ones.
8. Dark chocolate
You can still indulge on a heart-healthy diet. Dark chocolate, which is rich in a compound called flavanols, can lower blood pressure and even prevent blood clots, which can reduce the risk of heart attack and stroke. Flavanols have also been shown in studies to lower the risk of cardiovascular disease by reducing inflammation. Not all chocolate has the same benefits, so aim for a higher percentage of cocoa, which should be higher in fiber and protein and lower in sugar than milk or white chocolate.
Have more questions about your diet and heart health? Our primary care team is here to help. At One Medical, we aim to provide seamless, quality care designed around you and your unique health needs. Book an appointment today to connect with a member of our clinical team in-person or through our 24/7 virtual care platform.
The One Medical blog is published by One Medical, a national, modern primary care practice pairing 24/7 virtual care services with inviting and convenient in-person care at over 100 locations across the U.S. One Medical is on a mission to transform health care for all through a human-centered, technology-powered approach to caring for people at every stage of life.
Any general advice posted on our blog, website, or app is for informational purposes only and is not intended to replace or substitute for any medical or other advice. 1Life Healthcare, Inc. and the One Medical entities make no representations or warranties and expressly disclaim any and all liability concerning any treatment, action by, or effect on any person following the general information offered or provided within or through the blog, website, or app. If you have specific concerns or a situation arises in which you require medical advice, you should consult with an appropriately trained and qualified medical services provider.