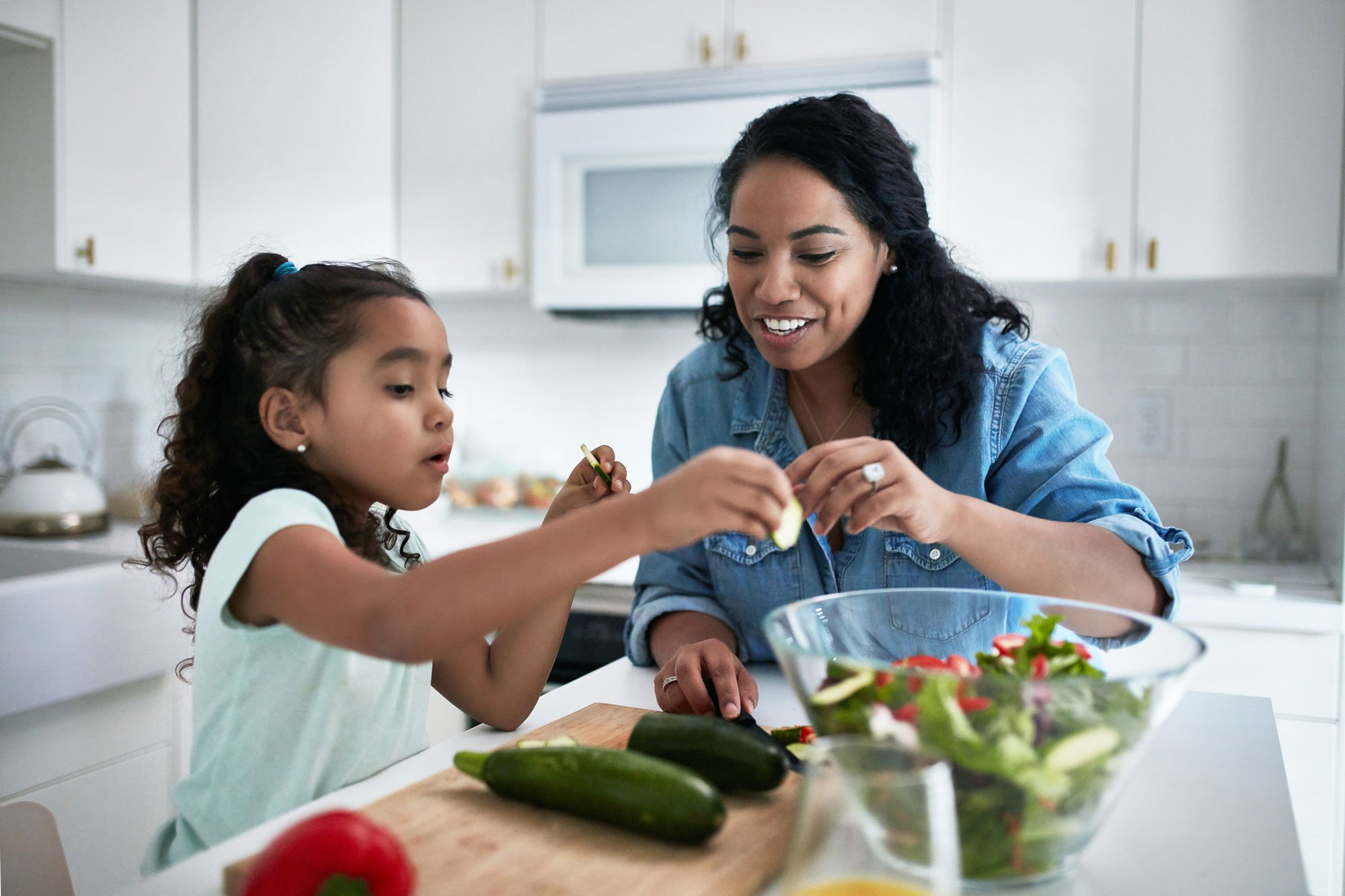 Being a parent is hard, but being a parent during a pandemic can feel impossible. Between virtual learning, working from home, and keeping your kids safe, it's easy to let healthy nutrition fall by the wayside or become secondary to convenience. Childhood obesity was already a growing epidemic before COVID-19 hit, impacting over 13.7 million U.S. children and adolescents (about one in five kids) between 2015 and 2016. Now experts are concerned that the pandemic will dramatically worsen childhood obesity, due to limitations in physical activity and an increase in sedentary behavior. As your family navigates a new normal, it's important to prioritize nutrition and exercise amid changes in work and school life. Here are some strategies to help you and your child avoid the excess weight and maintain your health in our new way of life.
Make water the drink of choice
Amid school closures this year, many kids are now attending classes virtually right from home. Without traditional classroom rules and scheduled lunch and snack breaks, kids can essentially eat and drink whatever they want, whenever they want. Instead of raising their hand to go to the water fountain, students now have their drink of choice by their side throughout the day, and more often than not, its juice. While many parents turn to juice as a serving of fruit for their kids, most juices, like soda, are sweetened with added sugars and have a strong link to childhood obesity. Sugary drinks like juices are the leading source of added sugars in the American diet and are associated with negative health conditions such as type 2 Diabetes and heart disease. To help your child maintain a healthy weight and diet, offer water regularly throughout the day. Kids and teens should drink up to six to eight cups of water a day. Fill up a reusable water bottle for your child so your child has water readily available during classes. To encourage your child to drink more water, let them pick out their own bottle with a fun design or get stickers to decorate their bottle.
Prepare healthy snacks ahead of time
When I work from home with my daughters, I often have high aspirations of preparing healthy snacks and even cooking with them throughout the day. As work picks up throughout the day though, I usually end up giving them quick, processed snacks to tide them over until I can finish my work. To prevent this, I try having a wide array of healthy snacks already prepared earlier in the week so I can pass them out quickly if needed. These include carrots and sunflower butter (for our daughter with the peanut allergy), frozen green grapes, raw broccoli and pepper slices. These snacks don't need to be overly complex though. They should be something quick and easy to prepare so you can make the healthy option the default option.
Prioritize physical education
Our child's development seems to be dependent on the screen these days. They now log into their classrooms virtually and miss out on even the most basic of physical activities, like walking to class or playing with classmates. If you are working from home, you are likely suffering from the same fate, so why not shake things up for both you and your children. To counteract this screen time, try incorporating some home family physical education for 20 minutes or more (anything counts). Try some family living room yoga, have a dance off, or play tag outside if you can. You can make a game out of almost anything and try to make it a part of your family's daily routine. It's a great way to step away from the screen, get active, and bond with your children during this unique time in our lives.
Check in with your child's primary care provider
Having your child go to their regular wellness check ups is vital to make sure they are up to date on their immunizations, meeting their developmental milestones, and identify and address any health issues before they become a bigger problem. During these wellness visits, your child's primary care provider will check their height and weight and let you know if your child is straying away from their predicted growth curve. If you find your child is starting to cross over to the overweight or obese side, don't panic. This is not a reflection of parenting, but instead an expected consequence of the pandemic that many families are facing. Your child's primary care provider is there to help you through this pandemic and create new strategies that will help your child return to a happy and healthy weight.
Is your child due for their immunizations or a wellness visit? Book an appointment today.
The One Medical blog is published by One Medical, a national, modern primary care practice pairing 24/7 virtual care services with inviting and convenient in-person care at over 100 locations across the U.S. One Medical is on a mission to transform health care for all through a human-centered, technology-powered approach to caring for people at every stage of life.
Any general advice posted on our blog, website, or app is for informational purposes only and is not intended to replace or substitute for any medical or other advice. 1Life Healthcare, Inc. and the One Medical entities make no representations or warranties and expressly disclaim any and all liability concerning any treatment, action by, or effect on any person following the general information offered or provided within or through the blog, website, or app. If you have specific concerns or a situation arises in which you require medical advice, you should consult with an appropriately trained and qualified medical services provider.