September 29, 2023
How We Hire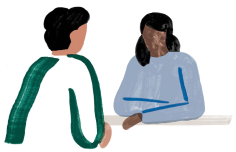 At One Medical, we're passionate about our mission to transform healthcare, and we recognize that to be successful we need to take care of our candidates just as much as we take care of our teammates (and the members we serve!).
Since day one, we've worked hard to foster a highly empathetic, collaborative culture based on transparent policies and honest feedback. In that spirit, we've outlined the principles that guide our hiring processes and help shape our teams. If you're interested in joining a driven and diverse group of people at the intersection of technology and healthcare, we encourage you to read on, and get in touch.
1. We review applications closely (and never leave anyone hanging).
Our recruiting team reads and responds to every application and won't leave you in the dark wondering about next steps. If your qualifications match the requirements of the role listed, we'll reach out to schedule an initial call and explain what to expect next. If it turns out you need additional experience or expertise, we'll let you know - and might even point you in the direction of another job you could be qualified for.
2. We put the candidate first.
We know your job search can be overwhelming, so we try to make the process as stress-free as possible. We prioritize candidate availability above internal meetings, and our recruiting team is always available to tackle any last-minute questions or hiccups. Once interviews begin, we move as quickly or as slowly as you prefer, and typically make a hiring decision within days - not weeks - of your final interview with the team. Think of your recruiter as a partner, guiding you through the process by providing context and support every step of the way.
3. We prioritize fairness and inclusivity.
We're committed to making One Medical a place where everyone feels welcome and comfortable being themselves, and that starts by fostering an inclusive interview experience. Our interviews are structured and competency-based, which means that everyone interviewing for a given role is asked the same questions, designed specifically to gauge a candidate's capabilities and skillset. On top of that, both recruiters and hiring managers complete rigorous training to help them better recognize their unconscious biases — so they can work toward eliminating them.
4. We work hard to help people bring their best selves to interviews.
Our belief is that everyone should have a supportive and transparent candidate experience, so we'll tell you which competencies our teams will be evaluating for ahead of your final set of interviews. Whether you're interviewing for an entry-level position or an executive role, expectations will be clear and questions will be fair.
5. We create space to answer your questions.
While we feel confident you'll love it here, we want you to have all the information you need to make the right choice for you. So we leave time at the end of every interview to answer your questions, and often invite candidates to 'reverse interview' at the offer stage. This means you could have the chance to interview your future teammates about their time at One Medical in a pressure-free environment, where you control the questions.
6. We do our best to pay it forward, and care about your feedback.
We recognize that interviewing takes time and effort, so if we decide not to progress after your final interview, we'll provide feedback to ensure you know why, with the goal of setting you up for success in future interviews. We also give everyone who interviews with us the opportunity to share their thoughts on the experience overall, and our Head of Recruiting reads every piece of that feedback. That's right — every piece. When it comes to interviewing, your opinions matter just as much as ours, and we're grateful for the honest candidate perspectives that allow us to stay focused on continuously improving how we hire.
Along with delivering the highest quality care possible, we pride ourselves on providing the best candidate experience in the world. Period. If you're interested in learning more, check out our open roles and get in touch here.