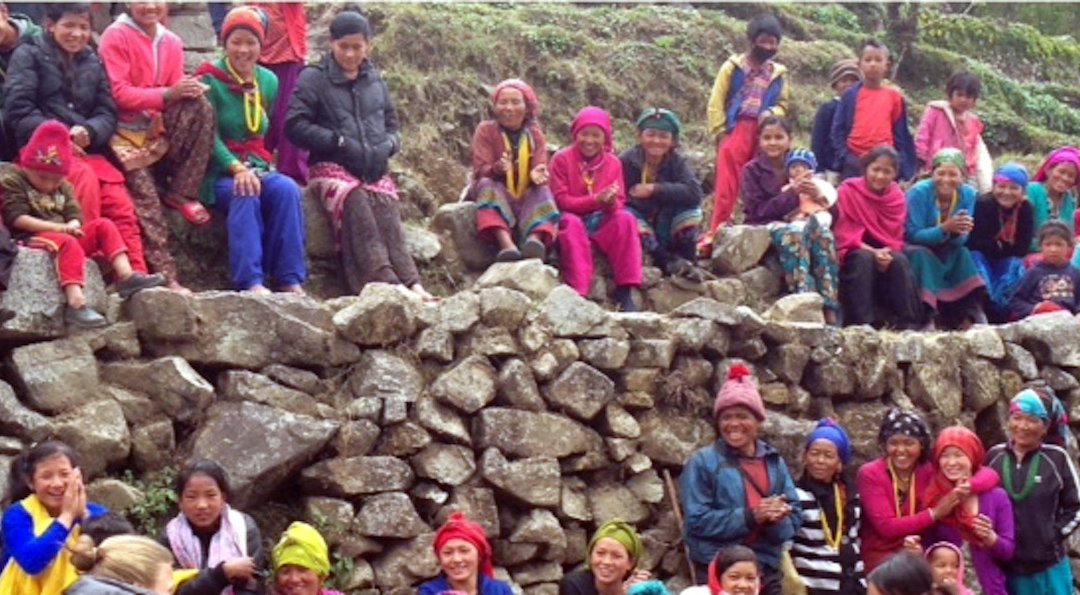 Many of One Medical's providers devote their free time to delivering quality health care outside of the office. Los Angeles-based Jackie Yaris, MD is one of them. She has completed four medical missions over the past four years — one in Guatemala, and three in Nepal. Her most recent trip took her to Nepal's western region — the epicenter of last week's massive 7.8-magnitude earthquake that has killed over 5,000 people and injured 9,000 more. Yaris shares her story and provides information about how you can support survivors in the area.  
Two weeks ago, my 14-year-old daughter and I returned from a medical mission in Nepal. We trekked into villages above the clouds — so remote that it took us an eight-hour drive on treacherous roads and two days of walking to get there. These villages have no reliable electricity or clean water source, and medical care is intermittent at best.
I'm always struck by the people who live there–they are gentle, kind, beautiful, and unbelievably resilient. They carve fields into the steep mountainsides and lug stones up narrow paths to build their homes. This spring, the scenes were astounding: Fields were just beginning to sprout green with corn and wheat, and baby animals dotted the landscape.
Along with a team of other doctors, I counseled the villagers about arthritis and hypertension, did joint injections, and as much rudimentary medical work as we could. The local kids were thrilled to make the friendship bracelets my daughter had brought, and squealed when she took Polaroid pictures of them.
Nine days after we returned to the United States, these villages were flattened. They are in the eastern region of Nepal and happened to be directly at the epicenter of the worst quake to hit the region in eight decades.
I am haunted by the echoes of "namaste" that the children would scream to us from high up in the hills as we hiked in. I still see lingering images of the little girl who was bold enough to touch my hand (I think she had never seen white skin before) and giggled when I gave her a bag of pretzels, and the brightly clad, proud women who draped us in flower necklaces as we walked into town.
I have no way of knowing their fates, but the news isn't good. Prior to the earthquake, these villagers were almost impossible to reach and now, the tiny thread of a road leading to their village is wiped out. I do know that these people who I was with just 14 days ago desperately need our help.
There are many organizations helping the Nepalese people that are worthy of support. Himalayan HealthCare is an NGO that operates with the highest standards and is devoted to delivering medical care and education to the people of Nepal who need it the most: the people who were at the epicenter of this tragedy.
To donate to HHC, please visit Himalayan HealthCare's Earthquake Relief Fund on Global Giving. Your donation will help on-the-ground staff respond to the immediate needs of remote villages, providing food, water, shelter, and emergency care to those most affected by the disaster.
The One Medical blog is published by One Medical, a national, modern primary care practice pairing 24/7 virtual care services with inviting and convenient in-person care at over 100 locations across the U.S. One Medical is on a mission to transform health care for all through a human-centered, technology-powered approach to caring for people at every stage of life.
Any general advice posted on our blog, website, or app is for informational purposes only and is not intended to replace or substitute for any medical or other advice. 1Life Healthcare, Inc. and the One Medical entities make no representations or warranties and expressly disclaim any and all liability concerning any treatment, action by, or effect on any person following the general information offered or provided within or through the blog, website, or app. If you have specific concerns or a situation arises in which you require medical advice, you should consult with an appropriately trained and qualified medical services provider.