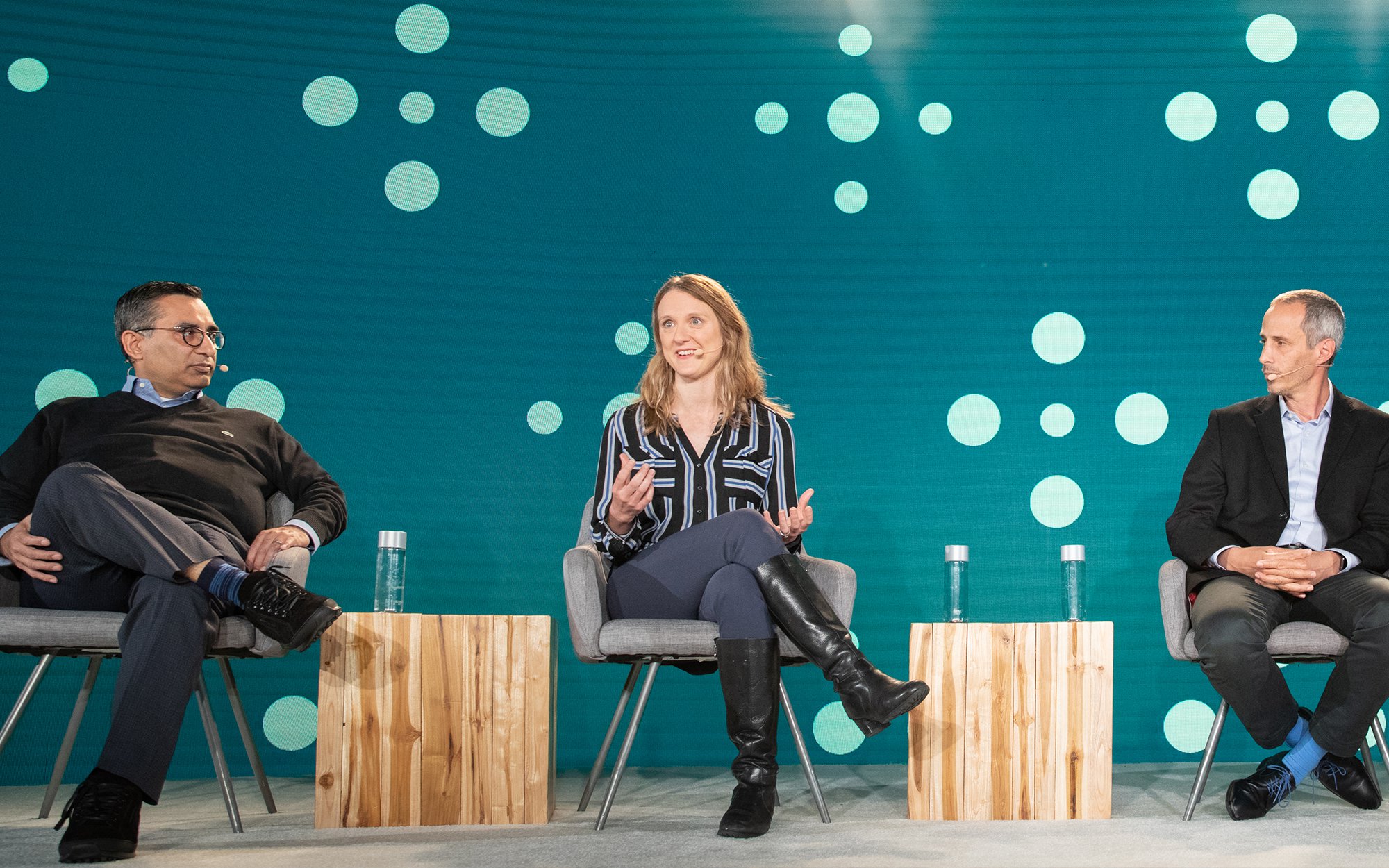 When you think of traditional workplace "benefits," what comes to mind? It could be the standard medical-dental-vision trio many companies now consider table stakes for their employees, or perhaps financial benefits like 401k matching is the standard in your industry. Tech employees might favor companies with bean bag chairs, free snacks, and ping pong tables to round out their office experience.
The reality is, as today's workforce waits longer to have children, navigates mental health needs, and leads more flexible work-lives, employees need greater support from their employers to plan for families, stay balanced, and get the care they need when the need it.
Understanding how your company should be taking care of its employees is tough. That's why we hosted our first-ever Work Well Summit on May 23rd 2019, where One Medical employer partners, benefits leaders, and forward-thinking technologists came together to discuss exactly how companies can help their employees work better and stay well. With national organizations like PricewaterhouseCoopers and tech-industry favorites like Allbirds in attendance, we brought together the brightest minds in benefits to discuss the state of employee wellness today — and how we can all help it grow.
Why employee well-being should be your highest priority
In today's competitive labor market, companies have to work extra hard to make sure their employees are happy and engaged. But it's not just about retaining talent, as Chip Conley, founder of hotel brand Joie de Vivre and best-selling author, explained during the Summit. Conley, who is credited with developing a widely-used philosophy on human-driven companies, believes that "what goes around, comes around" in company culture — if you take care of your employees, they will reinvest in your company. It's a cycle that goes on and on, leading to a more engaged team and better results down the line. As Conley puts it, "Great companies are good about what gives meaning to employees."
But how do we determine what actually matters most to employees?
At the Summit, we asked this very question of three leaders in the employee benefits space — Marlene Muglia of PWC, Mark Levy of Allbirds, and Cara Brennan Allamano of Udemy — during a panel hosted by One Medical's own Chief People Officer Christine Moorhead. The consensus? Ask.
"At both Airbnb and Allbirds, we have tried to make sure we're working with employees, understanding their needs, and addressing our offerings," said Mark Levy, Head of Employee Experience at Allbirds (and formerly at Airbnb), during the panel. "We try to provide information and education, but also conversation. At Airbnb, we would have a fireside chat or 'let's talk' discussions on certain topics, rather than sweeping them under the rug."
Both Muglia of PWC and Brennan Allamano of Udemy have their own strategies for understanding and meeting employee needs. "It's not a wellness program anymore, but a partnership," said Brennan Allamano. "Part of that is because, in the technology industry, we have reduced tenure, which is now 17 months at a company. Employees are coming to us and saying, 'Here is what I do to stay healthy and have a high impact at my work — what pieces are you doing?' and I'm seeing normalized expectations. I have to stay ahead of that curve in order to deliver."
Delivering on our values
For many of this group's employees, mental health, new-parent resources, and financial wellness are high-priority benefits. And we know that health benefits are critical to the modern employee — 56 percent of U.S. adults with employer-sponsored health benefits said that whether or not they like their health coverage is a key factor in deciding to stay at their current job.
At One Medical, we've designed our health care offering to be human-centered, providing care for real life's challenges, both minor and major. With near-site offices, on-site care at large corporate campuses, and 24/7 virtual care capabilities, we've partnered with thousands of employers to provide exceptional care benefits to their employees — keeping employees healthy, productive, and engaged in work. Plus, with our investment in mental health resources and pediatrics expansion, we're addressing key priority areas for workers at all stages of life.
As One Medical CEO and President Amir Dan Rubin said during his welcome address, "One Medical helps leaders accomplish their own working well goals — between attracting and retaining employees, engaging employees to live healthier and more productive lives, and lowering costs for employers and the overall system."
So as you develop and evolve your own company's employee benefits, consider what matters most to your employees. Have conversations, collect feedback, and be open to change. Taking care of employees sets companies apart in today's competitive landscape and keeps workers around longer. Ultimately, the way you structure your benefits reflects your values as a company — so don't forget to show employees how much you care.
To learn more about One Medical for your employees, visit our business page.
Work Well Summit 2019 Recap
The One Medical blog is published by One Medical, a national, modern primary care practice pairing 24/7 virtual care services with inviting and convenient in-person care at over 100 locations across the U.S. One Medical is on a mission to transform health care for all through a human-centered, technology-powered approach to caring for people at every stage of life.
Any general advice posted on our blog, website, or app is for informational purposes only and is not intended to replace or substitute for any medical or other advice. 1Life Healthcare, Inc. and the One Medical entities make no representations or warranties and expressly disclaim any and all liability concerning any treatment, action by, or effect on any person following the general information offered or provided within or through the blog, website, or app. If you have specific concerns or a situation arises in which you require medical advice, you should consult with an appropriately trained and qualified medical services provider.