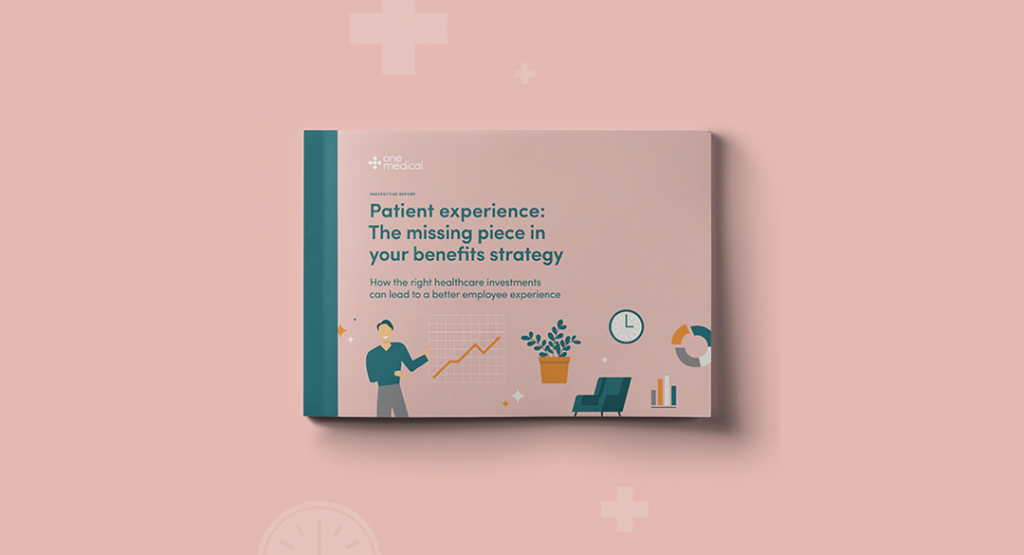 It may not be surprising that most people don't love going to the doctor, however this comes with a critical consequence for employers: employees who aren't engaged in their health or avoid seeking medical care altogether because of negative perceptions or past experiences are more likely to be unprepared when they do need care.
In our new report, we highlight findings from a recent survey: 48% of employees ended up at urgent care and 46% at the ER for non-critical reasons. And nearly 1 in 5 people didn't have a healthcare provider they see regularly.
Now more than ever, employers should focus on the total experience of their health ecosystem. We believe there's a key to boosting employer-sponsored healthcare engagement that's often overlooked: an extraordinary patient experience.
The business cost of poor care experiences
A poor healthcare experience isn't a trivial matter. When employees are faced with prohibitively high costs, low-quality care, and accessibility obstacles, they often stop proactively tending to their health. That's when employers risk facing downstream effects:
Decreased health engagement: When the patient experience is a challenge every step of the way, employees are unlikely to seek and may even avoid care — including preventive care.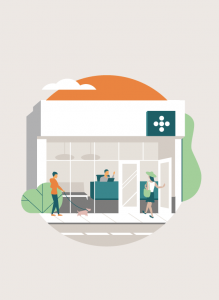 Lost productivity: Lack of access to primary care can mean more time spent waiting for an appointment or in waiting rooms rather than healthy and in the office. Worse, if they avoid seeking medical care because of past experiences, this could force employees to compromise their health and potentially the well-being of those around them leading to high-cost claims and absenteeism.
Higher costs: When employees aren't engaging proactively with their healthcare options, they're more likely to be unprepared when they do need care. The result? More high-cost claims by heading to urgent care or the ER for basic needs instead of to in-network primary care providers.
The goal for employers should be to engage employees when they're healthy and in the position to take advantage of and understand the health services available to them.
The solution: An extraordinary patient experience
Experience isn't just about the office visit or a doctor's bedside manner — it's inherently embedded in every step of the healthcare journey from the moment before booking the appointment, to the experience of receiving one-on-one care, and to the personalized and thoughtful follow-up.
Upleveling the healthcare experience at all of these touchpoints has far-reaching benefits. Aside from improved productivity, engagement, and company culture for the employee, dependents reap rewards, too. A healthcare program that addresses family care in an integrated way and gives patients easy access to personalized primary care and lower costs means the whole family is more likely to be successful in reaching their health goals.
Extraordinary, patient-centered care is possible, but it requires going above and beyond the industry standard.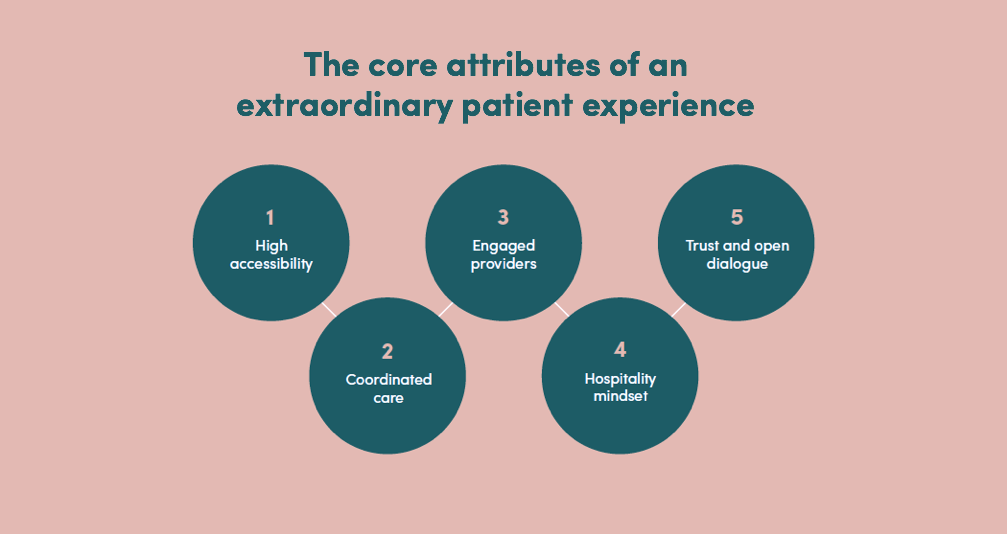 The core attributes of person-first, patient-centered care
Patient-centered care has nothing to do with logistics and protocol and everything to do with designing a healthcare system that meaningfully engages patients and providers. In short, it's all about human connection. Truly innovative and high-quality health care stays true to five core attributes:
High accessibility. Providing employees care when they need it in the form of same- or next-day appointments is crucial. Offering a variety of channels to receive that care is equally critical — office visits are just one piece of the puzzle. Thoughtfully designed virtual appointments, emails, and phone consultations can all contribute to a truly accessible model and drive better health.
Engaged providers. It's important that providers are salaried and not compensated on the volume of procedures billed. This leads not only to appointments that are too short and unnecessary visits but also to an overall negative patient experience (not to mention provider burnout). Lightening a provider's patient load and eliminating wasteful referral behaviors or duplicative testing allows them to focus on getting to know each patient better and provide more personalized, higher value care.
Hospitality mindset. A thoughtfully curated, stress-free experience allows patients to feel more comfortable and open. From a cheerful greeting at check in to cozy flannel gowns in welcoming, modern exam rooms — the details matter. Patients should feel like they're checking in to a five-star hotel, not trying to get their license renewed at the DMV.
Want to see the other two core attributes and learn more about patient-centered solutions for primary care? Download our full report on why patient experience might be the missing piece in your benefits strategy.

The One Medical blog is published by One Medical, a national, modern primary care practice pairing 24/7 virtual care services with inviting and convenient in-person care at over 100 locations across the U.S. One Medical is on a mission to transform health care for all through a human-centered, technology-powered approach to caring for people at every stage of life.
Any general advice posted on our blog, website, or app is for informational purposes only and is not intended to replace or substitute for any medical or other advice. 1Life Healthcare, Inc. and the One Medical entities make no representations or warranties and expressly disclaim any and all liability concerning any treatment, action by, or effect on any person following the general information offered or provided within or through the blog, website, or app. If you have specific concerns or a situation arises in which you require medical advice, you should consult with an appropriately trained and qualified medical services provider.