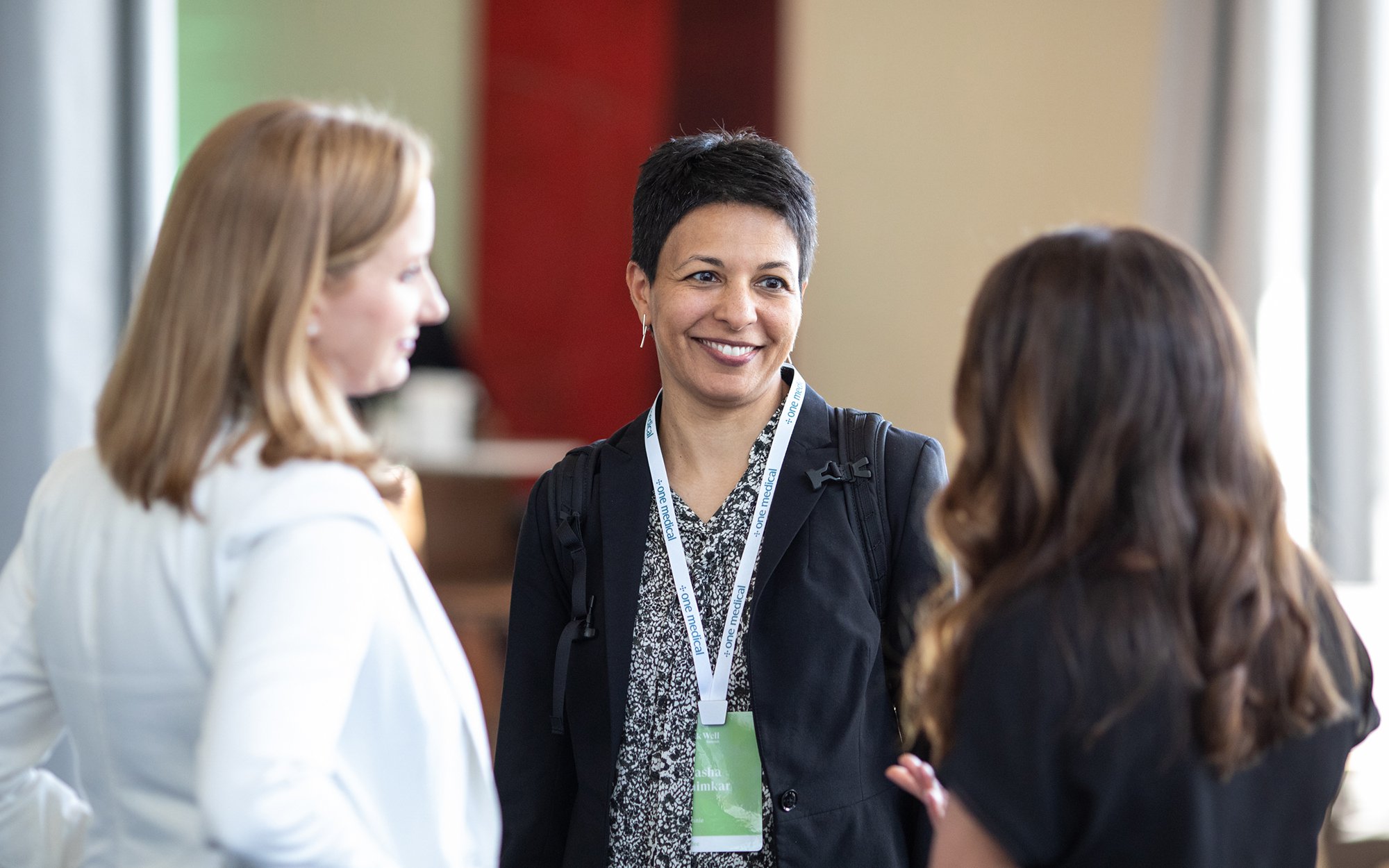 It's a busy day at the office, you've just cleared your inbox to zero, and all of a sudden, you feel a headache coming on. For some of us, this is a minor inconvenience — we gulp down a bit more coffee and run to another meeting. But when that headache turns into a full-blown sinus infection, that's where an inconvenience turns into a real health issue.
On the job, we're busier than ever — with almost a third of American employees working 45 or more hours each week (and 10 million reaching 60 hours or more) — leaving less time for workers to take care of ourselves. But maintaining our health helps us perform better and lead healthier lives, which means health should be a priority for everyone.
Here are three things you can do to stay healthy at the office — and life outside the 9-to-5.
1. Learn about your benefits — and actually use them.
No matter your company's benefit plans, it's important for you to understand the options available to you for medical, vision, and dental care, as well as any additional perks your organization might provide. When Open Enrollment (aka the time of year - usually September - you can elect your benefits) season rolls around, sit down with your HR or benefits leaders and make sure you're communicating what you expect.
Some employees might prefer mental health counseling, while others could ask for new-parent resources. At One Medical's recent Work Well Summit, Allbirds' Mark Levy, Head of Employee Experience, said, "When we did Open Enrollment last year, we had separate sessions on mental health and also on maternity / family leave. Rather then something you deal with when you need it, our approach was to talk about it with our employees and make sure that, if they want to use a benefit, they know how to access it."
Whatever benefits would make your life and health better, let your HR team know — because to keep their employees engaged, happy, and healthy, they need to understand what benefits matter most.
2. Tap into technology.
Certain apps and services can actually be beneficial in taking care of our health, particularly at the office. Let's say you're fighting a cold and need to visit your doctor, but you're working from a client's office in another city for the next few days. Searching for a new doctor that takes your insurance across state lines can feel nearly impossible, let alone finding the time to slip away from your duties.
For this reason, many companies today are investing in telemedicine benefits, helping employees get better quicker from remote locations (One Medical offers this capability through our technology!). For simpler questions like when to refill a prescription or whether you should come in to be seen, try messaging your doctor. With One Medical, members can reach a provider around the clock, even if their dedicated primary care provider is busy — ensuring their questions get answered, and they can focus on getting back to real life.
Also, don't forget to use technology you already have to your advantage. Try setting calendar reminders to get up, stretch your legs, and do a lap around the office once every hour — and use a keyboard tray or standing desk to improve posture and avoid wrist fatigue. Ask your doctor about technology hacks they'd recommend.
3. Establish healthy work-life boundaries.
As our society becomes even more aware of and open about mental health issues, it's critical for employees to set up better boundaries between work and life — and make an effort to stick to them. While it can be hard to find the time to take advantage of your workplace benefits, that's what they're there for: to benefit you and keep you from burning out. Whether that's simply using all of your PTO or tapping into your best quality medical care, claiming time and resources for yourself and your health will help you be a better employee for your company.
At the end of the day, every employee must figure out how to balance their career demands with their health — and if you work for a great company, those two facets should be able to coexist. Talk to your HR leaders about your benefits package, and tap into technology to help take care of your health at the office and on the road. Your career — and your well-being — will thank you.
To learn more about One Medical for your employees, visit our business page.
Work Well Summit 2019 Recap
The One Medical blog is published by One Medical, a national, modern primary care practice pairing 24/7 virtual care services with inviting and convenient in-person care at over 100 locations across the U.S. One Medical is on a mission to transform health care for all through a human-centered, technology-powered approach to caring for people at every stage of life.
Any general advice posted on our blog, website, or app is for informational purposes only and is not intended to replace or substitute for any medical or other advice. 1Life Healthcare, Inc. and the One Medical entities make no representations or warranties and expressly disclaim any and all liability concerning any treatment, action by, or effect on any person following the general information offered or provided within or through the blog, website, or app. If you have specific concerns or a situation arises in which you require medical advice, you should consult with an appropriately trained and qualified medical services provider.