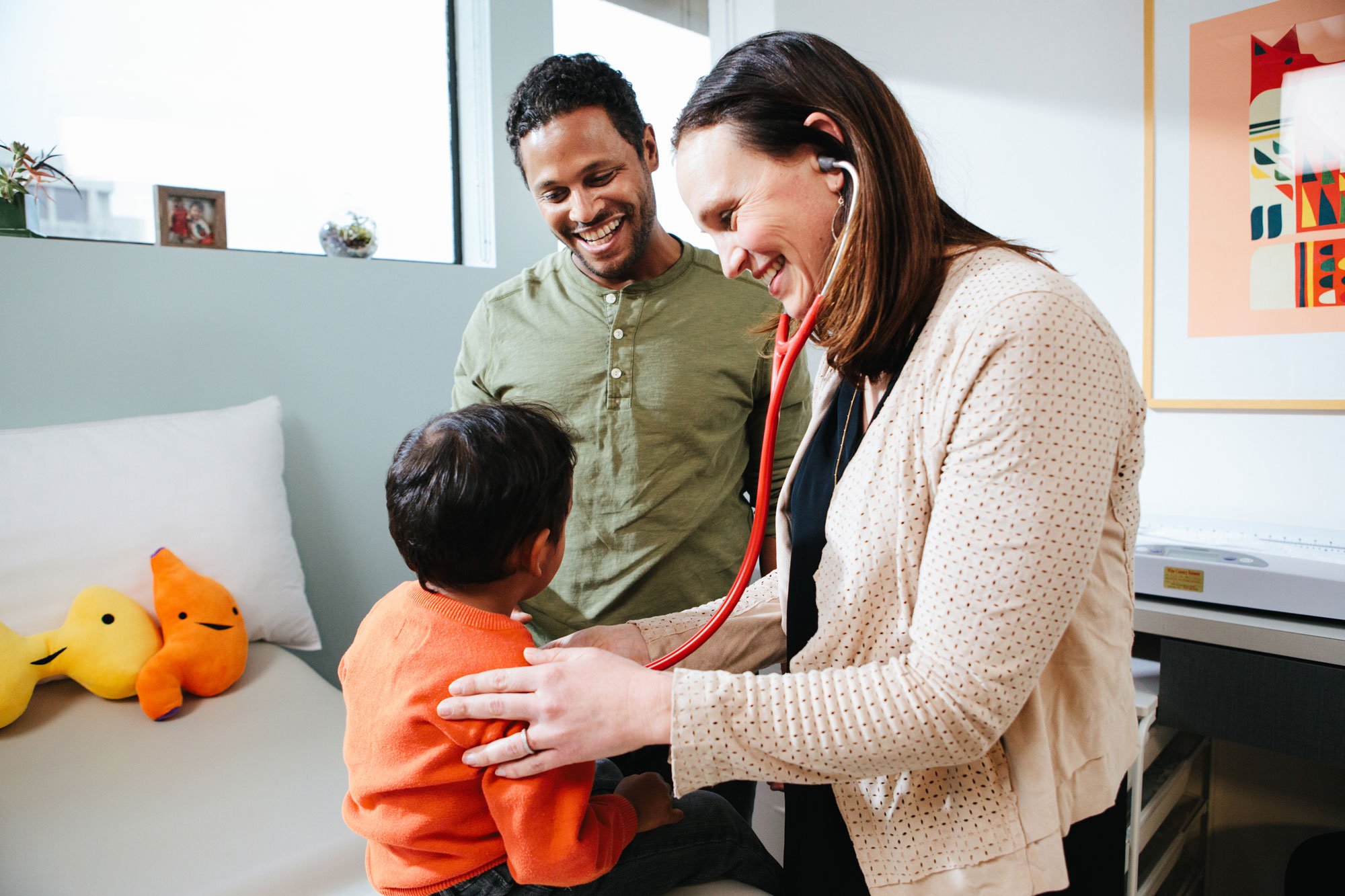 With all the craziness that comes with having a young child, it's tempting to want to put off any appointments unless your child is feeling sick. However, regular visits to your child's pediatric provider are just as important when your child is healthy. The first few years of a child's life can set the stage for their lifelong health and development, so it's important to stay up to date on routine well-child visits to help them grow into happy, healthy adults. Here's what you need to know about well-child visits.
What is a well-child visit and why is it important?
Well-child visits are an important way to keep track of your child's emotional, social, and physical health and development. These appointments provide an opportunity for both you and your healthcare provider to check in on your child's growth and development, as well as discuss ways to keep your child healthy and safe. Well-child visits also play a significant role in prevention as well. Through regular checkups and screenings , your child's provider can catch potentially serious issues early on before they cause any complications or severe illness.
At your child's visit, we'll address questions you and your child may have, provide support for your child's overall health and well-being, talk through any pertinent health information and offer healthcare advice. Topics that are covered may include growth, development, behavior and mental health, nutrition, sleep, safety, and guidance on what to expect in the next stage of development. Your healthcare provider will conduct a physical exam, take measurements, update immunizations, and order any applicable lab tests or specialist referrals. This is also a great time to raise any concerns you may have about your child's health and emotional well-being you may have noticed on your own. Our goal is to form a partnership based on honest communication, trust, and respect for your family's culture and traditions.
Who should attend the visit with your child?
It is important that a parent or legal guardian comes to the visit with your child to discuss their health history and any concerns and recommendations your provider may have. As your child reaches adolescence, they will have time alone with their provider to discuss sensitive topics.
What are the types of questions I can ask during a well-child visit?
Our providers are trained to address a wide range of concerns, such as:
How can I get my child to eat more fruits and vegetables?
What development milestones should I be looking for?
How much screen time should I let my child have?
How can I keep my child safe online?
How many hours of sleep should my child get?
How much exercise should my child be getting daily?
How can I support my child's mental health?
We encourage you to ask us anything related to your child's health and we will do our best to help you get the answers you are looking for.
What is the well-child visit schedule?
Depending on your child's age, you may have well-child visits every few weeks, months, or yearly. We recommend bringing your child if for a visit according to the following checkup schedule:
Newborn (3-5 days old)
2 weeks old
1 month old
2 months old
4 months old
6 months old
9 months old
12 months old
15 months old
18 months old
2 years old
2.5 years old
3 years old: Starting at age 3 years, children should have an annual well-child check through young adulthood.
How should I prepare for a well-child visit?
There are things you can do to get the most from your child's visit. Make a list of questions for your provider ahead of time.For the first newborn visit, bring your baby's hospital discharge summary. If your child is a new patient, bring their vaccine records. You can request that your child's medical records be sent to us prior to the first visit. You can prepare toddlers and young children for the visit by letting them know what will happen during their well check, reading storybooks about going to the doctor, and playing with a doctor's kit. Older children and teens can help prepare a list of questions they may want to ask about their bodies or health.
Your well-child visit isn't the only time you can talk with your child's healthcare team. If questions arise after your visit, please message your provider directly, reach out to our virtual medical team, or schedule a follow-up appointment with your provider. Keeping your healthcare team up to date on any updates or changes prepares everyone for your next well-child visit.
The One Medical blog is published by One Medical, a national, modern primary care practice pairing 24/7 virtual care services with inviting and convenient in-person care at over 100 locations across the U.S. One Medical is on a mission to transform health care for all through a human-centered, technology-powered approach to caring for people at every stage of life.
Any general advice posted on our blog, website, or app is for informational purposes only and is not intended to replace or substitute for any medical or other advice. 1Life Healthcare, Inc. and the One Medical entities make no representations or warranties and expressly disclaim any and all liability concerning any treatment, action by, or effect on any person following the general information offered or provided within or through the blog, website, or app. If you have specific concerns or a situation arises in which you require medical advice, you should consult with an appropriately trained and qualified medical services provider.