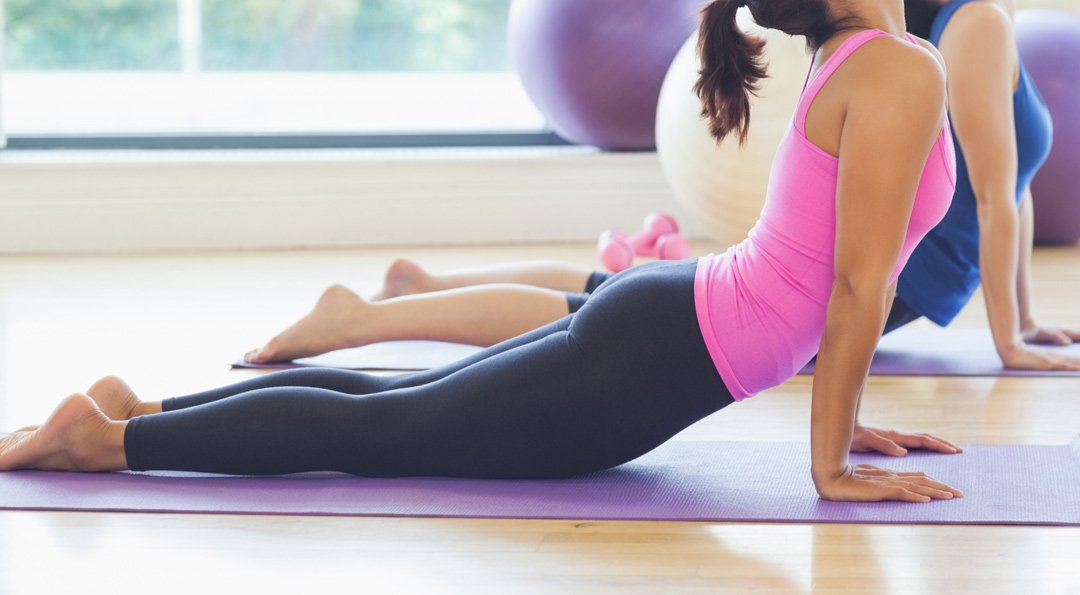 It can be an uncomfortable topic, but urinary incontinence is a problem that affects a surprising number of people. According to the National Association for Continence, approximately 25 million Americans suffer from some form of it, and up to 80 percent of those people are women. While there are many traditional treatments for the condition, researchers at the University of California, San Francisco (UCSF), are hopeful that the promising results of their recent pilot study involving yoga may lead to more therapeutic strategies in the future.
What is urinary incontinence?
Also referred to as loss of bladder control, urinary leakage, or simply UI, urinary incontinence occurs when urine leaks out before a person can get to a bathroom. It can involve a sudden urge to urinate that feels uncontrollable, or the flow of a few drops or more caused by anything from a laugh or cough to sexual activity.
There are several types of UI:
Stress incontinence: The most common type of UI, stress incontinence involves leakage from coughing, sneezing, exercising, or laughing.
Urge incontinence: Also known as overactive bladder, urge incontinence refers to leakage that happens after a strong, sudden urge to urinate. It can happen during sleep and after drinking water.
Functional incontinence: Functional incontinence may originate from problems thinking, moving, or speaking. For example, it may occur in someone with Alzheimer's disease or in someone who uses a wheelchair.
Overflow incontinence: Less common in women than men, overflow incontinence involves urine leakage that occurs when the bladder doesn't empty completely.
Mixed incontinence: Mixed incontinence refers to having two or more types of UI (usually stress and urge incontinence)
Transient incontinence: Transient incontinence only occurs for a short time due to illness, and then stops, which can occur in a bladder infection or pregnancy.
Usually, when urine exits the bladder through the urethra, muscles in the wall of the bladder contract to force urine out while sphincter muscles around the urethra relax to let urine pass. UI typically occurs due to problems with these muscles and nerves. The condition is twice as common in women as it is in men, and pregnancy, childbirth, and menopause can all be causes.
The Study
The UCSF study, published in Female Pelvic Medicine & Reconstructive Surgery, suggests that yoga could significantly improve symptoms for women with certain types of UI, including stress, urgency, and mixed incontinence. Lead researcher Alison Huang, MD, assistant professor at the UCSF School of Medicine, and her colleagues recruited 19 women aged 40 and over who were experiencing stress, urgency, or mixed-type incontinence. Participants were randomly assigned to either a six-week therapy program consisting of twice weekly group yoga classes and weekly home practice, or a control group. All participants, regardless of their assignment, also received written pamphlets about standard behavioral self-management strategies for incontinence.
Although the sample was small, the results were clear: Women who completed the yoga program experienced a 66 percent reduction in frequency of incontinence, compared to a 13 percent reduction in the control group. The improvement was most notable in participants with stress incontinence, but the yoga program seemed to benefit all types of UI.
"I think if we had had a larger sample, we would have seen significant improvements in all groups; there was certainly a real trend in urge UI, though it didn't reach statistical significance," Huang says. "I think it's too soon to draw conclusions about whether yoga is or is not effective for specific types of incontinence."
Why yoga?
While more severe cases may require medications, devices, or even surgery, medical experts have seen improvements in most UI patients with behavioral modifications like Kegel exercises, bladder retraining (going to the bathroom before the urge strikes), smoking cessation, and dietary changes. Previous UI research also indicated that exercise and weight loss led to improved symptoms in overweight and obese participants, leading Huang and her team to believe yoga therapy could be a reasonable extension of that protocol.
"If you think about clinical treatment strategies, like behavioral programs, and muscle exercises, those are helpful for urge and stress UI, so by extension, we had reason to think that the yoga therapy program would also be helpful for both types," Huang says. "Yoga is already being taught in the community to help women with pelvic problem including incontinence, but it just hasn't been studied rigorously. This was an attempt to take a technique that is already being used, apply rigorous study, and get input from yoga specialists and clinicians to come up with a program that's helpful and generalizable."
Could yoga be helpful for me?
Because the initial pilot study, known as LILY, involved a small sample, Huang and her team are doing further research. The team will be offering two free series of classes as part of a follow-up study called LILA. One class involves a 12-week yoga series, and the other is based on physical conditioning, muscle strengthening, and stretching.
"It's about empowering women to pursue behavioral treatment programs themselves that go hand in hand with clinical care and don't involve intense, continual visits," Huang says. "I really think of yoga or other kinds of physical activity-based programs as enhancing traditional clinical care, not replacing it. In LILA, and in the way we're thinking of using yoga in the future, we are still recommending women pursue the usual first-line behavioral treatments. But the combination of our behavioral programs with traditional treatments may have the most beneficial effects."
There will be additional research studies taking place in the fall. If you're interested in participating, visit whcrcstudy.ucsf.edu.
The One Medical blog is published by One Medical, a national, modern primary care practice pairing 24/7 virtual care services with inviting and convenient in-person care at over 100 locations across the U.S. One Medical is on a mission to transform health care for all through a human-centered, technology-powered approach to caring for people at every stage of life.
Any general advice posted on our blog, website, or app is for informational purposes only and is not intended to replace or substitute for any medical or other advice. 1Life Healthcare, Inc. and the One Medical entities make no representations or warranties and expressly disclaim any and all liability concerning any treatment, action by, or effect on any person following the general information offered or provided within or through the blog, website, or app. If you have specific concerns or a situation arises in which you require medical advice, you should consult with an appropriately trained and qualified medical services provider.