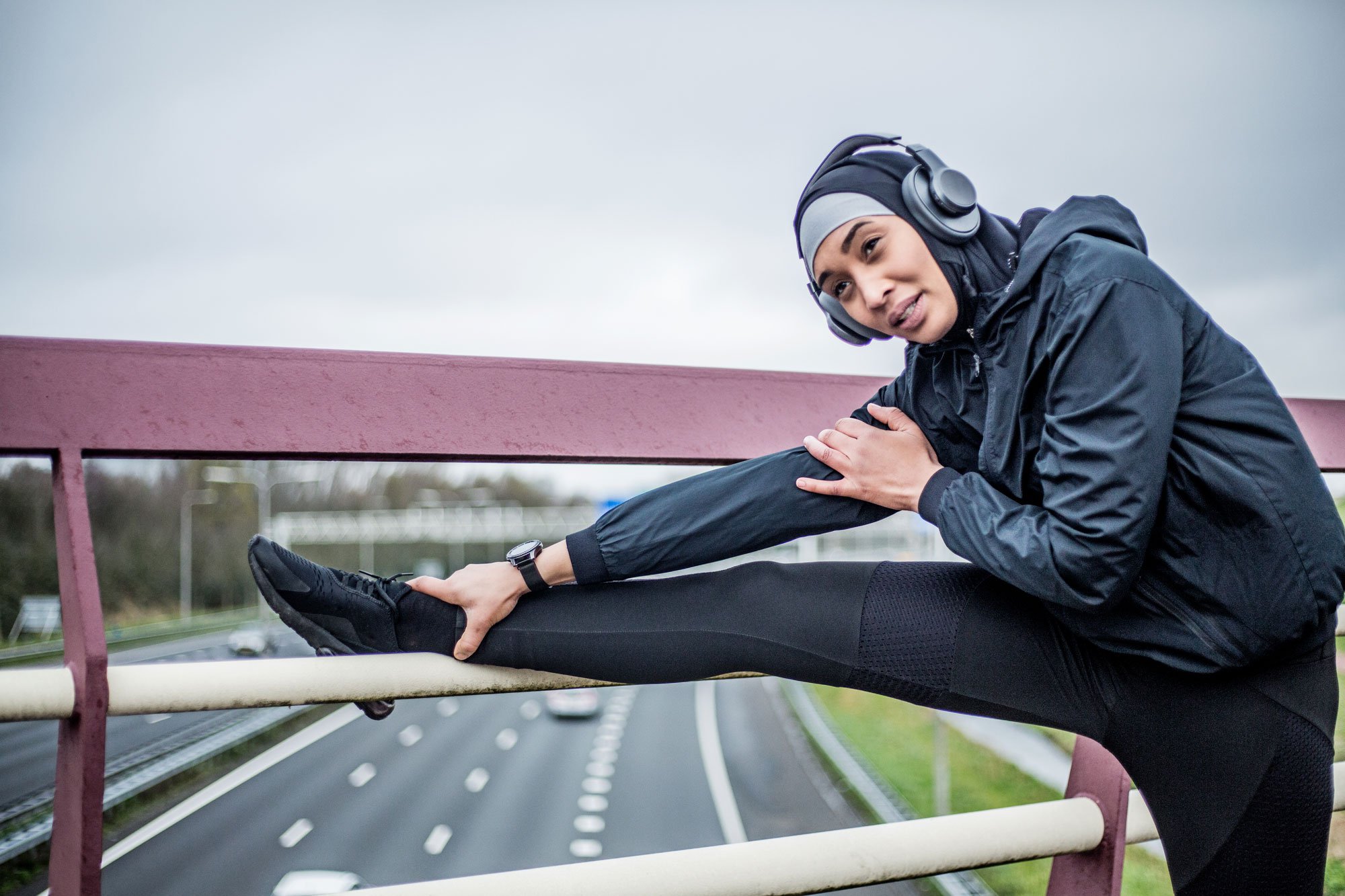 Clinical Editor: Megan Dodson, PA-C

As the temperature drops and daylight hours shrink, it's easy to fall out of our regular exercise routines. After all, who wouldn't rather cozy up with a movie by the fire instead of working out? While trading in your running gear for a fuzzy robe and slippers may seem tempting, however, getting into hibernation mode doesn't do any favors for our physical and mental health.
Why it's important to stay active
It's no surprise that exercise is good for the body. Exercise has been shown to reduce your risk of developing health conditions such as heart disease, type 2 diabetes, stroke, and certain cancers, while strengthening your bones and muscles. Regular exercise can also boost your mood, improve your concentration, and help you sleep better.
Working out can also be one of the few times you get to yourself during the holidays. Between work, school, holiday parties and family gatherings, you may feel like you are on-the-go more than usual this time of year. Exercise can be meditative, providing a temporary escape from life's daily stressors. Not to mention, it helps burn off extra holiday calories.
Tips for exercising outdoors in cold weather
Just because it's colder out this time of year doesn't mean your workout routine needs to fall by the wayside. Try following these tips to stay warm, safe, and motivated this winter season:
Layer smartly
"The goal is not to dress to stay warm — it's to not to get too cold," says One Medical provider, Sashil Kapur, MD. "Too many layers can make you too warm, which can cause you to sweat too much and get cold. You want to start off feeling a little chilly — not shivering but not too warm — because you want to create that heat yourself through movement." You don't need to have expensive techwear, either. "Wear a breathable base layer and a thermal layer," says Kapur. "Experiment and see what works best for you. Don't forget head and ear protection, too. Sensitive areas of the body like fingers and ears are important to protect."
Time it right
If your schedule allows, try to work out early when it's light out instead of the evening hours when it's dark and visibility is poor. "Incorporating exercise into your morning routine helps maintain consistency, and can help boost your energy and mood as you start your day," says Duke Sports Medicine Orthopaedic Surgeon, Kendall Bradley, MD. "Whenever you're able to fit a workout into your schedule, consistency is key." If you decide to exercise outside during the day, protect your skin with moisturizer especially if it's frigid out and always use a UV-blocking sunscreen, regardless of clouds or sunshine. This should be the last layer to go on your face. If you have to exercise outdoors at night, or early before the sun is up, dress to be seen. Wear reflective gear or use reflective tape or lights so you stand out to drivers, and be sure to wear shoes with a good grip.
Listen to your lungs
Cold air can make it hard to breathe. If your breathing feels labored, slow down or take a break. "Cold air can cause airways to narrow or spasm and make it harder to breathe, but it won't permanently damage your lungs," says Kapur. "Everyone reacts differently so if it doesn't feel right, scale back." Wearing a buff around your nose and mouth can help warm up the air you breathe and help keep your face warm.
Embrace nature - and your friends!
Along with a change in weather, winter also brings with it all kinds of seasonal, outdoor sports and activities. Hit a hiking trail to take in the sights of changing leaves or snowy tree tops, or take a whirl on one of your local ice skating rinks. And don't forget classics like skiing, snowboarding, tubing, snowshoeing, and even sledding. Make a social activity out of it and bring your friends. Not only does this make exercise more enjoyable, it will also help keep you accountable.
Walk
Exercise doesn't need to be strenuous or for an extended period of time. Walking for regular activity can significantly impact your health, by reducing your risk of heart disease, obesity, high blood pressure, and depression. It's also easy on joints and a great way to socialize while contributing to daily move goals. "Fifteen minutes of moderate walking throughout the course of the day is incredibly valuable." says One Medical provider Sally Ward, MD. "Research shows that getting five minutes of exercise here and there adds up." Alternating between brisk and slower paces for several minutes can be a great form of cardiovascular training as well. So, whether you're walking to an appointment or just around the block, get your steps in.
Warm up.
Don't forget to warm up your body gently before jumping right into a workout. "I used to hate warming up, as I wanted to get right to the heart of a workout," says Bradley. "Now, I can't live without it. A short warm up signals to your body that it needs to be ready to work, and mobility exercises can help prevent injury. You will perform better and feel better if you can incorporate a warm-up and cool down into your workout." Stretching, as well as exercises like jumping jacks, jogging, squats or lunges, can help warm up your body and prepare your muscles for movement If you love stretching and are short on time, it's better to stretch after your workout than before.
Indoor alternatives
Build a small home gym
If nature isn't your thing, or you simply hate being outside in the cold, build out a little home gym. Rebounder trampolines, mini reformers, and stationary bikes are great options, but so are resistance bands and weights. No space for equipment? A mat or towel will do. "A great workout doesn't require expensive equipment or personal trainers," says Bradley. "Your body is a great tool for strength training, and anything that elevates your heart rate and gives you an effective cardio workout. During medical training, I would try to incorporate a 20-30 minute HIIT workout in my small apartment living space as soon as I got home. While you can certainly pay for these classes, a simple internet search will provide lots of options. Whatever you do, just make sure you do it safely!" Embrace apps like Peloton, Nike, and Óbe, or the plethora of free workouts on YouTube, where you can find all sorts of workout classes that don't require you to buy or store anything.
Sign up for a class
Sometimes we all need a change of environment or some extra motivation. Fortunately, there are all sorts of exercise classes that offer a variety of workouts, so you can get out of the house and get the personal direction and instruction you need. Book a class at your local gym or use an app like ClassPass to try out boxing, spin, pilates, and more. Additionally, look at your local pool for open swim hours.
The One Medical blog is published by One Medical, a national, modern primary care practice pairing 24/7 virtual care services with inviting and convenient in-person care at over 100 locations across the U.S. One Medical is on a mission to transform health care for all through a human-centered, technology-powered approach to caring for people at every stage of life.
Any general advice posted on our blog, website, or app is for informational purposes only and is not intended to replace or substitute for any medical or other advice. 1Life Healthcare, Inc. and the One Medical entities make no representations or warranties and expressly disclaim any and all liability concerning any treatment, action by, or effect on any person following the general information offered or provided within or through the blog, website, or app. If you have specific concerns or a situation arises in which you require medical advice, you should consult with an appropriately trained and qualified medical services provider.