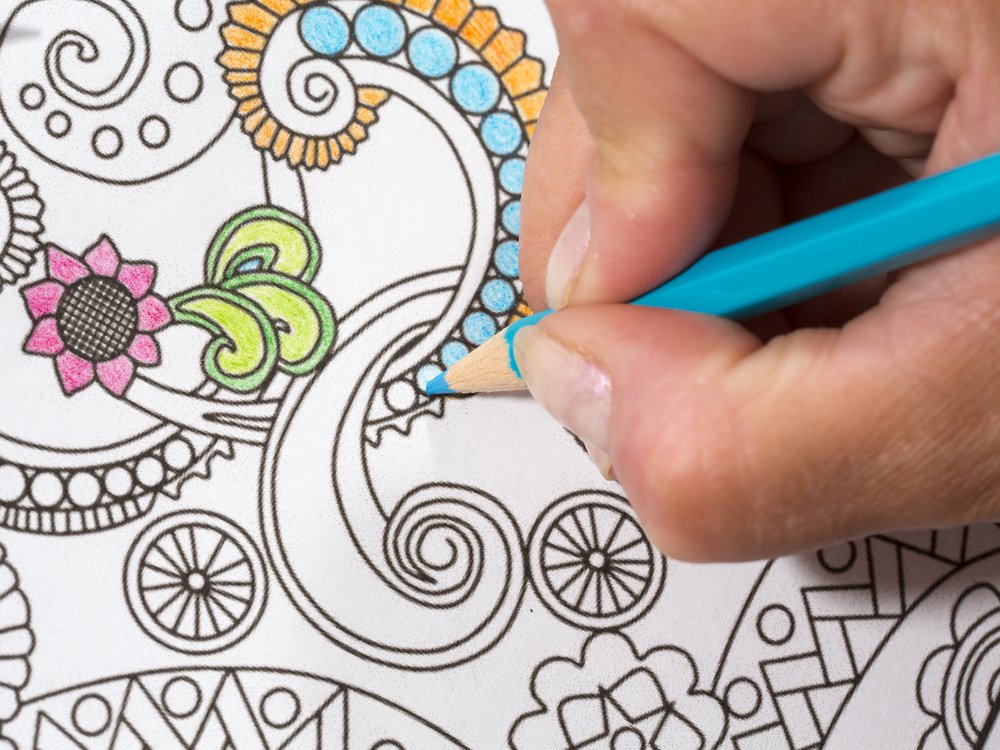 If you were one of those kids who didn't like coloring inside the lines, then that part of the school day was probably a source of stress. But if you grew up with a refrigerator covered with your multi-hued masterpieces, then you're in luck.
Coloring books are all the rage — but this time, they're for adults.
Besides being a reason to take a break from everyday adult life and play, our experts say there are real mental health benefits to coloring. We've rounded up a bunch of fun coloring books inspired by everything from flowers and classic American cars to hip hop and Game of Thrones in the slideshow below.
"I can definitely see how coloring would be helpful for stress relief and to help change a negative mindset to a more positive one," says Kristen Scarlett, a mental health counselor based in Manhattan. "Coloring is also an activity that gets people in a 'flow state', which has the same benefits as mindfulness meditation."
Flow state may not be a familiar phrase, but Scarlett says we experience it when we're "in the zone" happily doing something slightly challenging like yoga, digging in the garden, dancing, running along a familiar path or riding a wave. When you're completely absorbed by what you're doing, who has time to focus on problems?
You know you're in a flow state when:
1. You're concentrating intensely in the present moment
2. What you're doing and your awareness are one
3. You're not thinking about yourself
4. You feel in control of what you're doing
5. You lose track of time
6. You feel rewarded by the activity
If you're coloring with this level of attention, then you're doing yourself some good with some DIY therapy, says Dan Dinenberg, MD, who works with One Medical in San Francisco.
"Adult coloring allows the ability to consciously refocus your awareness on a simple task," he says. "The mind slows down and thought is given to the nuances of color, edges, shades and pattern. The purposeful refocusing awareness in today's intense multitasking landscape is an incredibly important skill."
Of course, for even more benefit, Dinenberg would typically suggest something like breath work or actual mindfulness meditation.
But coloring can be a great alternative to other kinds of stress-induced fidgeting.
"Some people need to have their hands busy," says Dinenberg. "For people who are swirling and spiraling with a lot of energy, it's really focusing for them."
Want to see if coloring an intricate design puts you in a tranquil flow state? Download this Star Mandala Coloring Page, print it out and round up your coloring pencils.
The One Medical blog is published by One Medical, a national, modern primary care practice pairing 24/7 virtual care services with inviting and convenient in-person care at over 100 locations across the U.S. One Medical is on a mission to transform health care for all through a human-centered, technology-powered approach to caring for people at every stage of life.
Any general advice posted on our blog, website, or app is for informational purposes only and is not intended to replace or substitute for any medical or other advice. 1Life Healthcare, Inc. and the One Medical entities make no representations or warranties and expressly disclaim any and all liability concerning any treatment, action by, or effect on any person following the general information offered or provided within or through the blog, website, or app. If you have specific concerns or a situation arises in which you require medical advice, you should consult with an appropriately trained and qualified medical services provider.