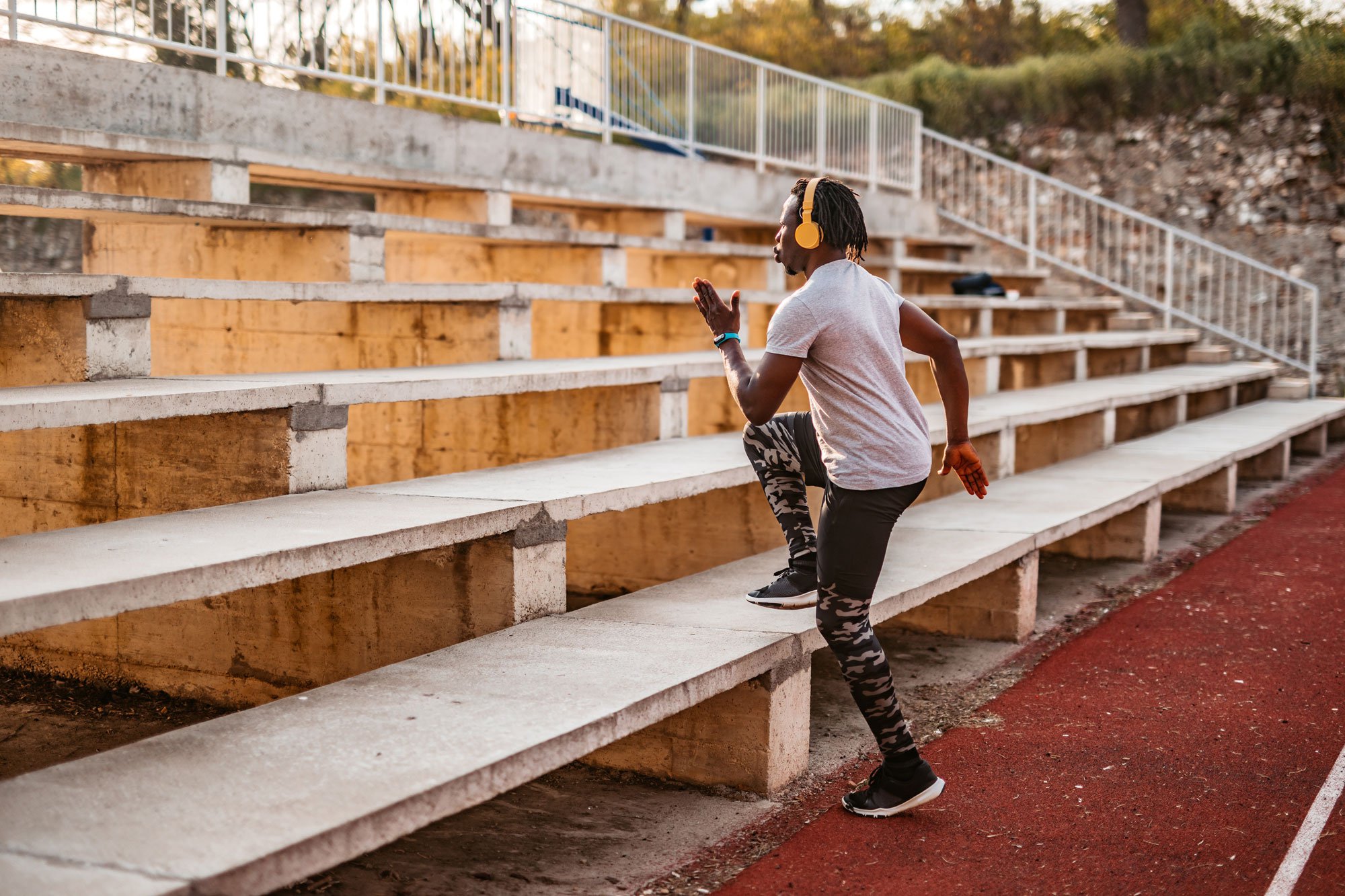 Whether you're an aspiring athlete, a longtime gym rat, or a devoted home fitness enthusiast with a penchant for Peloton, YouTube workouts, or another on-demand platform, you've probably heard of HIIT. Formally known as high-intensity interval training, HIIT has gained unprecedented popularity over the last few years as exercise aficionados and media outlets have sung praises of this quick, efficient, and tough form of fitness. But what is HIIT and is it really all it's cracked up to be?
What is HIIT?
"The best way to explain it is alternating bursts of high intensity exercise interspersed with brief periods of recovery," says One Medical provider Ernest Eusebio PT, DPT, XPS. "In theory, you can apply it to any form of exercise where you can reach 80-95% of your max heart rate. Most commonly, you can perform this with running or cycling (intervals, speed work) or even bodyweight exercises like hopping, jumping, burpees, or mountain climbers, for example."
The American College of Sports Medicine (ACSM) defines HIIT as repeated bouts of high intensity efforts followed by varied recovery times. Those "intense" periods can range anywhere from five seconds to eight minutes long and, as Eusebio mentioned, are meant to rev the heartbeat high, with intense periods performed at 80-95% of a person's estimated maximal heart rate (the maximum number of times your heart will beat in a minute without overexerting yourself).
While these numbers can vary greatly from person to person, the Centers for Disease Control and Prevention (CDC) offers a simple calculation for a very rough estimate of your maximum heart rate: just subtract your age from 220. So, for example, if you're a 35-year-old person, your estimated maximum age-related heart rate would be calculated as 220 – 35 years = 185 beats per minute (bpm). For the intense bouts of HIIT, you should shoot for your heart rate to elevate to anywhere between about 148 bpm (about 80% of the max) to 175 bpm (about 95% of the max). Again, these numbers will vary greatly from person to person, and anyone initiating a tough training program like HIIT should consult their primary care provider before getting started.
But HIIT is by no means all high-intensity; intervals are the name of the game. That means that the heart-pumping periods of activity are interspersed with periods of total rest. The recovery periods of HIIT may last equally as long as the work periods and are usually performed at 40% to 50% of a person's estimated maximal heart rate, according to the ACSM. The workout itself usually ranges from about 20 to 60 minutes with alternating work and recovery throughout.
"Ideally, being within 80-95% of your max heart rate indicates a proper level of intensity to make HIIT effective, while recovery periods should stay between the 40% to 50% range," Eusebio says. "Wearing a heart monitor can help measure this, as well as inform you of your levels of effort and if you're pushing hard enough. You may even be surprised at how rapid your heart rate will ebb and flow between periods of rest and work when you are pushing yourself into the ideal HIIT HR zone. The greater the intensity of the work, the greater the demand for oxygen needed to recover."
What are the benefits of HIIT?
"The health benefits are well-documented," Eusebio says. "HIIT has been shown to improve cardiovascular health, cholesterol levels, insulin sensitivity, stabilize blood sugar levels, reduce fat, maintain muscle mass — to name a few. Interestingly enough, a small study in Cell Metabolism in 2017 showed that HIIT may also halt aging at the cellular level by increasing protein production for the mitochondria — the powerhouse of the cell — which otherwise slumps over a lifetime."
Research has in fact shown that HIIT can improve insulin sensitivity, blood pressure, cholesterol, heart health, and more, and the constant variety can reduce boredom and burnout while improving aerobic capacity more efficiently.
The other bonus is that HIIT can be tailored to each person's unique needs, meaning not every exerciser has to go for a hardcore, hour-long session to reap the benefits. "HIIT is adaptable," Eusebio says. "Every movement has a modification — a regression. If you're unsure about how to perform a certain movement or feel like you are just not 'getting it,' feel free to ask your instructors for alternative movements, regressions, or even do another exercise you're more comfortable with."
Is HIIT safe for everyone?
While HIIT is generally considered a safe and beneficial form of exercise for just about every healthy person, experts always recommend consulting with a physician before initiating a new workout plan. And while anyone with a history of cardiovascular disease should definitely check in with their healthcare team before attempting high-intensity workouts, it is worth noting that HIIT has not only been shown to be safe for people with heart issues, but actually beneficial.
"HIIT is considered safe, but if you are someone who has been sedentary, not familiar with general exercise movement, or are looking for something less vigorous, you might want to put HIIT on hold," Eusebio says. "Consider lower-intensity training for a few weeks first before transitioning into more intense forms of exercise. If you have a clinical diagnosis, a nagging injury, or physical limitations, consult with a provider before taking the leap."
How to get started with HIIT
While HIIT may seem intimidating to new exercisers, it can effectively be modified for beginners. "If you choose to try out HIIT, anywhere between 20 and 30 minutes is a safe place to start," Eusebio says. "For example, if you like cycling, you can cycle at a comfortable pace for two minutes, then a more intense pace for two minutes, and repeat that five times for a total of 20 minutes. A common popular protocol in HIIT is Tabata, which is a shorter total duration (about 4-5 minutes), where bouts are more frequent and the exercise intensity is markedly high (e.g. 20 seconds of work followed by 10 seconds of rest, repeated eight times)."
Another bit of advice Eusebio has for HIIT newbies: start slow and master the movements before you go all-out. "Learning your body's constraints and gaining intel on what movement the HIIT workout will include is important to limit risk of an accidental injury," Eusebio says. "Can you squat well? Have you run before? How's your balance? Did you warm up properly to prepare for these movements? Some HIIT workouts require exercises that people new to the scene have never attempted before, or movement skills people may not particularly possess. Doing research on what the HIIT workout entails ahead of time can save you from straining a muscle or sitting out from exercise for a week."
Final words of wisdom before getting started with HIIT
For anyone looking for an efficient, effective, exhilarating form of exercise, HIIT may just be the perfect fit — but don't expect the workouts to feel fantastic from start to finish.
"I won't sugarcoat it — HIIT isn't supposed to be a comfortable experience," Eusebio says. "It requires you to really push yourself out of your comfort zone and dial up your heart rate in rapid intervals. The intensity is it's blessing and curse; some people come back for the challenge itself and the endorphins thereafter, others prefer to drop HIIT from their routines entirely. If you're someone looking to improve specifics — mobility, flexibility, prolonged gains in strength and power, movement skill — you might want to consider other forms of exercise or training dedicated to these attributes. HIIT's main allure for most busy working people is it gets exercise out of the way quickly and the challenge of tolerating intensity."

Wondering if HIIT is right for you? Book an appointment to talk to a primary care provider about your exercise regimen today.
The One Medical blog is published by One Medical, a national, modern primary care practice pairing 24/7 virtual care services with inviting and convenient in-person care at over 100 locations across the U.S. One Medical is on a mission to transform health care for all through a human-centered, technology-powered approach to caring for people at every stage of life.
Any general advice posted on our blog, website, or app is for informational purposes only and is not intended to replace or substitute for any medical or other advice. 1Life Healthcare, Inc. and the One Medical entities make no representations or warranties and expressly disclaim any and all liability concerning any treatment, action by, or effect on any person following the general information offered or provided within or through the blog, website, or app. If you have specific concerns or a situation arises in which you require medical advice, you should consult with an appropriately trained and qualified medical services provider.