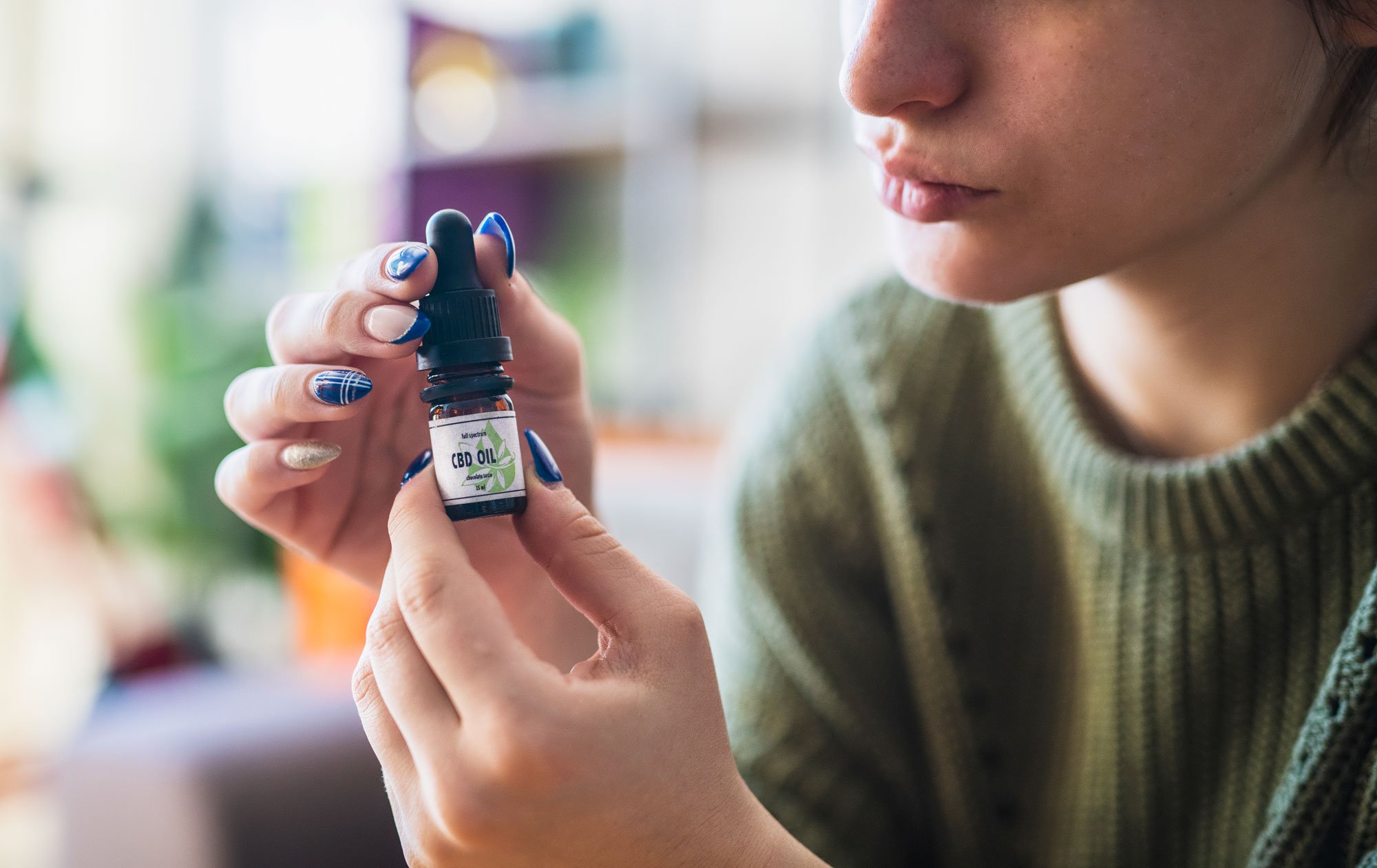 Clinical Reviewers: Megan Dodson, PA-C and Spencer Blackman, MD

Three little letters have cropped up on everything from body oils and bath bombs to sodas and supplements: CBD. Most people know the initials represent an ingredient related to cannabis, but a lot of questions still remain about what CBD — more formally known as cannabidiol — actually is and what it does. Enthusiasts around the world claim the chemical component can treat everything from issues like anxiety and insomnia to addiction and even Parkinson's disease — but how much do we actually know about CBD?
What is CBD and where does it come from?
Before getting to know CBD, it's important to get familiar with cannabis. While many people use the term "cannabis" interchangeably with "marijuana," the two are somewhat distinct. "Cannabis" refers to all products derived from the Cannabis sativa plant, which contains about 540 chemical substances. The term "marijuana" on the other hand, specifically refers to parts of (or products from) the Cannabis sativa plant that contain substantial amounts of a compound called tetrahydrocannabinol (THC).
While THC is the substance that's primarily responsible for the psychoactive effects of marijuana (i.e. the ingredient responsible for inducing the "high" people feel when they smoke or ingest it), some cannabis plants contain very little THC; these plants are considered "industrial hemp" and not considered marijuana. CBD is derived directly from the hemp plant, a form of cannabis that has 0.3% or less THC. This plant is related to the marijuana plant, which also contains CBD, but is distinguished by the higher levels of THC.
CBD doesn't induce a high on its own — but it has earned a reputation for potentially improving certain health conditions. The compound is formulated as an oil, but it can be sold as an extract, a vaporized liquid, or as an ingredient in any number of edible and topical products ranging from gummies and chocolates to soaps and lotions.
Is CBD legal?
Unlike THC-containing marijuana products, which are only legal in 18 states, products that contain CBD derived from hemp (again, meaning it contains no more than 0.3% THC) are mostly legal to purchase. But in some states, CBD occupies a "legal gray area." Because there are still exceptions and nuances to regulations and laws, anyone interested in purchasing CBD should check their local state legislation.
What are the health claims associated with CBD?
CBD advocates claim the compound can work wonders for everything from insomnia to chronic pain, but there is only strong scientific evidence to support a few therapeutic uses of CBD. One of these scenarios is in the case of childhood epilepsy; the FDA has approved a CBD-containing prescription drug (Epidiolex) to treat seizures associated with certain epilepsy conditions.
There hasn't been sufficient research to support most of the claims made about CBD. However, there are some preliminary studies that show benefits in areas like insomnia, anxiety and chronic pain. CBD is generally considered quite safe to take, however it can interact with some medications so it's best to discuss with your doctor if you are already taking prescription drugs. Experts say much more research is needed on CBD itself, and how the compound may interact with THC to produce different effects.
Is CBD safe to try?
While there is some evidence that CBD is generally safe and well tolerated, the FDA acknowledges that we have limited data on CBD safety. There are concerns for negative effects including liver injury, decreased alertness, and interactions with other drugs.
It's difficult to evaluate the safety and effectiveness of over-the-counter CBD products because they are currently not regulated by the FDA. That means there's no real way to ensure the products you purchase contain the ingredients they claim to include. According to one 2017 study published in the journal JAMA, of the 84 CBD products researchers bought online, 26% had less CBD than indicated, 43% had more, and some had unexpected amounts of THC. There is also no established safe or effective recommended dose for CBD, so it's unknown how much to take for any specific result.
If you're intrigued by the idea of CBD or you want to explore your options, the best thing to do is talk to your primary care provider. They can help guide your choices around all supplements and point you toward evidence-based lifestyle choices that may be more likely to help you reach your health goals.
Have more questions about CBD? Our primary care team is here to help. At One Medical, we aim to provide exceptional care designed around you and your unique health needs. Sign up today to book a same or next day appointment — in person or over video — through our app.
The One Medical blog is published by One Medical, a national, modern primary care practice pairing 24/7 virtual care services with inviting and convenient in-person care at over 100 locations across the U.S. One Medical is on a mission to transform health care for all through a human-centered, technology-powered approach to caring for people at every stage of life.
Any general advice posted on our blog, website, or app is for informational purposes only and is not intended to replace or substitute for any medical or other advice. 1Life Healthcare, Inc. and the One Medical entities make no representations or warranties and expressly disclaim any and all liability concerning any treatment, action by, or effect on any person following the general information offered or provided within or through the blog, website, or app. If you have specific concerns or a situation arises in which you require medical advice, you should consult with an appropriately trained and qualified medical services provider.