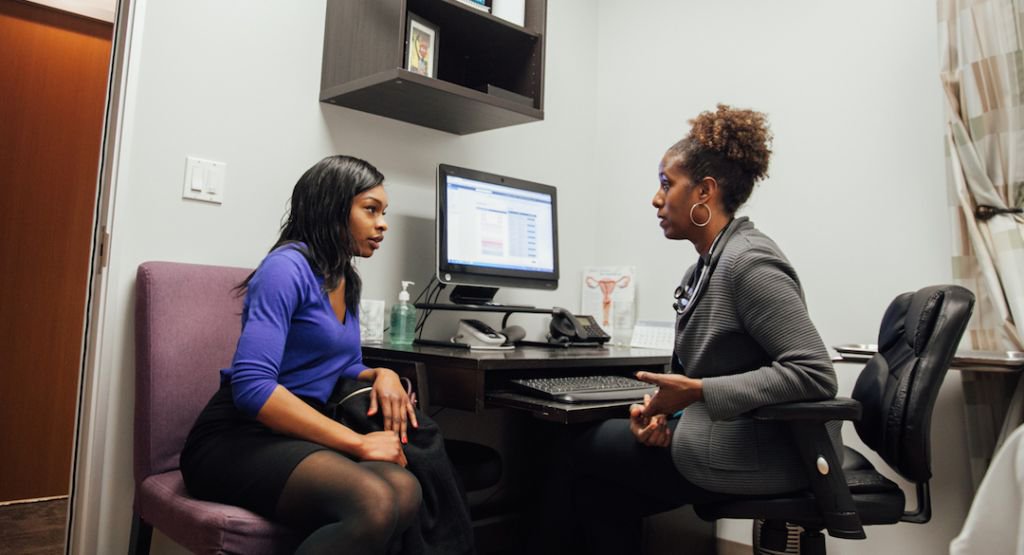 If you've done your research and decided an intrauterine device (IUD) is the right form of contraception for you, you may be wondering what to expect at your insertion appointment. It's normal to be nervous or anxious about the visit, but understanding the process can help calm your fears and help you feel more prepared.
Before your appointment
Be sure to avoid unprotected sex for two weeks prior to your IUD insertion. It can be dangerous to get an IUD if you're pregnant, so take the proper precautions to prevent this before your appointment. If you miss more than two birth control pills or your condom breaks in the two weeks leading up to your appointment, please call to reschedule. If you're not sure whether or not to reschedule, call our office and a provider will be happy to help.
Cramping is common during the insertion, so we recommend taking 800 mg of ibuprofen with food one hour before your appointment.
During your appointment
Your whole visit from start to finish will take about 40 minutes. Please arrive to your appointment 10 minutes before your scheduled time, and come with a full bladder. The first thing you'll do is take a urine test to confirm that you're not pregnant, so avoid urinating for an hour prior to your appointment. Your provider may also use sample to test for chlamydia and gonorrhea. Next, you'll receive a pelvic exam. This is similar to a Pap test and involves your provider looking inside your vagina and feeling your uterus and ovaries.
Once the exam is complete, your provider will get ready to insert the IUD. First, they'll use a tool to hold your cervix (the entrance to your uterus) steady. This may cause you to feel some discomfort, similar to strong menstrual cramps. Your provider will then measure the depth of your uterus to make sure the IUD is placed properly, which may also cause cramping. Finally, your provider will insert the IUD. This usually causes one strong cramp, and may cause continued cramping once it's in place.
After your appointment
Cramping during and after insertion is common, and usually not a cause for concern. You may feel intermittent cramps for the rest of the day after your insertion, but they shouldn't be as intense. To help manage any ongoing cramps, you can take 800 mg of ibuprofen up to 3 times a day, unless otherwise directed by your provider. Putting a heating pad on your abdomen can also help ease pain, but you should be able to return to your normal activities by the end of the day.
Every IUD has a string attached that's similar in size and thickness to floss. You may be able to feel the string in your vagina, or you may not – either case is okay! If you are ever worried that your device has moved, your provider can easily confirm that it's in place during a quick appointment.
Cost and insurance
Most insurance plans cover IUD insertion at 100%, however, there are some exceptions. If you have any questions about insurance coverage, feel free to give our office a call and we can help. To avoid any surprises, we recommend calling your insurance company prior to your appointment. To do so, call the member services phone number on the back of your insurance card and provide the following codes, which we use to bill the visit:
Procedure and diagnosis codes

:

Insertion: 58300 and Z30.430

Removal (for the future): 58301 and Z30.432
Codes for the device:

Kyleena: J7296

Mirena: J7298

ParaGard: J7300

Skyla: J7301
If you discover that your insurance plan doesn't cover the cost of IUD insertion, you still have some options:
Pay out of pocket

. You can pay the total out-of-pocket cost in full at the time of your visit:
Kyleena: $1,000 for device and insertion
Mirena: $1,020 for device and insertion
ParaGard: $910 for device and insertion
Skyla: $870 for device and insertion
Go to a clinic with a sliding fee scale, like Planned Parenthood.
Have other questions or concerns? Give us a call to discuss.
Other resources:
The One Medical blog is published by One Medical, a national, modern primary care practice pairing 24/7 virtual care services with inviting and convenient in-person care at over 100 locations across the U.S. One Medical is on a mission to transform health care for all through a human-centered, technology-powered approach to caring for people at every stage of life.
Any general advice posted on our blog, website, or app is for informational purposes only and is not intended to replace or substitute for any medical or other advice. 1Life Healthcare, Inc. and the One Medical entities make no representations or warranties and expressly disclaim any and all liability concerning any treatment, action by, or effect on any person following the general information offered or provided within or through the blog, website, or app. If you have specific concerns or a situation arises in which you require medical advice, you should consult with an appropriately trained and qualified medical services provider.