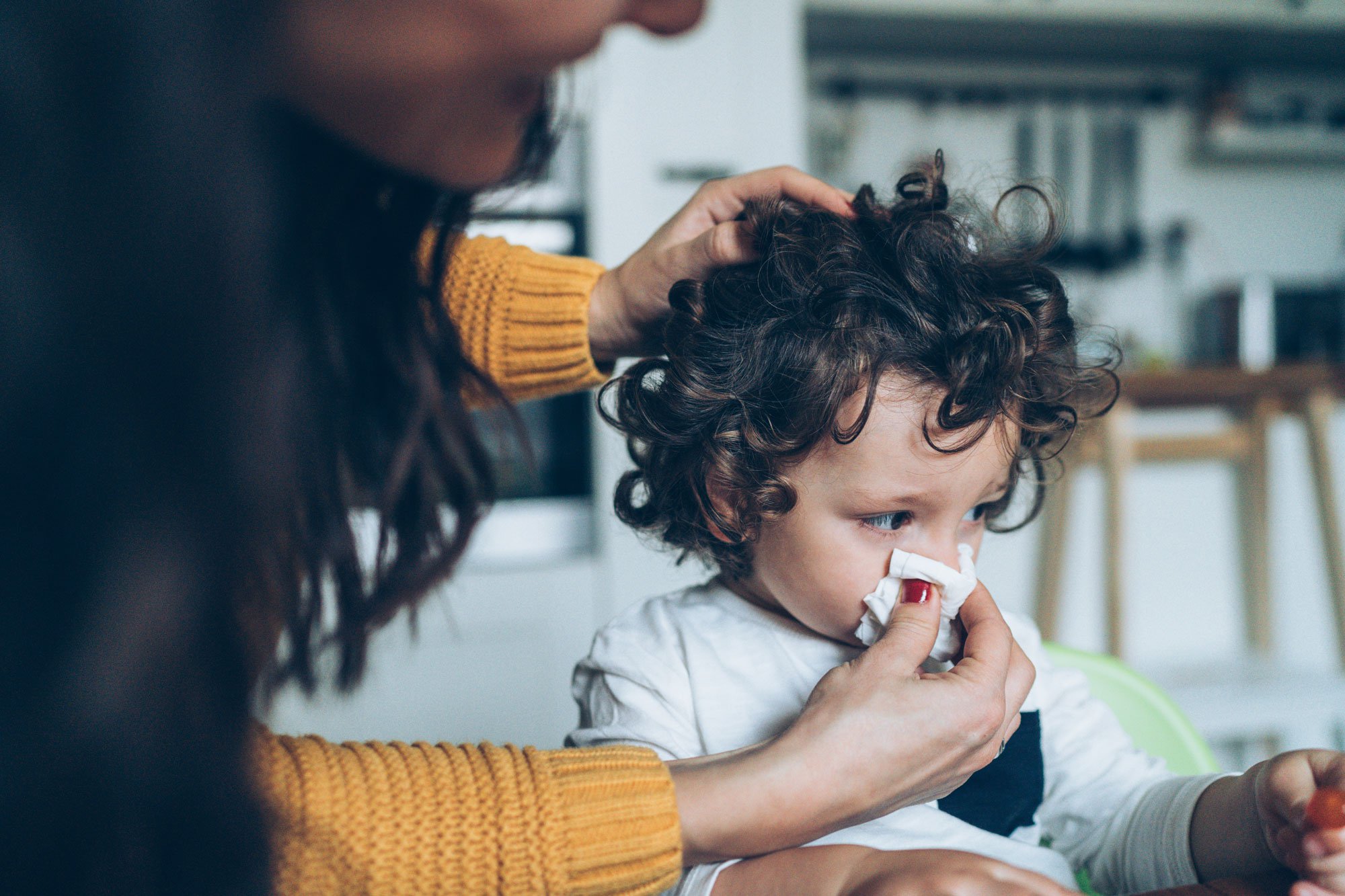 Updated October 24, 2023

Clinical Editors: Sara Huberman Carbone, MD and Anh Le, MD

Over the last few weeks, the U.S. has seen a surge in cases of respiratory syncytial virus or RSV, among infants and children. With hospitalizations on the rise, many parents are left wondering how to best protect their kids. Here's everything you need to know about the virus, the recent spike in cases, and keeping your family safe and healthy:
What is RSV?
RSV is a respiratory virus that generally presents during the fall and winter seasons. It affects the lungs and breathing passages and typically causes mild, cold-like symptoms. It's so common that virtually all children have at least one RSV infection by the time they are 2 years old. While anyone can be infected and most cases resolve on their own, RSV can cause serious illness, especially for infants, young children, older adults, and those who are immunocompromised.
How is it transmitted?
RSV is transmitted through respiratory droplets either through close contact with someone who has the virus or by contamination with an infected surface. RSV can persist on surfaces for several hours and for about 30 minutes on hands. People with RSV are usually contagious for 3 to 8 days, but some infants and people with weakened immune systems can be contagious for as long as 4 weeks, even if they've stopped showing symptoms.
What are the symptoms?
People with RSV typically begin to experience symptoms 4 to 6 days after exposure. Common symptoms include:
Runny nose
Cough
Sneezing
Wheezing
Fever
Decrease in appetite
Sometimes — particularly in infants and young children — RSV can progress into more severe conditions like bronchiolitis (inflammation of the small airways in the lungs) or pneumonia (infection of the lungs), which can lead to symptoms of respiratory distress. In fact RSV is the most common cause of bronchiolitis and pneumonia in children younger than 1 year of age.
If you notice more severe symptoms in your child , particularly persistent fever, decreased oral intake, or increased trouble breathing (such as pulling in the chest or neck, grunting, or wheezing), reach out to your child's primary care provider.
How can you prevent RSV?
There are currently a few immunization and vaccine options to prevent severe RSV infections for those who are most vulnerable. Here's what you need to know:

RSV immunization for ages 60+:
Two RSV vaccines (Arexvy and Abrysvo) are available for people 60 years of age and older. The single-dose vaccines were shown to be effective for preventing severe disease and complications from RSV in older adults. The CDC recommends that individuals have a conversation with their health care providers about whether this vaccine is right for them.

RSV immunization for infants and young children:
There are two RSV antibody products that can help prevent severe RSV disease in infants and young children: Nirsevimab (Beyfortus), and Palivizumab (Synagis).

Nirsevimab is recommended during RSV season for:
All infants younger than 8 months of age whose birthing parent did not receive an RSV vaccine during pregnancy, at least 14 days prior to birth.
Some children aged 8 through 19 months who are at increased risk for severe RSV disease and entering their second RSV season.
Palivizumab (Synagis) use is limited to:
Some children younger than age 24 months of age with certain conditions that place them at increased risk for severe RSV disease. It must be given once a month during RSV season.
Nirsevimab is given as a single shot and reduces the risk of severe RSV by about 80%. Nirsevimab works by providing monoclonal antibodies, which are proteins that protect against RSV. Though it does not activate the immune system the way an infection or vaccine would, nirsevimab provides protection similar to that of a vaccine. This protection lasts about 5 months. Side effects after nirsevimab were uncommon in clinical trials. The most common side effects after nirsevimab are pain, redness, or swelling where the injection was given, and a rash. No serious allergic reactions occurred in the clinical trials.

RSV immunization for pregnant people:
Abrysvo can be given between 32-36 weeks of pregnancy to help protect newborns from severe RSV disease. Abrysvo reduces the risk of severe RSV by about 80% in infants during the first 3 months of life and 70% within the first 6 months after birth. The most common side effects include pain at the injection site, headache, muscle pain, and nausea.

Most infants will likely only need protection from either the maternal RSV vaccine or infant injection, but not both.

Prevention measures for all ages
Fortunately, many of the same measures we take to prevent the spread of COVID-19 and the flu can protect against RSV. These include:
Avoid close contact with people who are sick.
Keep children home from daycare, school, activities, or from close contact with other people if your child becomes sick with respiratory symptoms. Be mindful of others in your household as well.
Cover coughs or sneezes with a tissue, then throw the tissue in the trash.
Wash your hands often with soap and water for at least 20 seconds, and if soap and water aren't available, use an alcohol-based hand sanitizer. A trick to encouraging 20 seconds of handwashing is having your child wash a toy while washing their hands or singing one of their favorite songs. Singing "Happy Birthday" twice, for instance, will indicate when they can stop. You should encourage your child to wash their hands upon entering the house, after using the restroom, and before eating.
Avoid touching eyes, nose, and mouth with unwashed hands and encourage your child to do the same.
Clean and disinfect frequently touched toys and surfaces with a householder cleaner daily. This includes tables, doorknobs, light switches, remotes, handles, desks, toilets, phones, and tablets.
How is RSV treated?
At this time, there is no antiviral medication for treating RSV specifically. However, most RSV infections resolve on their own in a week or two. In most cases your child should stay home and avoid contact with other people except to get medical care. Your child should rest, stay hydrated and take a fever-reducing medicine like ibuprofen or acetaminophen (Tylenol) if they need to. It's important to note that children under 19 years old should not use aspirin unless directed to do so by their medical provider. And remember, antibiotics won't help your child recover from RSV.

In the case of severe infection, your child may need to be evaluated in a hospital setting in order to start more emergent supportive care and monitoring, when needed. We are here for you and want to keep all our families as healthy as possible during this cold season.

Have more questions about RSV? Our primary care team is here to help. At One Medical, we aim to provide exceptional care designed around your child's unique health needs. Sign up today to book a same or next day appointment — in person or over video — through our app.
The One Medical blog is published by One Medical, a national, modern primary care practice pairing 24/7 virtual care services with inviting and convenient in-person care at over 100 locations across the U.S. One Medical is on a mission to transform health care for all through a human-centered, technology-powered approach to caring for people at every stage of life.
Any general advice posted on our blog, website, or app is for informational purposes only and is not intended to replace or substitute for any medical or other advice. 1Life Healthcare, Inc. and the One Medical entities make no representations or warranties and expressly disclaim any and all liability concerning any treatment, action by, or effect on any person following the general information offered or provided within or through the blog, website, or app. If you have specific concerns or a situation arises in which you require medical advice, you should consult with an appropriately trained and qualified medical services provider.