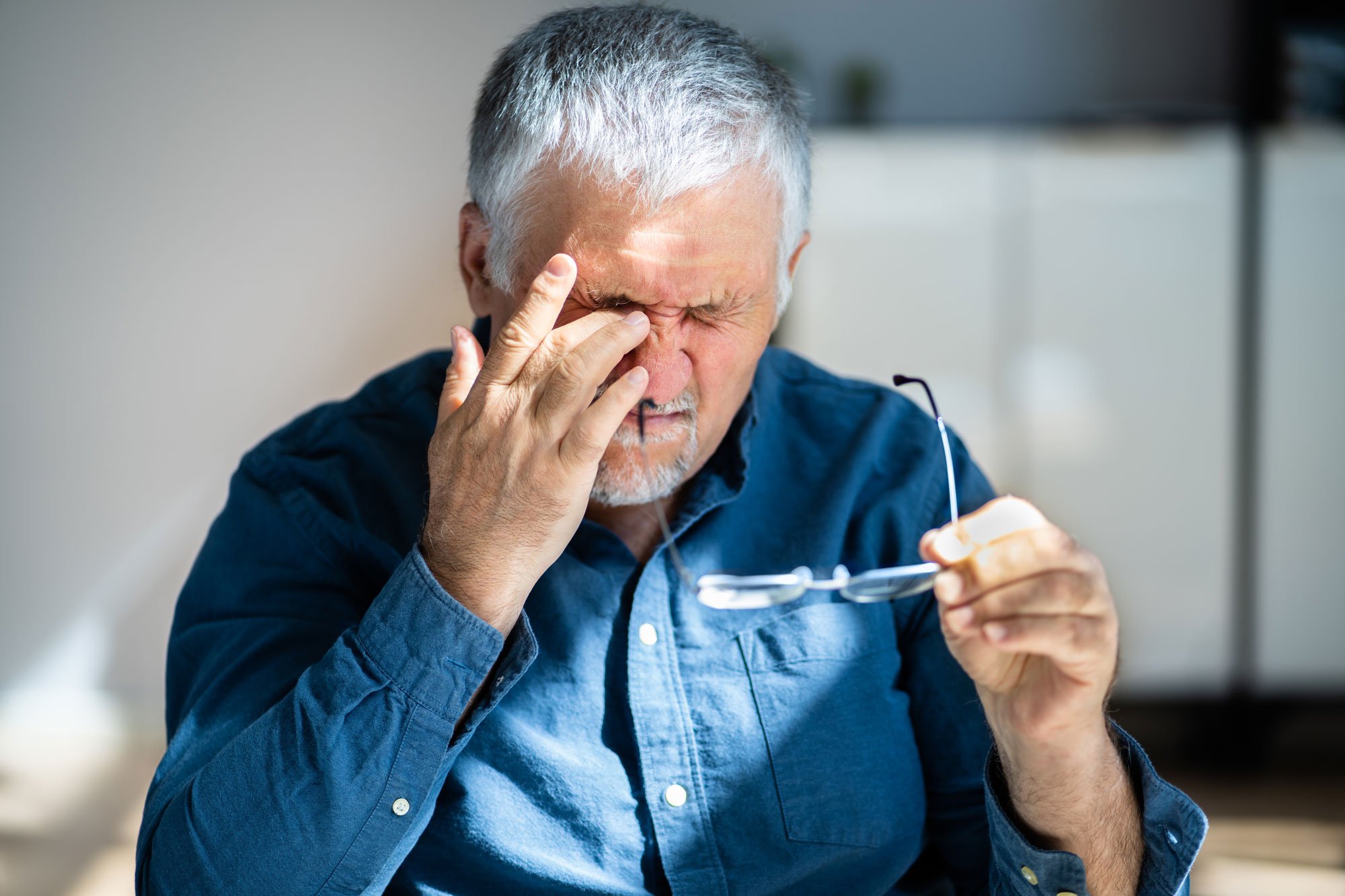 Clinical Editor: Megan Dodson, PA-C

Waking up to or catching a glimpse of yourself with an itchy, red, watery or goopy eye can be disconcerting. Conjunctivitis (also known as "pinkeye) is a very common inflammation of the eye and can often feel downright uncomfortable. While there are a number of causes of pinkeye, the good news is that most cases are mild and can be treated at home with a few simple remedies. From symptoms to treatment, here's everything you need to know:
What is pink eye?
Pink eye or conjunctivitis is the inflammation of the conjunctiva, the thin outermost protective layer of the eye. This inflammation makes blood vessels more visible, giving the eye a pink or red color. There are three main types of conjunctivitis: viral, bacterial and allergic.
What causes it and how does it spread?
These three types of conjunctivitis are distinguished by their causes:
Viruses and bacteria: The most common type of conjunctivitis is caused by the same viruses that cause the common cold. However, some cases are caused by bacteria. These are highly contagious infections that can be spread through close contact with infected individuals, the air through coughing and sneezing, or by touching objects that have the germs on their surfaces. Some of the best ways to prevent viral and bacterial infections include frequent handwashing, and avoiding close contact or sharing personal items with infected individuals.
Allergies: This form of pink eye is not contagious and is caused by exposure to the same allergens that cause hay fever or seasonal allergies.
What are the symptoms?
Pink eye symptoms can vary based on the cause of infection.
Viral conjunctivitis: This type of conjunctivitis is associated with redness of the eyes, watery or clear mucus discharge, or a burning and "sandy" sensation. Symptoms of viral conjunctivitis can take several weeks to completely go away; prolonged symptoms do not mean it has transitioned to a bacterial infection.
Bacterial conjunctivitis: This type of conjunctivitis is associated with redness of the eye, pus-like discharge that can create a "glued-like" sensation of the eyelids, and eyelid swelling and discomfort. Thick discharge may persist and need constant wiping throughout the day.
Allergic conjunctivitis: This type of conjunctivitis is associated with eye redness, intense itching of the eyes, watering or stringy-like discharge and eyelid swelling accompanied by or in the presence of allergy symptoms like sneezing, itching or runny nose.
How is it treated?
While it can be difficult to distinguish between these three types of conjunctivitis, treatment options can also depend on the cause of infection..
Viral conjunctivitis: Though there is no cure for the virus, there are several things you can do to manage symptoms and feel better while the virus clears from your system. Using a warm compress can help to relieve burning sensations and remove crusting from the eyes. Over the counter antihistamine eye drops or tablets taken by mouth can help reduce redness and irritation. Should you notice swelling, a cold compress can also help reduce inflammation. Don't be alarmed if symptoms persist for several days as it can sometimes take weeks to completely go away. Given the highly contagious nature of viral conjunctivitis, hand washing is very important and can help prevent spread. Antibiotics are not needed for viral conjunctivitis.
Bacterial conjunctivitis: Treatment for bacterial conjunctivitis does require a prescribed antibiotic. Your healthcare provider can help you determine whether antibiotics are needed. An individual is no longer considered contagious after using a prescribed antibiotic treatment for 24 hours, but should take the entire course of the prescribed antibiotics. Please ensure to wash all linen that may have come into contact with bacteria to prevent spread or reinfection.
Allergic conjunctivitis: The best way to treat allergic conjunctivitis is to avoid exposure to the allergen, if possible. Other treatments include over the counter oral antihistamines like benadryl or zyrtec and allergy eye drops. Similar to bacterial and viral conjunctivitis, a cold compress can also be used to to help with itching and irritation.
What else you should know
When it comes to pink eye, here are a few extra considerations to keep in mind:
Contact lens wearers: If you are experiencing conjunctivitis symptoms, it's best to take out your contact lenses until the symptoms have improved. If you do decide to wear your contacts, please let your provider know as it may help determine the best treatment options for you.
Makeup use: Bacteria and viral residue can contaminate makeup products. If you suspect these items were used while infectious symptoms were present, it's best to discard them.
Parents: Due to the infectious nature of viral and bacterial conjunctivitis, teaching handwashing to children is especially important to reduce spread of infection. Washing towels and linen is best done with warm water, and it's helpful to separate from the rest of the family's laundry to avoid contamination. If your child is diagnosed with bacterial or viral conjunctivitis, it's best to keep them home from daycare or school to reduce the risk of transmission. Please refer to daycare or school facilities for return guidelines.
If you experience any of the following symptoms, please reach out to your healthcare provider as it may indicate a need for further evaluation:
Fever above 100.4
Light sensitivity
Increasing eyelid redness, swelling and pain
Loss of vision
Severe eye pain
Sudden loss of vision
Severe headache
Sensation that something is in your eye
Have additional questions regarding conjunctivitis? Our primary care team is here to assist you! At One Medical, we aim to provide exceptional care designed around you and your unique health needs. Sign up today to book a same or next day appointment-in person or over video-through our app.
The One Medical blog is published by One Medical, a national, modern primary care practice pairing 24/7 virtual care services with inviting and convenient in-person care at over 100 locations across the U.S. One Medical is on a mission to transform health care for all through a human-centered, technology-powered approach to caring for people at every stage of life.
Any general advice posted on our blog, website, or app is for informational purposes only and is not intended to replace or substitute for any medical or other advice. 1Life Healthcare, Inc. and the One Medical entities make no representations or warranties and expressly disclaim any and all liability concerning any treatment, action by, or effect on any person following the general information offered or provided within or through the blog, website, or app. If you have specific concerns or a situation arises in which you require medical advice, you should consult with an appropriately trained and qualified medical services provider.