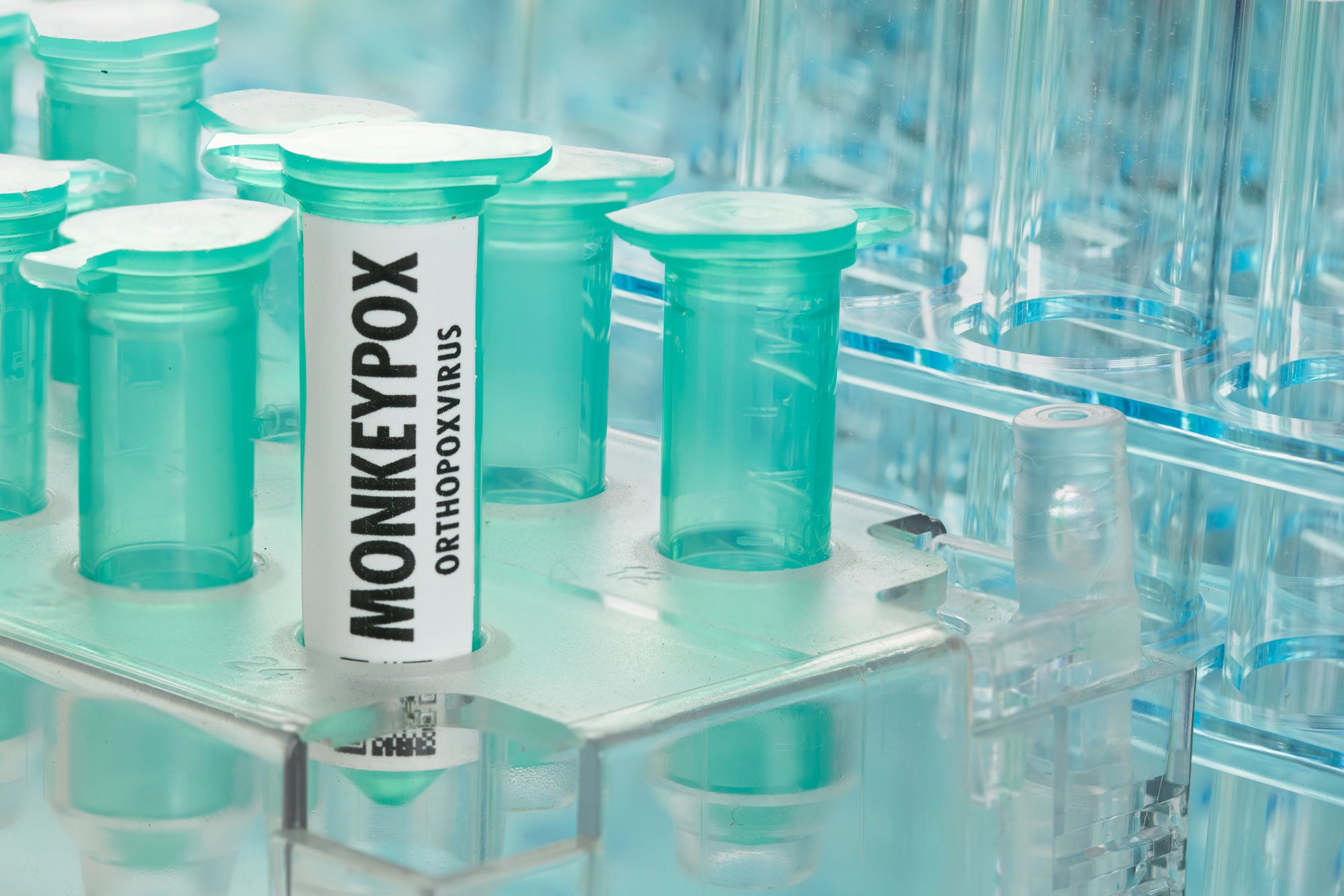 Updated July 19, 2022.

Clinical Editors: Megan Dodson, PA-C and James Carter, III, MD

The U.S. has declared monkeypox a public health emergency, as cases continue to rise across the country. Here's everything we know about the disease so far:
What is monkeypox?
Monkeypox is a disease caused by a virus in the same family as smallpox. However, it's usually much less severe. The disease was given its name after it was first detected among colonies of laboratory monkeys in 1958. The first human case was reported in 1970. Since then, monkeypox has been primarily found in Central and West Africa, with most cases occurring in the Democratic Republic of Congo and Nigeria.
How is it transmitted?
Monkeypox is spread through close contact with an animal, human, or materials contaminated with the virus, such as clothing or bedding. The most common means of transmission for this current outbreak is skin-to-skin contact, and it can also be transmitted through respiratory droplets. Though monkeypox can be transmitted through close contact during sex, it is not a sexually transmitted disease.
Humans can also contract the virus from infected animals through a bite or scratch, or direct contact with their skin, blood, or feces.
While previous cases outside of Africa were linked to international travel or contact with an infected animal, many of the recent cases have been occurring among individuals with no history of travel to Africa. As a result, public health experts are continuing to monitor community transmission.
What are the symptoms?
Within 7 to 14 days of exposure, infected individuals typically experience flu-like symptoms such as fever, headache, muscle aches, chills and exhaustion, along with swollen lymph nodes and back ache. Within 1 to 3 days of having a fever, people develop a rash. The rash may start on the face or in the genital area, and then may spread to other parts of the body, including the arms, legs, hands, and feet. This rash, which can appear as raised, pearly, fluid-filled blisters, goes through several stages over the course of 2 to 4 weeks, before the lesions crust over and the scabs fall off. An individual with monkeypox is no longer considered contagious once all the scabs have fallen off and new skin has formed.
What should I do if I think I have monkeypox?
If you have symptoms consistent with monkeypox, take the following steps:
Isolate immediately, since individuals with monkeypox are contagious from the time that symptoms appear until the scabs fall off and new skin forms. Visit the CDC website for detailed guidance on how to remain isolated at home and keep household members safe. If you have symptoms such as body aches, fatigue, fever, headache, or swollen lymph glands, isolate while you reach out to your healthcare provider. Your healthcare provider can help you with a plan to determine whether your symptoms are due to monkeypox or other causes.
Reach out to your healthcare provider or local health department. They can discuss with you how to take care of yourself while you're sick, and arrange for testing.
Notify anyone you've been in close contact with since your symptoms started.
How is it treated?
Currently, there are no treatments specifically approved for monkeypox. However, monkeypox and smallpox viruses are genetically similar, which means that antiviral drugs developed to protect against smallpox may be used to treat monkeypox virus infections for people who are hospitalized with severe disease or are at higher risk of severe illness. At this time, antiviral treatment is only available through consultation with and extensive documentation by the local health department and CDC. If you're not sure if antiviral treatment is right for you, please reach out to your healthcare provider.

For those who are diagnosed with monkeypox and are not at high risk for severe illness though, there are a few ways to still manage symptoms without antiviral treatment. Here are a few steps you can take to feel better:
Take pain relievers/fever reducers such as acetaminophen or ibuprofen
Sitz baths may help lesions in the genital area feel better
Calamine lotion for itching or painful sores
Rest and fluids are also important to prevent dehydration.
What should I do if I've been exposed to someone with monkeypox?
If you've been exposed to a person or animal who is suspected of having or has been diagnosed with monkeypox, reach out to your healthcare provider or contact your local health department right away. In some scenarios, post-exposure vaccination against monkeypox may be considered up to 14 days after exposure. Close contacts may resume daily activities and are not required to quarantine. However, they are encouraged to monitor for symptoms for 21 days after the exposure and isolate immediately if symptoms develop.
Can I get vaccinated?
The U.S. Department of Health and Human Services has announced a vaccination strategy that will aim to vaccinate those at-risk of monkeypox and prioritize vaccines for areas with the highest numbers of cases, though supply remains very limited. Many regions are limiting vaccines to individuals who have been exposed, while some are able to vaccinate a larger population.
Check with your local health department for more information about vaccine availability and who is eligible.
How concerned should we be?
Although the news of this outbreak may be alarming, public health experts have said that monkeypox is not likely to pose the same threat or have the same impact as COVID-19. While monkeypox can be transmitted between humans, it does not spread easily from person to person. Human transmission of monkeypox requires prolonged close contact, so it's not thought to be as contagious or infectious as COVID-19. Additionally, most cases of monkeypox that have occurred in the U.S. have been mild and resolved on their own in a few weeks.
The One Medical blog is published by One Medical, a national, modern primary care practice pairing 24/7 virtual care services with inviting and convenient in-person care at over 100 locations across the U.S. One Medical is on a mission to transform health care for all through a human-centered, technology-powered approach to caring for people at every stage of life.
Any general advice posted on our blog, website, or app is for informational purposes only and is not intended to replace or substitute for any medical or other advice. 1Life Healthcare, Inc. and the One Medical entities make no representations or warranties and expressly disclaim any and all liability concerning any treatment, action by, or effect on any person following the general information offered or provided within or through the blog, website, or app. If you have specific concerns or a situation arises in which you require medical advice, you should consult with an appropriately trained and qualified medical services provider.