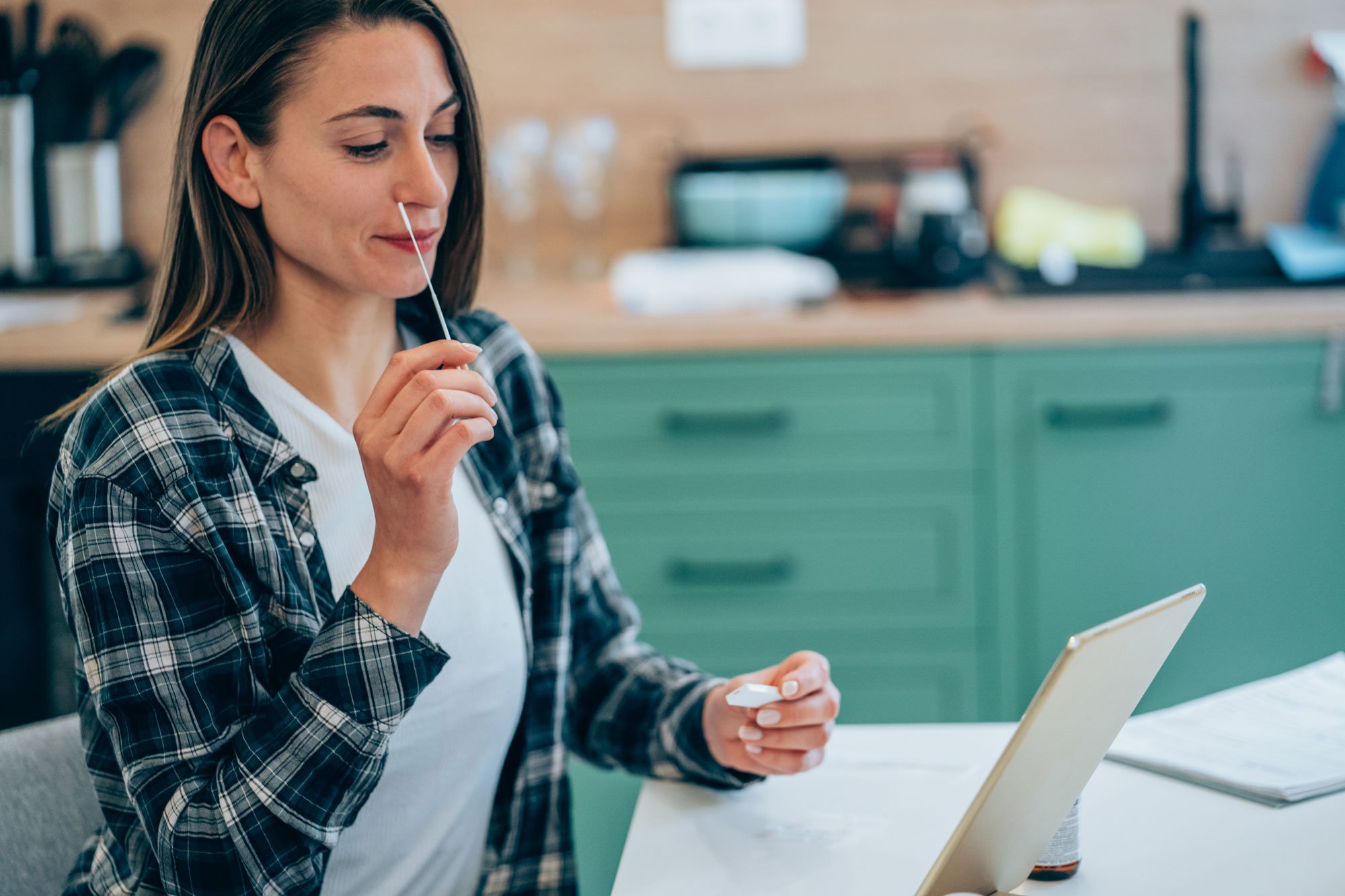 Updated December 22, 2021.

Clinical Editor: Will Kimbrough, MD
When the pandemic first began, scientists, biotech companies, and governments across the globe raced to develop testing technology to help detect and prevent the spread of COVID-19. Since then, a variety of testing options have become available to the general public, including at-home testing kits. Now, over a year into the pandemic, individuals can purchase home COVID-19 testing online or at their local drug stores (sometimes without a prescription) and access their results within minutes. But how reliable are these tests and who should use them? Here's what you need to know:
What types of COVID-19 tests can be done at home and how do they work?
There are currently three ways to test for COVID-19 at home:
Molecular (PCR) home collection kits: PCR tests work to identify a current COVID-19 infection by detecting the virus's genetic material in a nasal or saliva sample. With a home collection kit, you can collect your sample at home and mail it to a lab for analysis and testing. Results are typically turned around within a few days. These tests are currently available through various companies like Pixel by Labcorp, Let's Get Checked, Everlywell, and many more, and have different costs, eligibility criteria, prescription requirements, and vary in terms of accuracy.
Molecular (LAMP) at-home testing: Rapid LAMP tests work similarly to PCR to detect the virus's genetic material in a self-collected nasal sample. This type of test can provide a result within 30 minutes and is nearly the same sensitivity as the mail-in PCR tests. The company Lucira currently makes the only FDA-authorized test of this type, making it more difficult to find than some of the other tests.
Rapid antigen at-home testing: Rapid antigen tests detect specific proteins of the virus. Unlike PCR self-collection kits, rapid antigen tests can be conducted entirely at home, without needing to send a sample to a lab, and results are typically available within minutes. FDA-authorized rapid home tests include the Abbott BinaxNOW, the Ellume Covid-19 Home Test and the Quidel QuickVue At-Home Covid-19 Test. One important thing to keep in mind about these types of tests is that if you are symptomatic or have been recently exposed to someone with COVID-19, you should follow up a negative antigen test with a PCR test.
When should I use a home test?
Both home collection kits and at-home rapid tests are convenient options that enable you to get tested on your own schedule and from the comfort of your own home. That being said, timing matters. Being tested within the first few days of symptoms or five to seven days after a potential exposure if asymptomatic is currently thought to provide the most accurate results. Testing too early or too late could miss an infection (this is called a "false negative" result). For example, when returning from travel without symptoms, immediate testing upon arrival is unlikely to give you complete information about exposure during your trip.
It's important to note, however, that the convenience of these tests does come at a tradeoff. For one, the results of the tests — particularly rapid home tests — often come with little or no medical guidance from a healthcare provider. Without the opportunity to discuss your results further, you may be unsure what your next steps are, how to proceed, or how to understand your results within the context of your overall health. Likewise, there is always room for error when conducting a test on your own, without the assistance of your provider or a lab. Any mistakes in sample collection or processing could lead to inaccurate results. That's why it's extremely important to follow the manufacturer's instructions exactly and perform steps in the order they are listed. Many of the available tests come with access to an app to help guide the use and interpretation of the test, which we recommend using to help ensure the most accurate results possible.
How reliable and accurate are the results?
Though PCR tests may not turn around results as quickly as rapid antigen tests, they are still considered the gold standard when it comes to COVID-19 testing. This is because PCR tests are generally more sensitive than rapid antigen tests, meaning they are better able to detect low amounts of the virus. Therefore, they are better able to detect COVID-19 early on in an infection than rapid antigen tests.
Meanwhile, rapid antigen tests are generally accurate if someone is experiencing symptoms — when there is a higher amount of the virus in the body. As antigen tests are less sensitive than PCR tests, they may not detect COVID-19 in the early phases of an infection. As a result, false negatives are more common with these tests. If you use a rapid test too early after a recent exposure, or if you're asymptomatic, you may still have COVID-19 even if your test comes back negative.
What should I do if I test positive?
If your test comes back positive, it's very likely that the result is correct. We generally don't recommend re-testing to confirm the result, unless the test was an antigen-based test and you have no symptoms, and you're sure you've had virtually no chance of being exposed to COVID-19. It's important to follow the test manufacturer's instructions for reporting your results, which is done through the app associated with the test in most cases. Doing so will help public health experts continue to track the spread of the virus, and better understand the level of transmission in your area. If you're not feeling well, you should also reach out to your primary care provider to ensure you receive the appropriate care and treatment. To prevent the spread of the virus to those around you, read more here.
What if my test is negative?
If your test comes back negative, it's important to remember that your results are a reflection of a moment in time. Your negative result simply means that measurable amounts of the virus were not detected at the time your sample was taken. If you're experiencing symptoms consistent with COVID and have a negative antigen test, you should reach out to your primary care provider to consider further testing, including for other respiratory viruses like flu.
If you have questions about your results, reach out to the test manufacturer for assistance or use the telehealth services associated with the test. For other questions regarding COVID-19 or your health, reach out to your primary care provider or contact us through the app.
For more on COVID-19 testing at One Medical, see here.


The One Medical blog is published by One Medical, a national, modern primary care practice pairing 24/7 virtual care services with inviting and convenient in-person care at over 100 locations across the U.S. One Medical is on a mission to transform health care for all through a human-centered, technology-powered approach to caring for people at every stage of life.
Any general advice posted on our blog, website, or app is for informational purposes only and is not intended to replace or substitute for any medical or other advice. 1Life Healthcare, Inc. and the One Medical entities make no representations or warranties and expressly disclaim any and all liability concerning any treatment, action by, or effect on any person following the general information offered or provided within or through the blog, website, or app. If you have specific concerns or a situation arises in which you require medical advice, you should consult with an appropriately trained and qualified medical services provider.