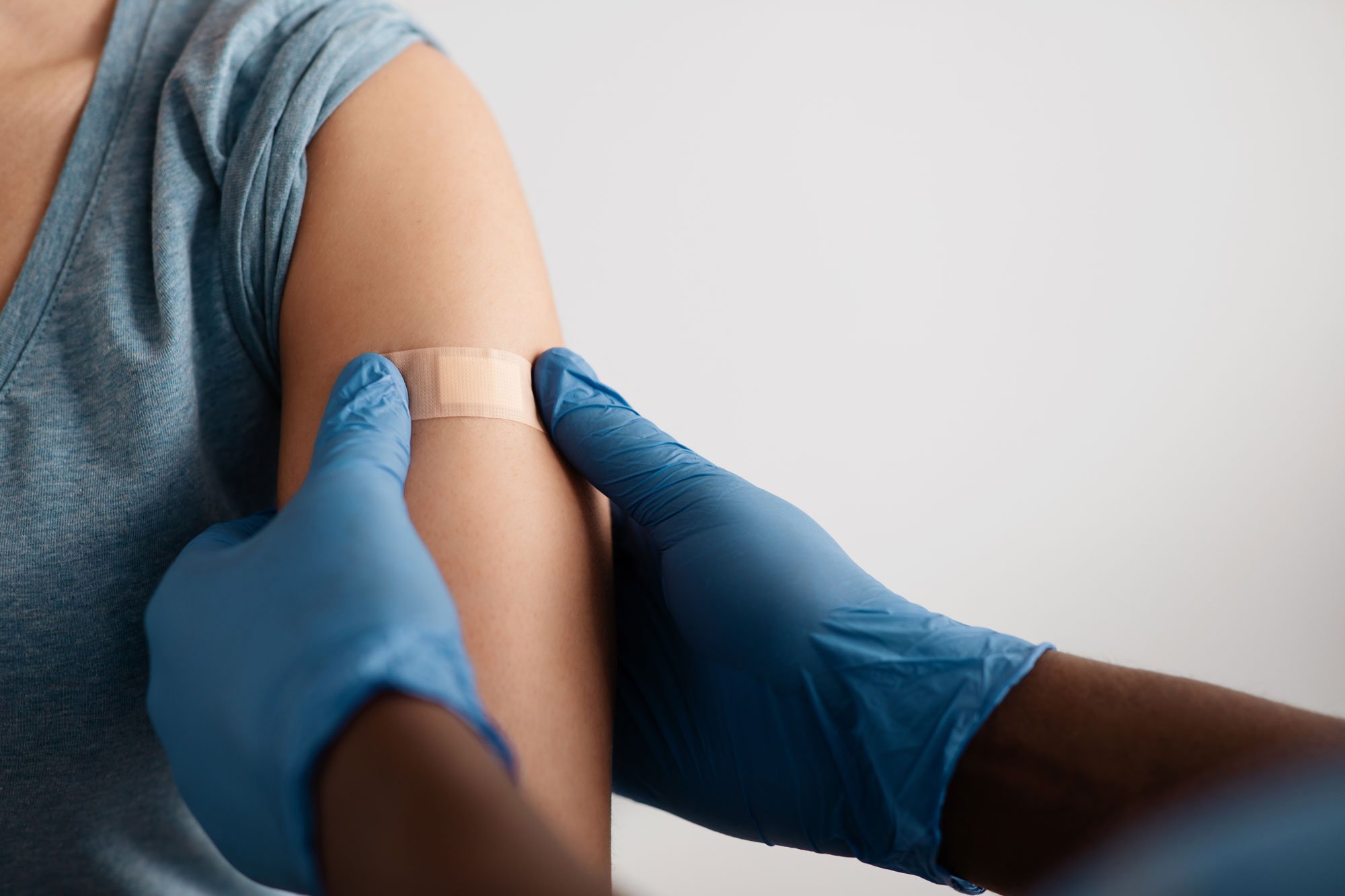 Who is eligible for the COVID-19 booster shot?
Here are the recommendations for a booster based on age and the type of vaccine that was given in the initial round of vaccination: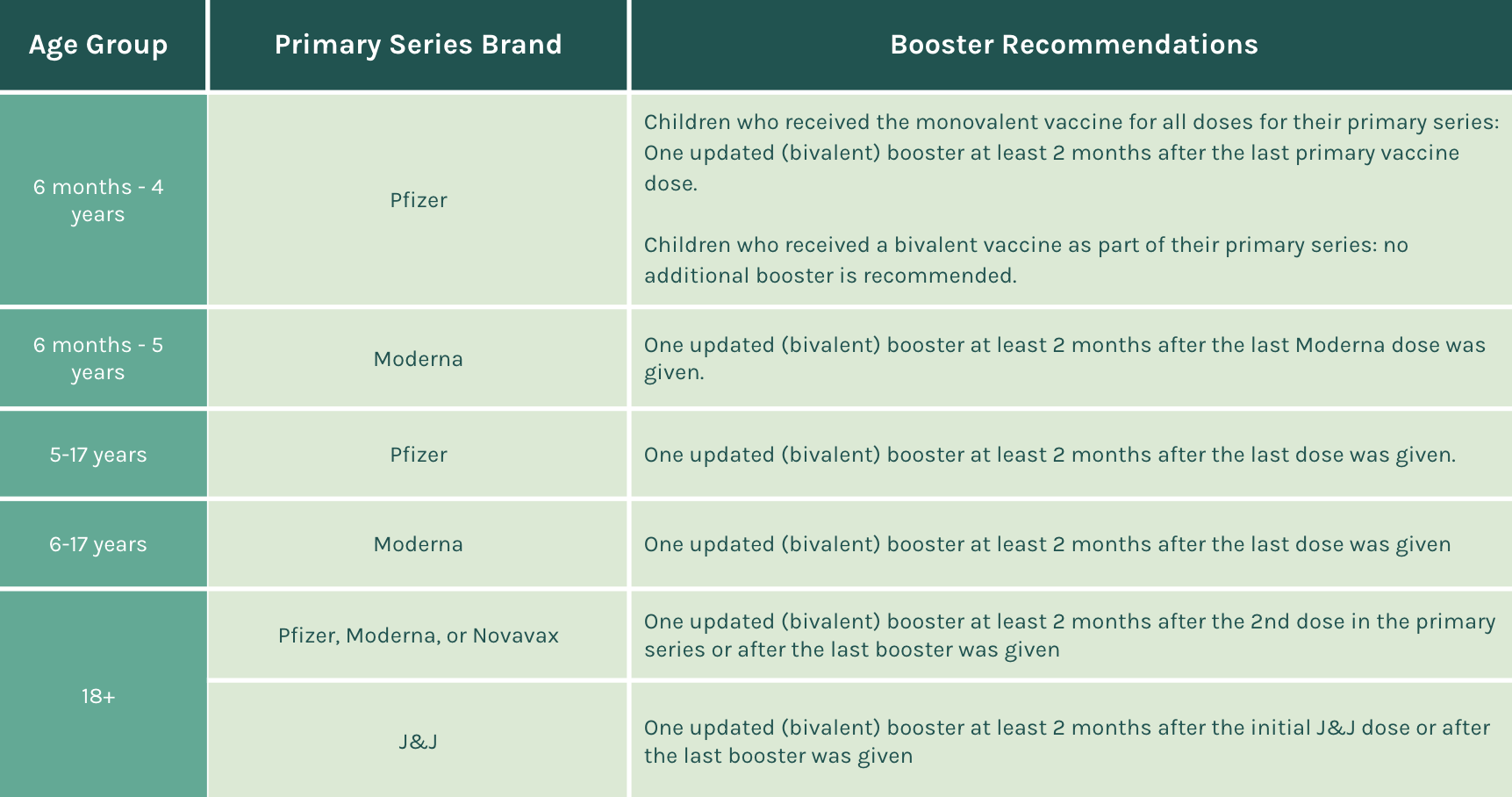 What is the bivalent vaccine and how is it different from the original vaccine?
The bivalent COVID-19 vaccine was authorized by the FDA in August 2022. "Bivalent" means that the vaccine has been customized to target the two strains of COVID-19 that are currently causing the majority of infections in the country. Updating a vaccine like this isn't a new idea - it happens every year with the seasonal flu vaccine, for example. Please refer to the chart above for booster recommendations by age group and vaccine brand.
People who are moderately or severely immunocompromised have different recommendations for vaccine doses. If you have an immunocompromising condition, it's best to have an in-depth discussion with your healthcare provider so they can help you figure out what vaccine schedule is right for you.
Does my booster shot need to be the same type of vaccine as my first and second dose?
No. The CDC has approved a "mix and match" strategy, meaning that individuals who are eligible for a booster shot can receive a different brand for their booster than they received for their primary series. However, the "mix and match" strategy is not approved for patients under the age of 5 years. Pfizer or Moderna are the preferred brands for the booster, as the FDA limited the use of the J&J vaccine due to an increased risk of a blood clotting condition. However, if you are unable to receive Pfizer or Moderna, you will still be able to receive the J&J vaccine.
What are the side effects of the booster vaccines?
Side effects reported after the booster vaccines have been similar to those experienced with the original series. According to the CDC, fatigue and pain around the injection have been the most commonly reported side effects, while most side effects have been mild to moderate. Severe side effects have been reported to be very rare with these current COVID-19 vaccines, but may occur.
How can I get a shot if I qualify for a booster shot?
One Medical members can check their app for vaccine availability in our offices. To book an appointment, select "COVID-19 Booster Vaccine" under "COVID-19 Care". Please note that supply varies by location, so not all offices will have all vaccine types available. If you don't see any appointments, please continue to check the app regularly as new slots will be added as supply allows. You can check with local pharmacies, vaccines.gov, and your county's department of public health for booster shot appointments in your area.
The One Medical blog is published by One Medical, a national, modern primary care practice pairing 24/7 virtual care services with inviting and convenient in-person care at over 100 locations across the U.S. One Medical is on a mission to transform health care for all through a human-centered, technology-powered approach to caring for people at every stage of life.
Any general advice posted on our blog, website, or app is for informational purposes only and is not intended to replace or substitute for any medical or other advice. 1Life Healthcare, Inc. and the One Medical entities make no representations or warranties and expressly disclaim any and all liability concerning any treatment, action by, or effect on any person following the general information offered or provided within or through the blog, website, or app. If you have specific concerns or a situation arises in which you require medical advice, you should consult with an appropriately trained and qualified medical services provider.