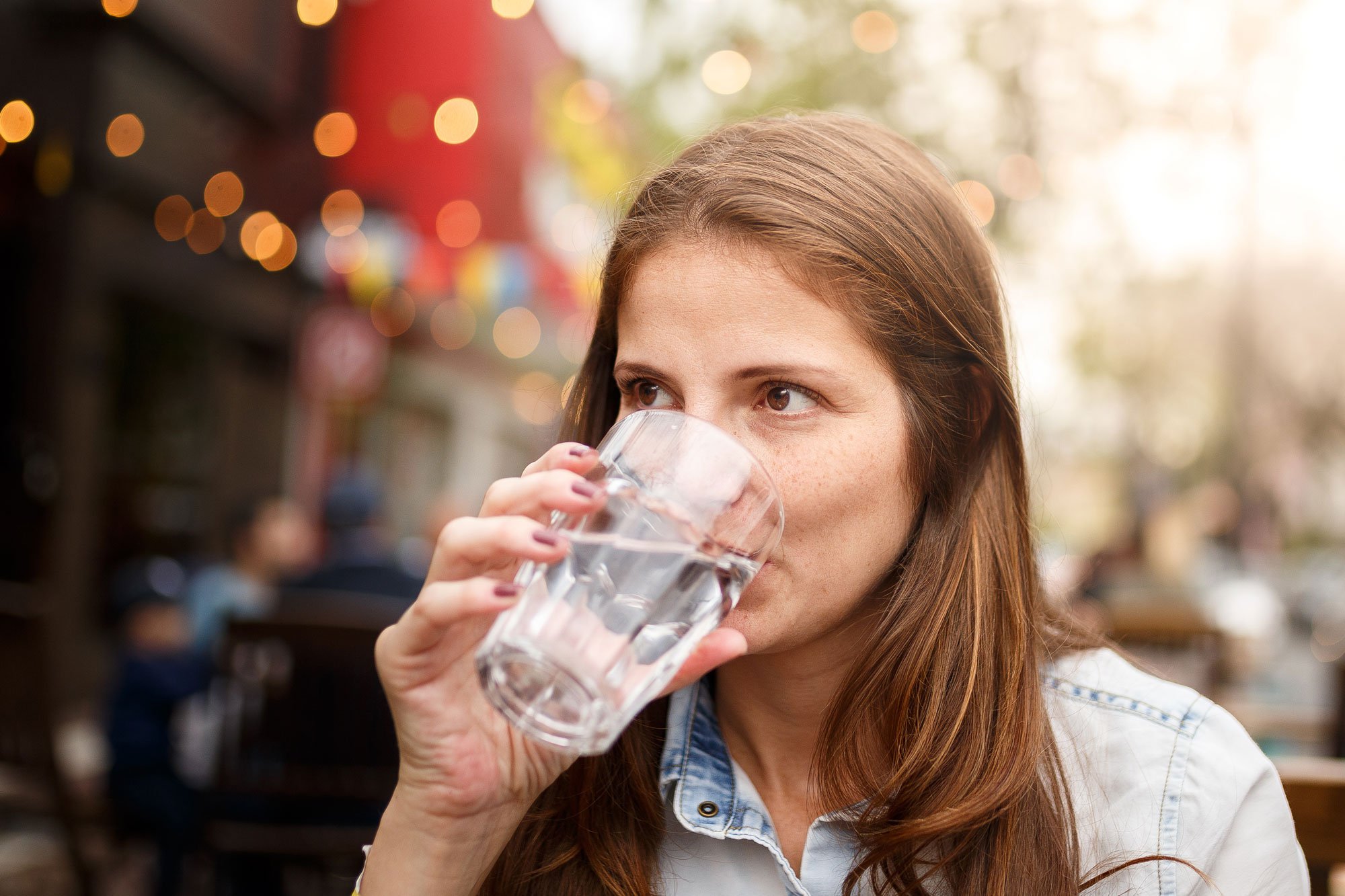 Clinical Editor: Megan Dodson, PA-C

From Dry January to Sober October, it seems like more people than ever are examining their relationships with alcohol and exploring what it means to be "sober curious." According to research from Morning Consult, the share of U.S. adults who reported drinking alcoholic beverages declined from 63% to 58% between October 2021 and June 2022 alone. Meanwhile, 30% of drinkers said they had taken breaks from alcohol for a month or longer. So what's the deal with this spiked curiosity when it comes to sobriety?
According to One Medical provider Alka Kumar, PA-C, at its core, "sober curiosity" is really about becoming conscious and aware of your drinking habits and cultural norms around alcohol — and examining how both may be impacting your life. "It really involves questioning everything about your relationship with alcohol — including the way that we as a society view and consume alcohol," she says. "It means becoming curious about what it means to live a sober life — all the benefits and the challenges."
What does it mean to be "sober curious"?
While many may be familiar with programs like Alcoholics Anonymous (AA) that are based around total abstinence, sober curiosity is unique in its more nuanced stance. "I think sober curiosity is more exploratory; it doesn't conform you to a side and has less finality than 'going sober,'" Kumar says. "It's saying, 'hey, I'm interested in what giving up alcohol might be like but I can remain noncommittal.' I think it eases people into the lifestyle and therefore becomes less intimidating." Unlike those who quit drinking due to substance abuse issues or addiction, those who are sober curious may choose to avoid or cut back on alcohol for health and wellness reasons. For some, this may mean giving up alcohol for a few weeks or a few months, only drinking from time to time, or avoiding it indefinitely. Ultimately, the goal is to become more aware of your drinking habits, understand why you might be drinking alcohol in the first place, and learn how to be more mindful of your alcohol consumption.
What are the health benefits?
Sober curiosity has many physical and mental health benefits. Cutting back on alcohol can improve your mood, sleep, and productivity, while lowering your risk of anxiety and depression, and diseases like heart disease, stroke, and certain cancers. "The health benefits are endless — better fitness endurance and stamina, weight loss from cutting back on empty calories, clearer skin, and improved sleep to name a few," Kumar says.
Can any amount of alcohol actually be healthy?
Alcohol is not only a common cultural staple for American adults; there's also a seemingly never-ending stream of conflicting messages regarding its actual health impact. Research has shown that alcohol is a known carcinogen and associated with an elevated risk of developing various cancers. But regular media headlines also hail the heart-healthy properties of wine and even the potential brain-protecting benefits of moderate alcohol use. Given all that seemingly contradictory information, it can be frustrating to know whether it's safe or healthy to drink alcohol.
The CDC acknowledges that any amount of alcohol consumption can have potential harms, including the possibility of accidents, negative consequences from high-risk behavior, and increased risk of certain cancers. They recommend that individuals either do not drink alcohol at all, or that they limit their consumption to moderate amounts. Moderate drinking means an average of 2 drinks per week for men, an average of 1 drink per week for women, and no more than 4 drinks on any one occasion. If an individual does not already consume alcohol, there is no health reason to start drinking alcohol.
How to get started
Practicing a sober curious lifestyle can look different for everyone; there is no right or wrong way to be sober curious. Some people may choose to limit their drinking to certain days of the week, while others may choose to abstain from it temporarily or permanently. However much you want to reduce your alcohol consumption and for how long is up to you entirely. No matter what your goals are, here are a few tips to cut back:

1. Set limits
Try setting some parameters when it comes to alcohol. You may want to limit your drinking to only certain days of the week like weekends (remembering that it's recommended to have no more than 3 drinks on any occasion), or stick to a certain number of drinks. Whatever your parameters may be, consider tallying or jotting down your drinks in a journal to keep yourself on track. Doing so can also help you be more mindful of your drinking and identify patterns in your drinking behavior.
2. Get support
"Have a 'buddy'," says Kumar. "It can be helpful to have someone who can hold you accountable to your goals." This person can support you in your sober curious journey, and help remind you of your aspirations. They can be a shoulder to lean on when you find yourself fighting temptation, and celebrate with you when you reach your goals.

3. Try a low alcohol-cocktail or mocktail
Lower strength versions of your favorite cocktails are great ways to curb your daily alcohol intake. There are also plenty of recipes for mocktails that taste like the real thing. Bitters and soda are a good substitute as well. If you're craving beer, a low-sugar kombucha is a great alternative.

4. Pick up a new healthy hobby
If you decide to cut back on drinking, you may find that some of your normal routines and social activities are no longer relevant to your lifestyle. This may leave you with more time on your hands than normal. Finding a new activity or hobby can help you fill your time and stick to your sobriety goals. This might mean trying a different sport, fitness class, or joining some new social group.

5. Clean your cabinets
"If you're trying to limit drinking during the week or at home altogether, avoid keeping alcohol in the house," Kumar says. "Sometimes the effort of having to go out and buy more alcohol will deter you."

6. Alternate each drink with water
It's easy to get in the habit of refilling your cup every time you finish your drink. Slow down your alcohol intake by drinking a glass of water after every alcoholic beverage. This will cut your alcohol consumption in half, as well as keep you hydrated.

7. Drink everything over ice
Ice can take up a large part of your cup or glass, reducing the amount of alcohol you consume per drink. It will also water down your drink and slow absorption into the bloodstream.

8. Avoid straws
Research shows that people tend to drink more quickly using a straw than they would sipping out of a cup or glass. Straws can also suppress the smell of a drink and lead to overconsumption.

9. Switch to a small glass
Some wine glasses are more like fish bowls! It's easy to lose track of how much you're consuming with these larger glasses. Switch to a smaller container that you can refill. The simple act of refilling can be a good indicator that you may want to slow down.

10. Eat beforehand
A full stomach will slow the absorption of alcohol while also reducing your cravings for alcohol. Eating at the same time as drinking can also help you drink less.

11. Know Your ABV
Alcohol by volume or (ABV) is the measure of alcohol content in a given beverage. Knowing the ABV of various alcohol types will help you make more informed decisions about what and how much you are drinking. Carbonated sweetened malt beverages like Smirnoff Ice and White Claw, for instance, are twice as alcoholic as a 12 oz. light beer. Likewise, some IPAs have double the ABV of other beers.

12. Don't mix with caffeine
Caffeine can mask the depressant effects of alcohol making it harder to gauge how intoxicated you are. This can cause you to continue to drink when you might have otherwise stopped. Caffeine also inhibits the body's natural protective reaction to larger amounts of alcohol.
If you feel like you're turning to alcohol to cope, are struggling to control your drinking, or think you may have a drinking problem, please reach out to your healthcare provider. For more tips on healthy drinking, read here.
Whether you're thinking about cutting down on your alcohol consumption for health reasons or simply interested to see how fewer weekly drinks may positively impact your energy, mood, and relationships, sober curiosity might be a concept worth exploring. "I'm excited to see where the sober curious movement takes us and I hope it is all something we can adapt as a society," Kumar says. "Curiosity — even without acting on it — is always good!"
If you're concerned about your drinking habits or have questions about how to cut back, reach out to your healthcare provider or mental health professional. At One Medical, we aim to provide exceptional care designed around you and your unique health needs. Sign up today to book a same or next day appointment — in person or over video — through our app.
The One Medical blog is published by One Medical, a national, modern primary care practice pairing 24/7 virtual care services with inviting and convenient in-person care at over 100 locations across the U.S. One Medical is on a mission to transform health care for all through a human-centered, technology-powered approach to caring for people at every stage of life.
Any general advice posted on our blog, website, or app is for informational purposes only and is not intended to replace or substitute for any medical or other advice. 1Life Healthcare, Inc. and the One Medical entities make no representations or warranties and expressly disclaim any and all liability concerning any treatment, action by, or effect on any person following the general information offered or provided within or through the blog, website, or app. If you have specific concerns or a situation arises in which you require medical advice, you should consult with an appropriately trained and qualified medical services provider.