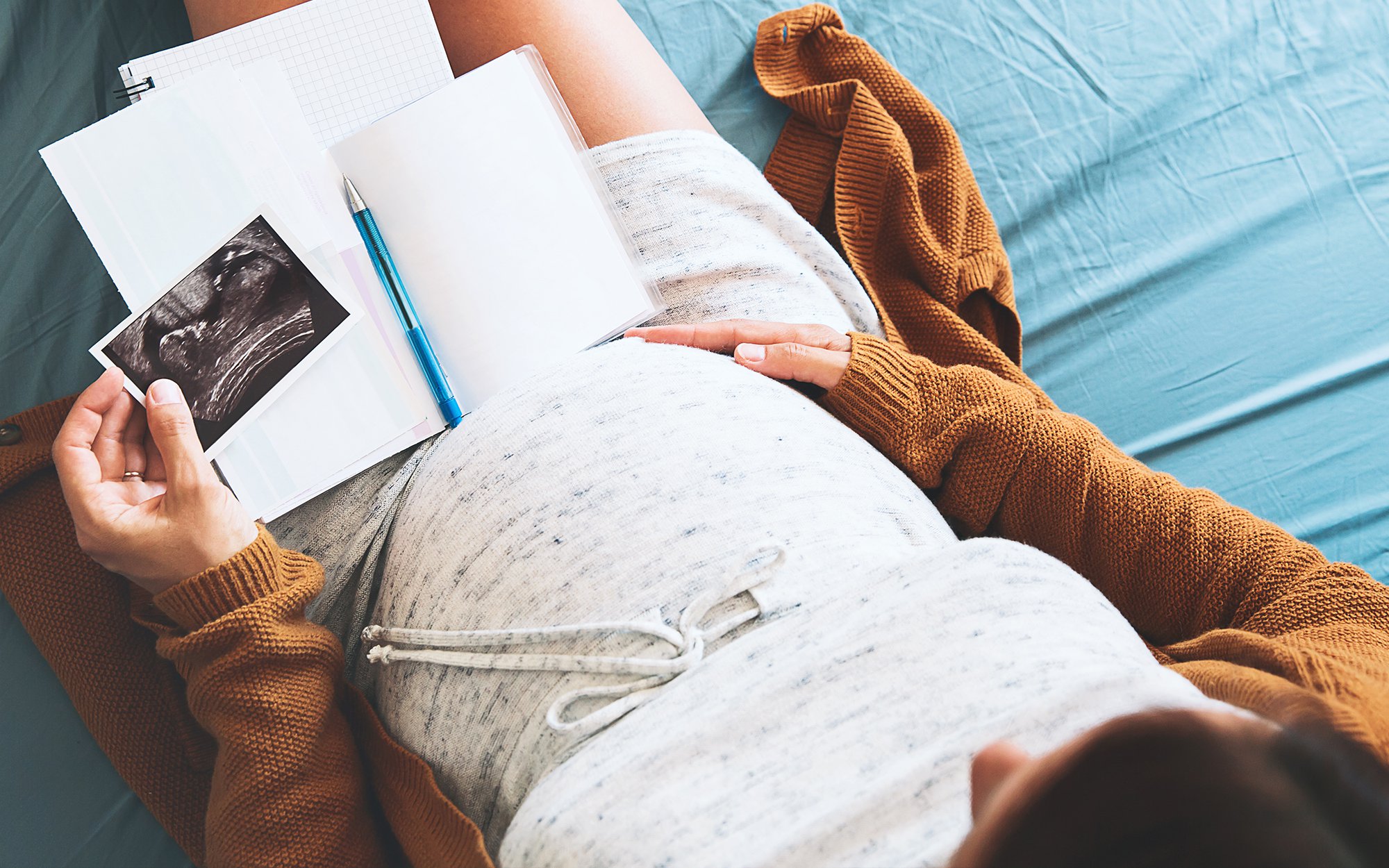 Updated December 7, 2018.
As many as 20 to 40 percent of women experience vaginal bleeding during the first trimester of their pregnancy. Vaginal bleeding includes spotting — very light bleeding that ranges in color from light pink to red to brown — as well as heavier bleeding — sometimes enough to soak through multiple pads. Bleeding may be accompanied by abdominal cramps.
But vaginal bleeding in early pregnancy isn't necessarily a cause for alarm. We explain its causes and when to seek medical attention.
What can cause vaginal bleeding?
Vaginal bleeding in early pregnancy is very common. Here are some reasons why it occurs:
Sex. More blood flows to the cervix during pregnancy so it's not uncommon to experience spotting after intercourse.
Cervical inflammation. Vaginal infections, like a yeast infection, bacterial vaginosis, or a sexually transmitted infection like gonorrhea, chlamydia, genital herpes, or trichomoniasis can inflame your cervix and may lead to bleeding. It's important to be tested for STIs early in your pregnancy or before becoming pregnant.
Cervical polyps. Benign growths, or polyps, on the cervix may grow more quickly during pregnancy. Cervical ectropion, a generally benign physical abnormality of the cervix, may also cause bleeding.
Can it be a miscarriage?
A miscarriage is a pregnancy that ends before the 20th week of gestation. Some estimates suggest that up to 20 percent of known pregnancies end in miscarriage, and even more pregnancies result in miscarriage before a woman realizes she's pregnant.
Vaginal bleeding, especially if accompanied by abdominal cramps, may be a sign of miscarriage, and is classified as a "threatened miscarriage" or an "inevitable miscarriage." If your cervix is closed and vaginal bleeding is the only symptom you're experiencing, you are likely experiencing a threatened miscarriage. This means that the pregnancy has not ended, despite vaginal bleeding, and it may or may not end in the future. A miscarriage is inevitable if the cervix is dilated, bleeding is increasing, and cramps are present.
For about half of women who experience a threatened miscarriage in the first trimester, the bleeding resolves and the pregnancy continues as normal. In the other 50 percent, the bleeding becomes heavier and a miscarriage occurs.
What causes a miscarriage?
There's much we don't know about miscarriages, but evidence suggests that most miscarriages occur due to a structural or chromosomal abnormality in the fetus. This knowledge sometimes offers consolation to women and their families.
Documented risk factors are a previous miscarriage, advanced maternal age, and smoking. Additional risk factors may include infection, environmental toxins, an insufficient cervix (a cervix that opens too soon), and alcohol use. Uncontrolled chronic conditions such as diabetes, hypertension, and thyroid disease, as well as drug use, may also contribute to miscarriage risk.
There's no concrete evidence to suggest that stress, physical activity, or sexual intercourse increase the risk of miscarriage. Caffeine use also does not seem to increase the risk of miscarriage except in extreme cases (10 cups or more a day).
What is an ectopic pregnancy?
Another cause of vaginal bleeding is an ectopic pregnancy. An ectopic pregnancy occurs when an embryo implants in a place other than the lining of the uterus, most commonly in a fallopian tube. About two percent of pregnancies are ectopic, and it is a serious situation. The embryo is unable to develop properly and as it grows it may rupture the organ it's attached to, resulting in a potentially life-threatening situation for the woman.
Since bleeding can be a sign of an ectopic pregnancy, your provider's first step will be to rule out this possibility. To do so, your provider may order an ultrasound to establish where the embryo is implanted. He or she may also order blood work.
When should I call my provider?
If you're experiencing vaginal bleeding during your first trimester, it's important to call your provider right away. Your provider will want to evaluate you immediately for an ectopic pregnancy. Your provider will also want to rule out other possibilities, such as an infection. If you're having a miscarriage, your provider will want to review options with you and make sure you have the right support.
If a miscarriage is starting, can I stop it?
If a miscarriage has started, unfortunately, there's no way to stop it. Your provider may recommend bed rest or abstaining from sex, but studies don't indicate definitively that either reduces the chances of miscarrying.
My provider says I'm having a miscarriage. What do I do?
There are a few options:
Observation: If you are under 12 weeks pregnant and have no signs of infection, your provider may offer the option to wait for the pregnancy to pass on its own. This usually takes about 2 weeks. Once the pregnancy has passed, your provider will conduct an ultrasound to confirm that the miscarriage is complete.
Medication: In some cases, your provider can prescribe medication to help your body pass the pregnancy. The medication usually works over the course of a few days.
Surgery: Manual vacuum aspiration or dilation and curettage can be performed to remove the contents of the uterus. The procedure takes about 10 to 15 minutes and is usually performed in an outpatient setting. The surgical method may be preferred if you do not wish to wait for the pregnancy to pass or if you have an infection.
After a miscarriage, your provider will recommend not having sex or inserting anything in your vagina, such as a tampon, for two weeks.
The One Medical blog is published by One Medical, a national, modern primary care practice pairing 24/7 virtual care services with inviting and convenient in-person care at over 100 locations across the U.S. One Medical is on a mission to transform health care for all through a human-centered, technology-powered approach to caring for people at every stage of life.
Any general advice posted on our blog, website, or app is for informational purposes only and is not intended to replace or substitute for any medical or other advice. 1Life Healthcare, Inc. and the One Medical entities make no representations or warranties and expressly disclaim any and all liability concerning any treatment, action by, or effect on any person following the general information offered or provided within or through the blog, website, or app. If you have specific concerns or a situation arises in which you require medical advice, you should consult with an appropriately trained and qualified medical services provider.