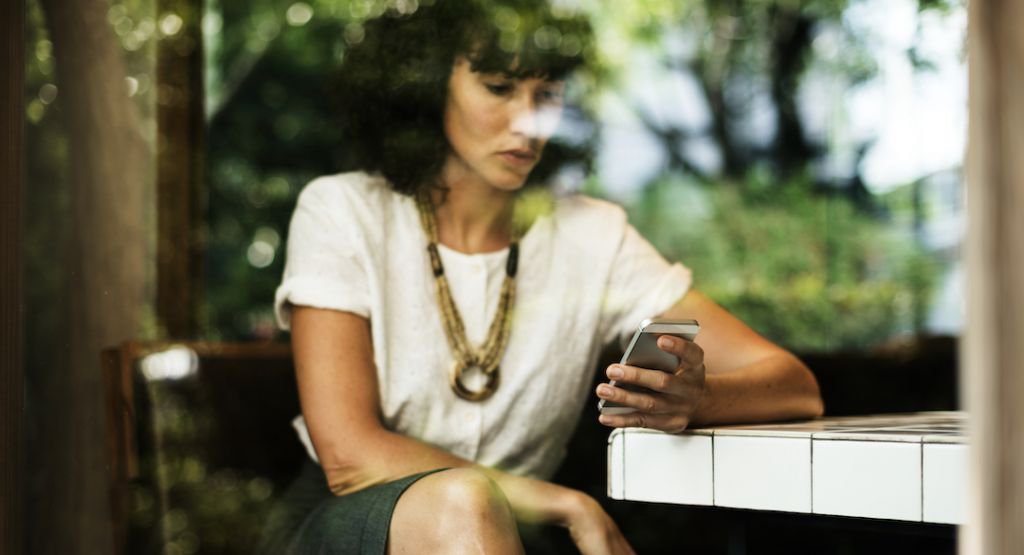 The human body doesn't follow normal business hours. You may wake up with back pain at 2 a.m., sprain your ankle on a Sunday, or catch a stomach bug on vacation. Even if you get sick during a regular workday, sometimes you just don't feel well enough to drag yourself to the doctor. Or you may have a health issue or question that doesn't actually require an office visit. That's where One Medical's virtual care comes in.
With the One Medical app, our members can get free, 24/7 virtual care from anywhere in the world. Whether you want a prescription refilled, need care for a common health issue like the flu, or have a follow-up question after your appointment, help is at your fingertips.
Unlike urgent care, ERs, or third-party telehealth solutions, our virtual medical team has access to your complete One Medical health record — so they can make a more insightful diagnosis, develop a personalized treatment plan, and help you avoid unnecessary testing. They can also prescribe medicine and order lab tests if needed, so you won't miss out on getting the care you need. And they're all One Medical providers who have gone through our rigorous hiring process.
Not sure when or how to use virtual care? Read on to learn more about the different ways you can get care with the One Medical app.
Treat Me Now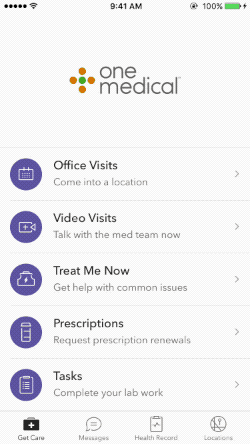 Get treated for common issues without an office visit in most cases. You simply fill out a quick questionnaire, and our team gets back to you within 24 hours.
What to use it for:
Colds, flus, seasonal allergies, urinary tract infections, yeast infections, common skin issues (rash, mole, acne, etc.)*
*iPhone only. If you have an Android phone, you can contact us through Messages and attach photos of your skin issue.
What not to use it for:
Anything not listed above. If you want to discuss an issue not listed, use Messages instead.
How to use it:
Select the type of issue you need treatment for and answer a few questions about your symptoms. For skin issues, you'll take several photos of the affected area. A virtual medical team member will review your case and customize a treatment plan for you. If we need more information, we may ask you to call us.
Be sure you have push notifications on so you know when our virtual team has sent you a message. Otherwise, you'll need to check the app to see if you have a message in the Treat Me Now section.
Typical response time:
Within 24 hours
Video Visits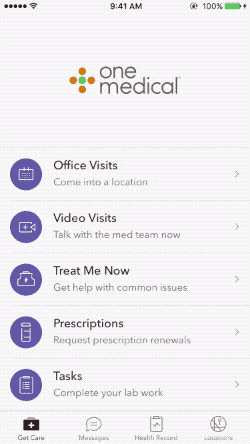 Get on-demand care over video. Video visits are a great way to avoid unnecessary office visits and trips to the ER or urgent care for issues that aren't life-threatening.
What to use it for:
Urgent and time-sensitive medical issues (e.g., vomiting, headaches, coughs, back spasms), visible issues (e.g., skin issues, cuts, injuries, eye issues)
What not to use it for:
Prescription renewal requests, complex health issues or ongoing chronic medical condition management, life-threatening emergencies, non-urgent health issues (like a cold, allergies, or acne)
How to use it:
Select Video Visits on the homescreen of the app, then tap the button to request a video visit. You'll be connected to a provider as soon as one is available.
Typical response time:
5 to 10 minutes, although this may be longer when demand is high
Messages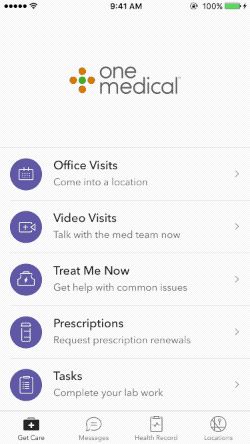 Send and receive secure messages with your primary care provider (PCP) or our virtual medical team anytime. You can also send messages to our admin team for non-medical questions.
What to use it for:
Simple medical questions that aren't urgent or time-sensitive, issues with a prescription or prescription renewal, follow-up questions after a visit, non-urgent medical questions to your PCP about an ongoing chronic condition
What not to use it for:
Urgent or time-sensitive medical issues (call your One Medical office for those), complicated medical questions, scheduling an office visit, prescription renewal requests
Typical response time:
For the med team, you can generally expect a response within a few hours. However, for more complicated questions, it can take 48 hours.
For messages to your PCP or the admin team, it can take up to two business days for a response. If you need something more urgently, you're always welcome to give us a call.
Prescription renewals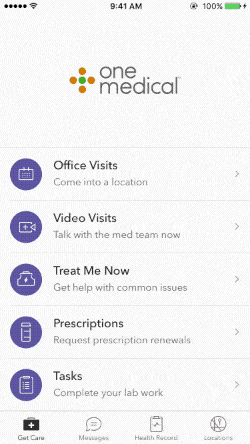 Out of refills? Request a prescription renewal right from the app. We'll send the prescription to the pharmacy you choose. Please note that certain medications, such as controlled substances (Adderall, Xanax, Ambien, etc.), may require a consultation with the medical team.
Typical response time:
Within a few hours or up to 1 to 2 business days for controlled substances
If you're still not sure if virtual care is right for your situation, just give it a try and we'll let you know. Or call your normal One Medical office. Our skilled team will make sure you get the care you need — whenever and wherever you need it.
The One Medical blog is published by One Medical, a national, modern primary care practice pairing 24/7 virtual care services with inviting and convenient in-person care at over 100 locations across the U.S. One Medical is on a mission to transform health care for all through a human-centered, technology-powered approach to caring for people at every stage of life.
Any general advice posted on our blog, website, or app is for informational purposes only and is not intended to replace or substitute for any medical or other advice. 1Life Healthcare, Inc. and the One Medical entities make no representations or warranties and expressly disclaim any and all liability concerning any treatment, action by, or effect on any person following the general information offered or provided within or through the blog, website, or app. If you have specific concerns or a situation arises in which you require medical advice, you should consult with an appropriately trained and qualified medical services provider.