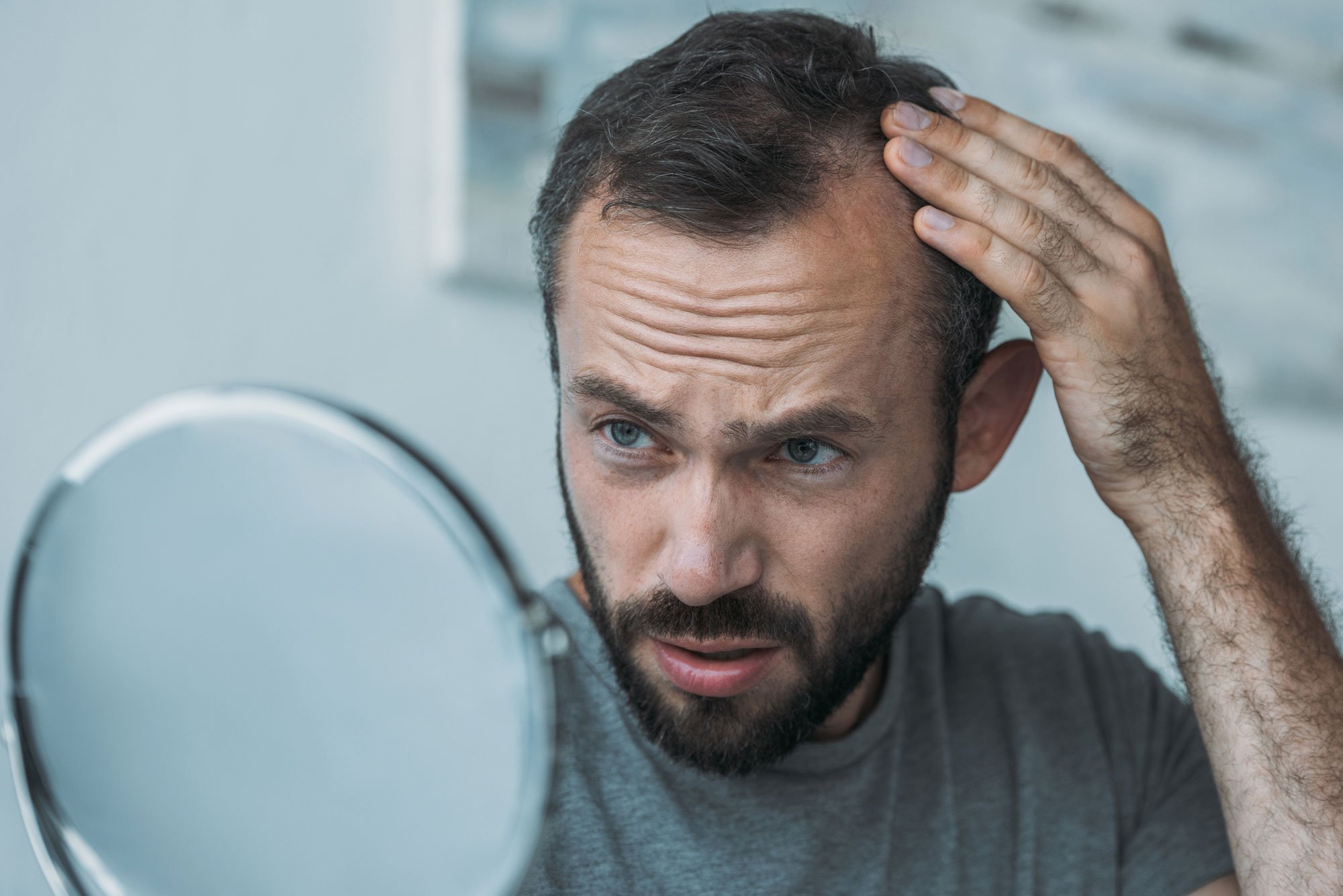 For many men, losing hair is a natural part of the aging process, but it doesn't mean it's easy to accept. Whether looking at old photos made you recognize your changing hairline or you've been told that your hair is starting to thin, it can be tough coming to terms with losing your hair, especially when it happens at a young age. Hair loss can influence your self image and quality of life, so it's understandable if you feel bothered by it and want to take action.
While you may see hair loss medications like finasteride (Propecia) and minoxidil (Rogaine) advertised for sale online, these medications can be prescribed safely — and oftentimes at a lower price — by any primary care provider. Here's what you should know about male pattern baldness and how it's treated.
Understanding Male Pattern Baldness
Male pattern baldness, also known as androgenic alopecia, is the most common form of hair loss in men and occurs gradually over time. It is more frequently seen in men in their fifties or older, but can present in some men as early as their teens.
Genetics (from either your mother or father) seems to be the biggest risk factor for this type of hair loss, with heritability estimates around 80%. This type of hair loss is caused by changes in the hair growth cycle, as different parts of the scalp are more sensitive to hormonal changes than others.
Besides ruling out other causes of hair loss, androgenic alopecia is diagnosed based on your family history and the pattern of your hair loss . This type of hair loss is typically associated with thinning along the temples, crown (top of the head), and front of the hairline.
Are there other types of hair loss?
Yes, there are several other types of hair loss, with a variety of causes. This is why it's important to connect with a primary care provider for an evaluation before starting any kind of hair loss medication. Other types of hair loss include
Telogen effluvium (clumps of hair coming out in the shower; can be linked to physiologic or emotional stress)
Alopecia areata (patchy hair loss that can occur quickly or gradually over time)
Traction alopecia (hair loss from tension due to hair buns, turbans, braids, etc)
Hair loss due to a systemic disease (e.g. hypothyroidism, iron deficiency, and nutritional deficiencies)
How can I treat male pattern baldness?
Before thinking about treatment, it's important to recognize that male pattern baldness is normal and natural. You don't necessarily need to treat it, but it's ok to explore different options if you're unhappy with your hair or aren't quite ready for this transition.
Two go-to options are minoxidil (Rogaine) and finasteride (Propecia).
Minoxidil: This is a over-the-counter, topical medication that is applied to the scalp directly. Minoxidil works by promoting more blood flow to the scalp, stimulating hair follicles to grow. Common side effects may include scalp irritation and itching.
Finasteride (Propecia): Finasteride is a prescription oral medication for hair loss. It blocks the conversion of testosterone to dihydrotestosterone, the hormone responsible for changes in the hair growth cycle. Sexual dysfunction and gynecomastia (breast enlargement) are some of the reported side effects, but they do not occur in everyone and are typically reversible. Finasteride can also affect the results of a test called prostate specific antigen (PSA) which is used to screen for prostate cancer, so if you have prostate concerns or have a family history of prostate cancer, it's important to talk with your primary care provider before starting treatment.
Both medications will take about 6 to 12 months to produce results and need to be taken daily. They can help with some hair growth, but they are most effective in preventing the progression of hair loss. Stopping either medication can lead to hair loss that may not be recoverable if you were to go back on the medication.
While we can't prevent getting older, there are options to help hang on to your hair a bit longer. Your primary care provider is here to provide judgement-free help to make you feel more comfortable and confident in how you look.
The One Medical blog is published by One Medical, a national, modern primary care practice pairing 24/7 virtual care services with inviting and convenient in-person care at over 100 locations across the U.S. One Medical is on a mission to transform health care for all through a human-centered, technology-powered approach to caring for people at every stage of life.
Any general advice posted on our blog, website, or app is for informational purposes only and is not intended to replace or substitute for any medical or other advice. 1Life Healthcare, Inc. and the One Medical entities make no representations or warranties and expressly disclaim any and all liability concerning any treatment, action by, or effect on any person following the general information offered or provided within or through the blog, website, or app. If you have specific concerns or a situation arises in which you require medical advice, you should consult with an appropriately trained and qualified medical services provider.