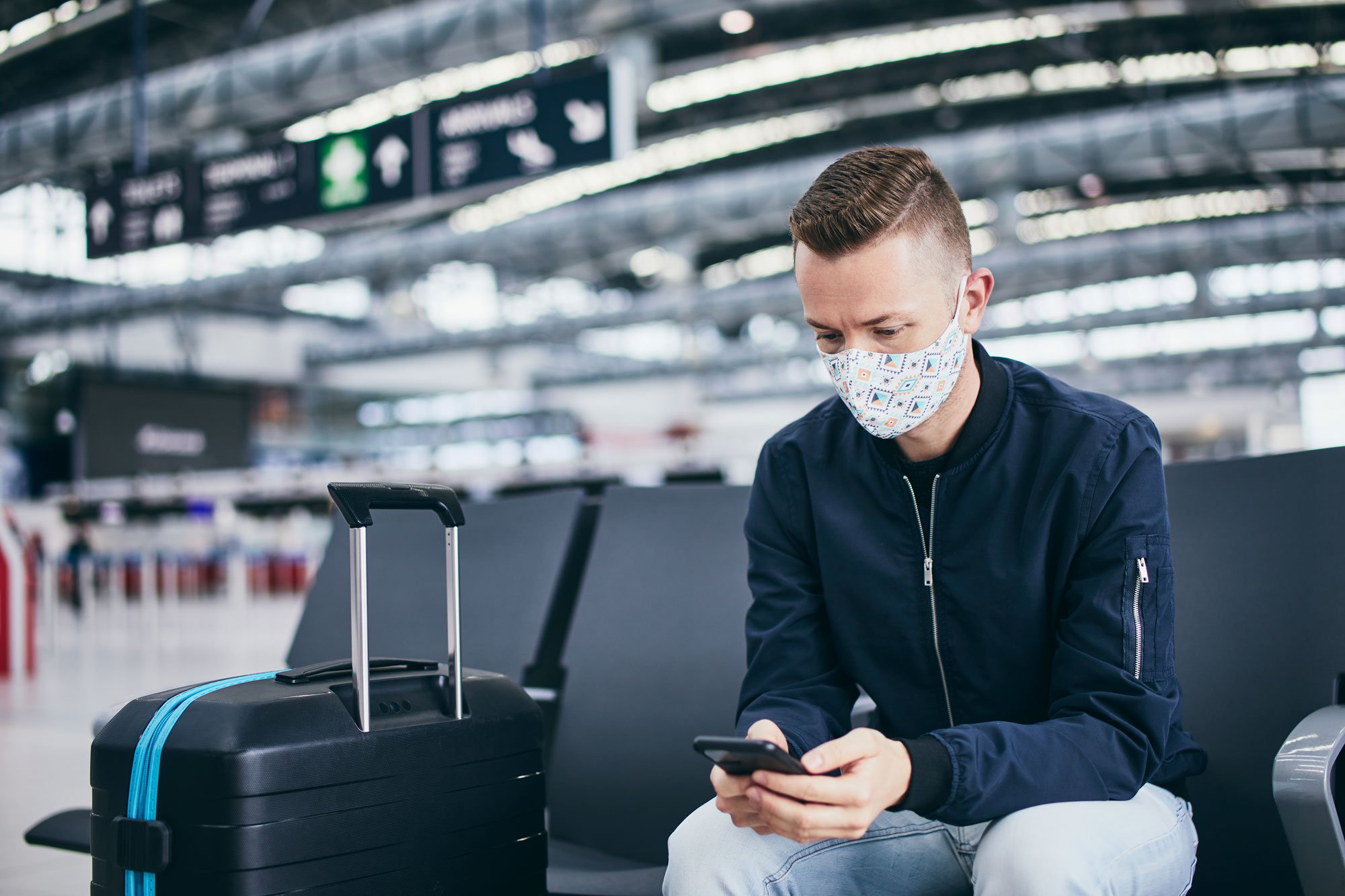 After the year that has been 2020, you may be longing to reconnect with family, go home for the holidays, or get away on vacation. We know this year has been difficult. But if you're getting ready to get on the road or book a flight this winter, you may want to rethink your holiday travel plans. As cities across the U.S. continue to report record numbers of new COVID-19 cases each day, the CDC is urging Americans to stay home and avoid Thanksgiving travel to prevent the spread of the virus. While you may be looking forward to a vacation or gathering with friends and family this year, it's important to understand how travel may pose a risk to your health and the health of your loved ones. We break down the biggest myths of traveling during COVID-19.
1. My COVID-19 test is negative, so it's safe if I travel.
False. A negative COVID-19 test does not mean it is risk-free for you to travel. Traveling increases your chance of getting and spreading COVID-19. Also, a negative test is just a snapshot of your risk of having the virus at the moment the test is collected. You could be in the early stages of infection before a test would be positive and become contagious even a day later in the worst-case situation. Just because you don't have COVID-19 at the start of your trip, doesn't mean you won't have it at the end.
2. If I travel by car, I'm not at risk of getting COVID-19.
False. While the risk is lower traveling by car than airplane or mass transit, you still risk exposure when you stop for gas, food and restroom breaks. Additionally, consider if your carpool buddies are already in your "pod," as close contact with others and poor ventilation could increase your risk of catching COVID-19.
3. If I'm outdoors, I don't have to wear a mask or stand 6 ft apart.
False. Your risk is lower in well ventilated areas (like the outdoors), but it is not zero. Safety precautions such as keeping distance and wearing a mask should be practiced at all times when you are with others outside your household.
4. If I test negative for COVID-19, I can't transmit it.
False. If you are "presymptomatic" (so early in the infection that you haven't generated enough viral particles yet for the test to detect), you could get a false negative test and be contagious soon afterwards. It's important to consider other factors (ie. recent travel, risky exposures, and COVID-19 rates in your community) when assessing your transmission risk level.
5. When I travel, I don't need to quarantine if my COVID-19 test is negative.
False. Even though certain state guidelines allow you to leave quarantine early with a negative test, given the limitations of testing (ie. the possibility of a false negative), the safest approach is to remain quarantined for a full 14 days after you arrive at your destination.You may have been presymptomatic at the time of testing or exposed during your travel. If you cannot complete the full 14 day quarantine, keeping up risk-reducing steps like maintaining distance, frequent hand-washing, and wearing a mask would be the next best approach!
If traveling by plane is unavoidable this holiday season, check out our tips for flying safely.
The One Medical blog is published by One Medical, a national, modern primary care practice pairing 24/7 virtual care services with inviting and convenient in-person care at over 100 locations across the U.S. One Medical is on a mission to transform health care for all through a human-centered, technology-powered approach to caring for people at every stage of life.
Any general advice posted on our blog, website, or app is for informational purposes only and is not intended to replace or substitute for any medical or other advice. 1Life Healthcare, Inc. and the One Medical entities make no representations or warranties and expressly disclaim any and all liability concerning any treatment, action by, or effect on any person following the general information offered or provided within or through the blog, website, or app. If you have specific concerns or a situation arises in which you require medical advice, you should consult with an appropriately trained and qualified medical services provider.