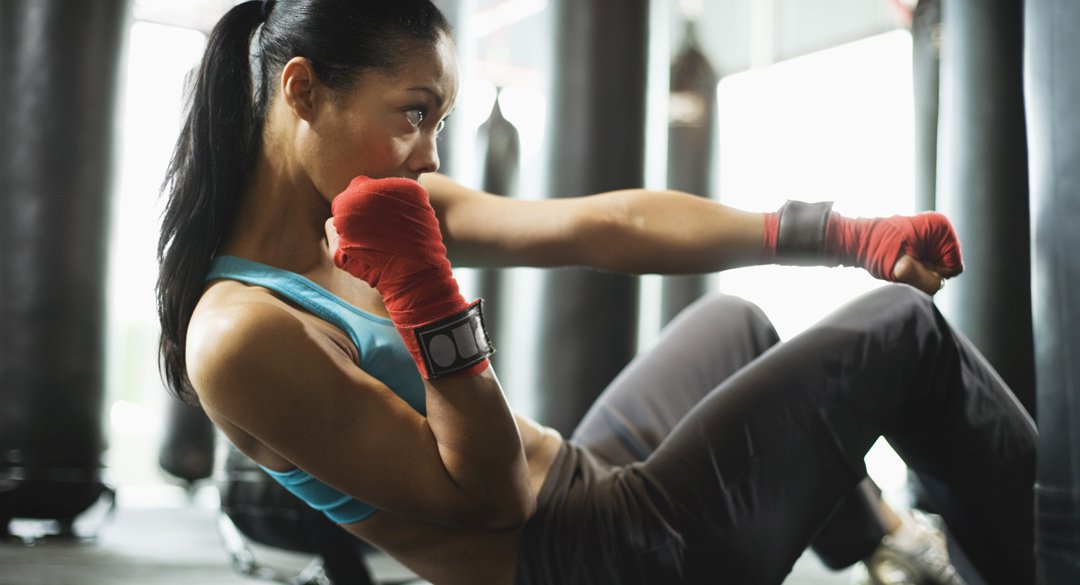 New Year's resolutions be damned: When the temperatures dip into the 20s, the last thing you want to do is head out of the house for a workout. But you don't need sunshine to break a serious sweat. Whether you're a yogi, a CrossFit addict, a Zumba devotee, or are completely new to the workout scene, you can find an indoor exercise routine to suit your goals and get you in shape by the time you need to swap your winter wear for springtime style.
Barre
Pure Barre
Pure Barre's 55-minute classes are low-impact but high-intensity. You'll work your butt, thighs, hips, abs, and arms using a ballet barre to perform isometric movements to energetic music.
Intensity: Moderate
350 Newbury Street
617.247.5360
The Bar Method
Combining physical therapy techniques with dance conditioning, The Bar Method alternates between intensely targeted muscle toning moves and stretches. The movements seem minimal, but the focused exercises will leave you feeling sore for days.
Intensity: Moderate
234 Clarendon Street
617.236.4455
CrossFit
CrossFit Boston
Established in 2005, CrossFit Boston is renowned for bringing the popular workout to the New England area. The ultra-challenging sessions have developed a cult-like following around the world and are rooted in varied functional movements performed at a high intensity that utilize bodyweight, gymnastics, weightlifting, and cardio.
Intensity: High
114 Western Avenue
617.903.4658
Cycling
SoulCycle
SoulCycles devotees swear by the 45-minute total-body workouts that integrate hand weights and choreography for intense cardio and conditioning.
Intensity: High
200 Boylston Street, Chestnut Hill
617.658.9010
The Handle Bar
Your workout will fly by in no time—thumping beats and low lights create a party vibe at The Handle Bar's two locations in South Boston and Fenway.
Intensity: Varies
141 Dorchester Avenue
617.451.1270
1336 Boylston Street, Newton
857.239.9789
Group Treadmill
"Precision Run Class" at Equinox
If you're looking for cardio motivation, look no further than Equinox's group treadmill class. Beginners and experienced runners alike can challenge themselves through the Balanced Interval Training Experience (BITE), which focuses on speed, incline, duration, and recovery.
Intensity: Varies
131 Dartmouth Street
617.578.8918
225 Franklin Street
617.426.2140
200 Boylston Street, Chestnut Hill
617.531.7077
Orangetheory Fitness
Each Orangetheory Fitness class uses a technique called Heart-Rate Treadmill Interval Training, indoor rowing, and weight training to keep your heart pumping and your energy revved up.
Intensity: High
375 Market Street
617.208.8378
Indoor Rowing
Burn Fitness Studios
Burn Fitness Studios is best known for its signature High Intensity Interval Training (HIIT) rowing workouts that alternate short, intense aerobic bursts with recovery periods to boost your metabolism and athletic performance. But the studio also offers classes like UrbanKick Burn, a total body kickboxing workout, and Broga® Yoga, a "stigma-smashing," "man-friendly" take on vinyasa flow.
Intensity: High
547 Columbus Avenue
617.462.6346
Indoor Swimming
The Clubs at Charles River Park
Whether you're new to the pool or a freestyle event vet, The Clubs at Charles River Park's pools have something to offer. There are lessons for children and adults of all levels and abilities, as well as HIIT classes that integrate strength and resistance drills for water-based, fat burning workouts.
Intensity: Varies
10 Whittier Place
617.726.2900
Boston University Fitness/Recreation Center
From scuba to diving to aqua aerobics, BU's Aquatics Center has classes and programs for all levels. The indoor Competition Pool is a state-of-the-art 10-lane-by-16-lane pool set between 79 and 80 degrees and perfect for water polo, synchronized swimming, and diving. The Recreation Pool is where you'll swim laps, learn the basics, or work out.
Intensity: Varies
100 Ashford Street
617.358.3139
Commonwealth Sports Club
Both the Commonwealth Sports Club's pools are open year-round for a variety of water workouts and swimming lessons. The five lane, 60-foot indoor salt-filtration lap pool hosts a variety of aquatics classes that strengthen muscles, alleviate joint pain, and improve balance and flexibility.
Intensity: Low
1079 Commonwealth Ave
617.254.1711
Mixed Martial Arts
Redline
Redline Fight Sports gets dedicated athletes into fighting shape through Brazilian jiu-jitsu, Muay Thai, kung fu, and a variety of other hardcore MMA styles.
Intensity: High
614 Massachusetts Avenue, Cambridge
617.868.2275
Yoga
Back Bay Yoga
Traditional yogis will find standard vinyasa flow classes to suit their needs, while more experimental practitioners can dabble in nighttime "Black Light" Hip Hop Yoga or "Salt-N-Pepa, TLC & En Vogue" classes.
Intensity: Varies
364 Boylston Street
617.375.9642
Sweat & Soul Yoga/Cycling
In addition to heated vinyasa and "Pink vs. Gwen Stefani" flow sessions, Sweat & Soul offers indoor cycling classes that incorporate core work and deep stretching.
Intensity: Moderate
1032 Commonwealth Avenue
617.277.9642
Zumba
Z Spot
Boston's first studio dedicated exclusively to the wildly popular Zumba Fitness dance craze offers traditional classes as well as variations on the basics, like Zumba Toning and Zumba Sentao, which combines strength and resistance training, along with a chair for partner dancing.
Intensity: Moderate
181 Massachusetts Avenue
617.338.7768
The One Medical blog is published by One Medical, a national, modern primary care practice pairing 24/7 virtual care services with inviting and convenient in-person care at over 100 locations across the U.S. One Medical is on a mission to transform health care for all through a human-centered, technology-powered approach to caring for people at every stage of life.
Any general advice posted on our blog, website, or app is for informational purposes only and is not intended to replace or substitute for any medical or other advice. 1Life Healthcare, Inc. and the One Medical entities make no representations or warranties and expressly disclaim any and all liability concerning any treatment, action by, or effect on any person following the general information offered or provided within or through the blog, website, or app. If you have specific concerns or a situation arises in which you require medical advice, you should consult with an appropriately trained and qualified medical services provider.