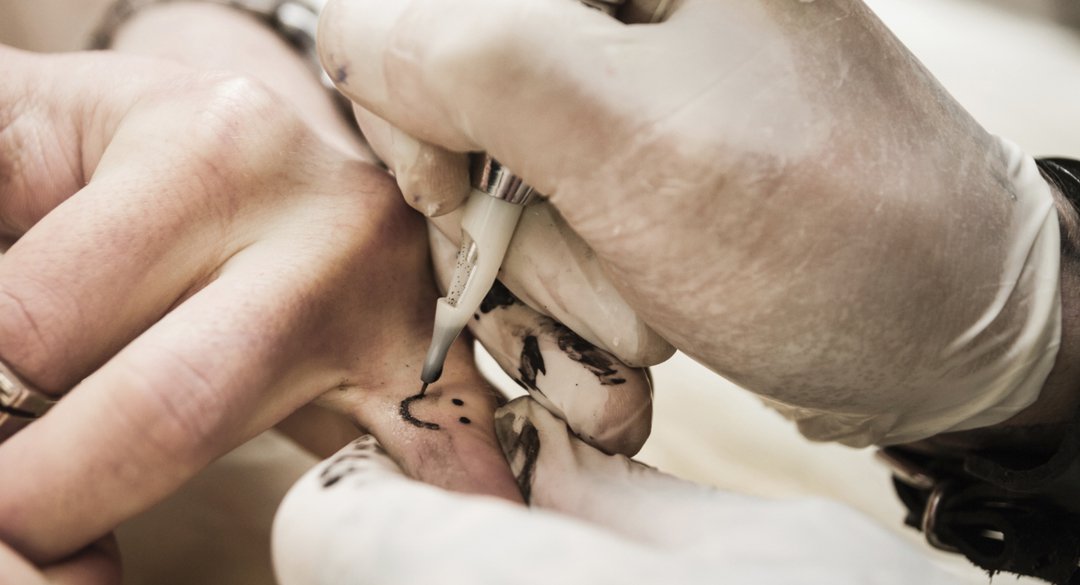 Everyone has tattoo regrets–even doctors.
When I was 19, I made some questionable choices (didn't everyone?), and one of those was the decision to get my first and only tattoo. At the time, I was excited to add a vibrant purple iris to my hip, but after two pregnancies, the image isn't quite what it used to be. But It's not just the faded flower that makes me cringe; It's the fact that I allowed a guy I barely knew to inject ink into my skin in a makeshift shop, otherwise known as his basement.
Sure, my "artist" acquaintance took proper precautions and I escaped the experience without any infection or injury — other than this withered old flower beneath the waistband of my jeans. But just because everything turned out okay doesn't mean the decision was safe or smart, and I hate to think what could have happened if luck hadn't been on my side.
I'm not badmouthing ink in general; I think tattoos are an incredibly beautiful artistic tradition that allow individuals to truly express themselves. That's what drew me to the needle in the first place–I wanted to add a meaningful piece of art to my body that I could carry with me always — although "always" is turning out to be a lot longer than I realized at 19! My concern is that young kids interested in tattoos may not want them for the right reasons and underestimate the potential risks that go along with getting inked.
So while I'm waiting for the day I can cover the old purple iris with something truly special, I want to help anyone thinking about a tattoo know how to make the safest, smartest choices before, during, and after their ink session.
This is how it's done: the tattooing process
When you get a tattoo, you're actually having pigments injected into the skin's top layer with a hand-held device that acts like a sewing machine, piercing the skin with one or more needles over and over again — without anesthetic — to create a permanent image. The process isn't always pretty, and it can cause a small amount of bleeding and a lot of pain.
The Food and Drug Administration (FDA) regulates tattoo ink, but the actual practice itself is under local jurisdiction. So each city, county, and state has different laws regarding how tattoos are done, and there's no standard certification for tattoo artists. That also means there's no overall governing body that supervises the health and safety of tattoo parlors. While there are many skilled, qualified artists out there, not everyone is an expert: a recent survey of 300 New York City adults found that up to six percent had experienced some sort of tattoo-related rash, infection, severe itching, or swelling that sometimes lasted longer than four months.
What are the risks of getting inked?
While getting a decorative or meaningful piece of art on your body can seem fun, the decision can expose you to carries some serious risks. Although the chances of developing complications should be low if your tattoo is performed by a skilled, experienced practitioner in a clean environment, here are some possible problems:
Dye allergies and itchy rashes at the tattoo site, even years after the tattoo is done
Skin infections
Granulomas (bumps) around the tattoo and keloids (raised areas of overgrown scar tissue)
Bloodborne diseases including tetanus, hepatitis B, and hepatitis C if the equipment used is contaminated with infected blood
More rare: Swelling or burning during an MRI, or interference with the quality of the image
How to minimize the risks before and during the tattoo process
Doing some homework before you decide on an artist or studio is key to minimizing your risk of infection or bad outcome. Be sure to check these items off your to-do list before and during your session:
Research a reputable tattoo studio and make sure all the employees there are properly trained. This part can be tricky because not all states or counties regulate tattoo shops. The best way to stay informed of your region's rules is to check the local city, county, and state health department websites for information on local licensing and regulations.
Talk to knowledgeable friends or acquaintances and ask around for recommendations regarding studios and artists.
Once you choose a location, visit the shop before your session and meet the artists. Make sure they use single-use, "throw-away" kits that are individually packaged, dated, and sealed. Check to see that they're wearing sterile, disposable gloves and using sterile, disposable towels for each client.
Make sure the artist uses a heat sterilization machine (autoclave) to sterilize all non-disposable equipment between clients. Items that can't be sterilized in the autoclave (like tables, sinks, drawer handles, etc.) should be wiped down with a disinfectant after each use.
Consider this decision permanent; removal is expensive, time-consuming, and it may not always work. I'm still waiting for the day I can cover up the tattoo I got as a teenager!
Protect your new tat (and your health)
Once you've made it through the needling (congrats!), you'll want to be extra careful with your new ink so you stay healthy.
Apply antibiotic ointment to the tattoo while it's healing and remove the bandage 24 hours after the tattoo is done.
Gently clean the tattoo with plain soap and water and avoid direct streams of water on the ink while you shower. When drying off, pat the tattooed area dry with a towel – don't rub.
Apply moisturizer to the tattoo several times a day.
Avoid the sun and don't expose the tattoo to sunlight at all for the first few weeks.
Avoid swimming in pools, rivers, lakes, or any body of water until your tattoo is healed.
Don't pick at any scabs that form while the tattoo is healing; it can take up to two weeks for the tattoo to completely heal.
If you think you have an infection, contact your primary care provider immediately.
While I have some regrets about the way I went about getting my tattoo, I haven't lost my appreciation for the art form or my respect for tattoo culture. I'm still interested in getting more ink, but I've learned the hard way that certain symbols in certain areas just don't look the same over time. With the experience I've gained and the knowledge I now have, I'm waiting until I can truly picture the tattoo I really want to see on my body for the rest of my life.
The One Medical blog is published by One Medical, a national, modern primary care practice pairing 24/7 virtual care services with inviting and convenient in-person care at over 100 locations across the U.S. One Medical is on a mission to transform health care for all through a human-centered, technology-powered approach to caring for people at every stage of life.
Any general advice posted on our blog, website, or app is for informational purposes only and is not intended to replace or substitute for any medical or other advice. 1Life Healthcare, Inc. and the One Medical entities make no representations or warranties and expressly disclaim any and all liability concerning any treatment, action by, or effect on any person following the general information offered or provided within or through the blog, website, or app. If you have specific concerns or a situation arises in which you require medical advice, you should consult with an appropriately trained and qualified medical services provider.