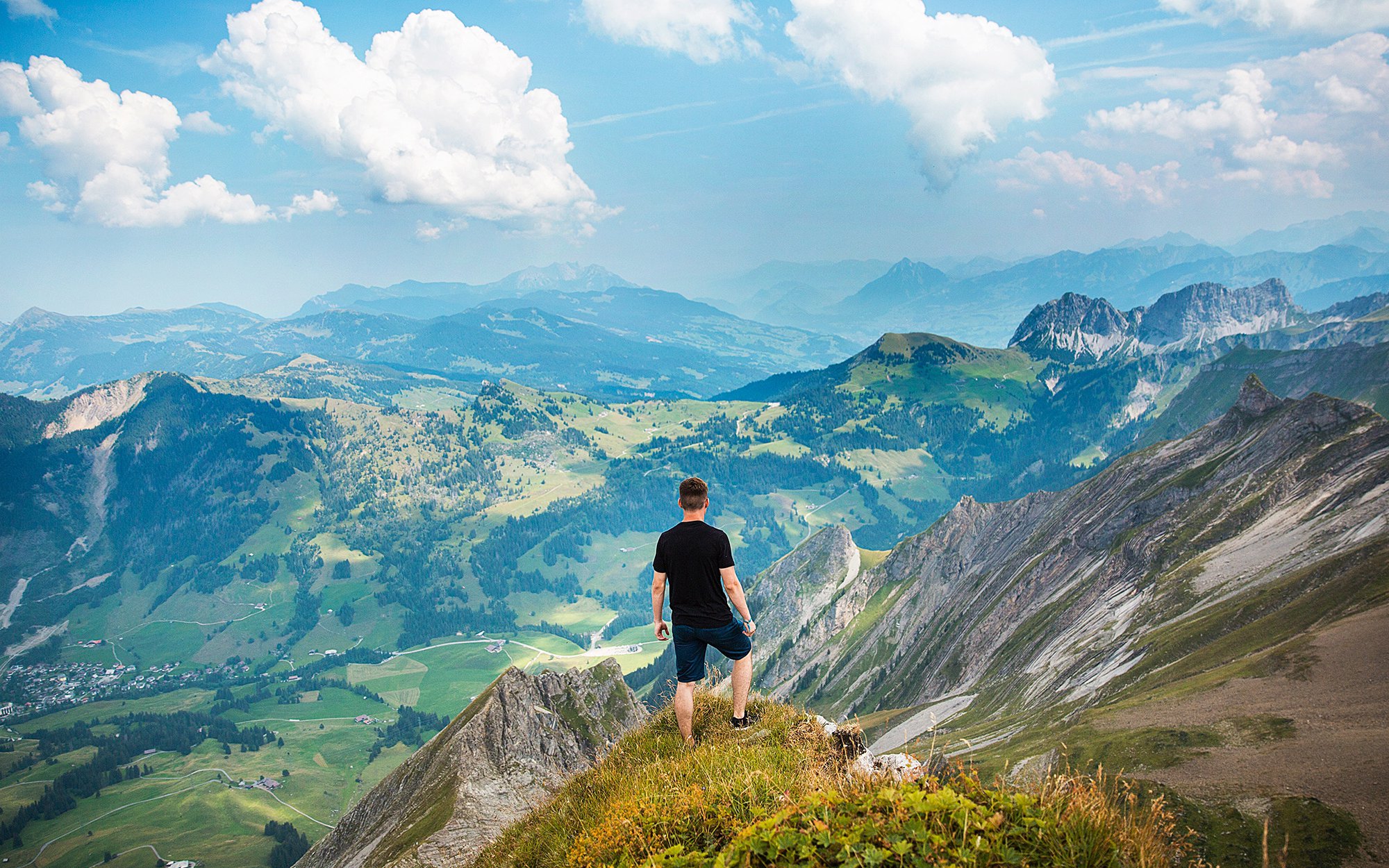 If you live anywhere near Polar Vortex territory, chances are you've been exercising mostly indoors over the the winter — or skipping workouts altogether. But now that it's warming up outside, there's no better time to take advantage of longer days and fresh air to get in shape. So don't waste another gorgeous spring day. Here are six tips to get back into an outdoor fitness routine, even if you've been slacking since Thanksgiving.
1: Start slow.
The last thing you want to do when when you're struggling to get back into an exercise routine is overcommit. Been relatively sedentary for a while? Start with a short workout you can do any time, like a 20-minute walk or jog around your neighborhood. Once you're up and moving, you might find you keep going even longer.
Another reason to go easy at first: after a break, doing too much too soon could lead to an injury. So, it's generally best to reintroduce exercise gradually. The frequency, intensity, and volume of your workouts before you stopped exercising all matter, too, according to Bowden. If 90-minute yoga classes were your go-to, try 60-minute sessions at first instead.
2: Pencil in your workouts.
The great thing about outdoor workouts is you don't have to adjust your life around a group fitness schedule or worry about waiting for a treadmill during peak hours at the gym. On the flip side, the responsibility falls on you to plan — and stick to — a routine. If you've been putting off exercise, it's all too easy to keep doing just that, finding any excuse to not strap on those sneakers. But if you clear space on your calendar for workouts, you'll be less likely to let distractions (your inbox, a pile of laundry, your Netflix queue) derail you. Go ahead and schedule restorative days, too — they're important for keeping your body in balance.
3: Prepare for the elements.
The number one accessory for outdoor fitness enthusiasts? Sunscreen. Rain or shine, load up on the SPF before you head out, and remember to reapply after a sweat session and every two hours.
Here are some other outdoor fitness essentials:
Water. Bring a bottle and hydrate often, especially on hot or sunny days.
Helmet. For cyclists, it's a safety must.
Reflective gear. If you prefer to run or bike in the evenings or before the sun comes up, you want to make yourself as visible as possible to nearby traffic.
4: Try something new.
The only workout that's effective is a workout you'll actually do. Try a lot of different activities — jogging, swimming, hiking, biking, bootcamp, team sports — to discover what you truly enjoy. And if you find a few favorites, all the better. You'll be less likely to get injured and more likely to stick to an active lifestyle. Looking for a little guidance? Consider downloading a virtual training app, which you can take with you anywhere on your phone or tablet. Bowden likes YogaGlo; some other popular picks include Nike Training Club, Pear, and Aaptiv.
5: Consult a pro.
The type and amount of exercise needed is different for everyone. As you ramp up your routine post-winter, reach out toyour primary care provider (PCP) for guidance. They can help you develop an exercise plan tailored to your unique health needs and fitness goals. Plus, they can work with you to track and monitor your progress along the way.
6: Have a plan B.
Nothing is certain about weather except that it's unpredictable. Don't let that break your routine. If it's too cold, too rainy, or you have to be at work before the sun comes up on a particular day, have a backup plan that still lets you get in your workout, whether that means bookmarking a few workout videos on your phone or laptop or finding a local gym that offers day passes. Consistency is key over all else.
The One Medical blog is published by One Medical, a national, modern primary care practice pairing 24/7 virtual care services with inviting and convenient in-person care at over 100 locations across the U.S. One Medical is on a mission to transform health care for all through a human-centered, technology-powered approach to caring for people at every stage of life.
Any general advice posted on our blog, website, or app is for informational purposes only and is not intended to replace or substitute for any medical or other advice. 1Life Healthcare, Inc. and the One Medical entities make no representations or warranties and expressly disclaim any and all liability concerning any treatment, action by, or effect on any person following the general information offered or provided within or through the blog, website, or app. If you have specific concerns or a situation arises in which you require medical advice, you should consult with an appropriately trained and qualified medical services provider.