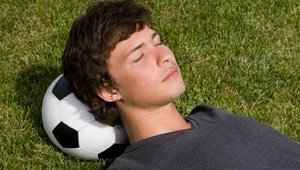 With their photo finishes, world records, and unbelievable comebacks, Olympians seem almost superhuman. But behind their Olympic glory, a more mundane reality powers the athletes' performances: sleep. It may not be novel or glamorous, but sleep is essential for success as these athletes go for gold.
For Olympic athletes, sleep isn't just empty time or a break from training. Sleep affects recovery, metabolism, hormonal balance, mood, and athletic performance. During sleep, the body secretes growth hormone, which aids in strength building and recovery from injury by stimulating the healing and growth of muscle and bone as well as the burning of fat. Sleep helps keep athletes mentally sharp, too, and is important for memory, reaction time, and hand-eye coordination as well as for learning and acquiring new skills.
"Sleep is huge in my sport. Recovery is the limiting factor, not my ability to run hard. I typically sleep about eight to nine hours a night but then I make sure to schedule 90 minute 'business meetings'–aka naps–into my day for an afternoon rest." — Olympic marathoner Ryan Hall
Even if you aren't an elite athlete, good, old-fashioned sleep is still essential for optimal health. The following suggestions will help you sleep like an Olympian, too.
1. Get Enough Sleep–Consistently
It's important to prioritize sleep over a long period of time, not just the night before a big competition or event. How athletes have slept in the weeks, months, and years prior to London will affect their Olympic efforts. When athletes accumulate a large sleep debt by not obtaining their required nightly sleep, it can have negative effects on health and performance. According to Hall, difficulty getting enough sleep during his freshman year of college resulted in a twitch in his eye that lasted the entire year. And, he says, "My freshmen year ended up being my worst year of running largely due to my lack of ability to get adequate rest." Most Olympic athletes in training need eight to ten hours of sleep. For the average adult, sleep experts recommend seven to nine hours (adolescents need more–about nine to ten hours).
Cheri Mah, who led studies at Stanford University Sleep Disorders Clinic and Research Laboratory, found that when athletes increased sleep time (with a goal of 10 hours of sleep every night for five weeks), their athletic performance improved. Tennis players ran faster sprints and hit more accurate shots; swimmers improved measures of performance, mood, and alertness; and basketball players sprinted faster, reported feeling better in practices and games, and had a nine percent improvement in three-point and free throw shooting. Whether you're an Olympic champion, recreational athlete, business leader, or avid gardener, prioritizing sleep may improve performance and health, regardless of your field of play.
Tips:
Get at least 7 to 9 hours of sleep nightly.
Go to bed and wake up at the same times every day.
2. Optimize Your Sleep Environment
Create an environment that is conducive to good rest. The US Olympic committee enlisted sleep specialist and former NASA scientist Mark Rosekind to redesign the rooms at the Olympic Training Center to provide athletes with optimal sleeping conditions. In addition to making sure that the beds and mattresses were comfortable, Rosekind also addressed light, temperature, and noise. The rooms are equipped with a desk and a comfortable chair to encourage athletes not to work in bed.
Athletes are careful about their sleep hygiene, too. Light from computer screens and televisions can interfere with the body's circadian rhythm and keep us awake. And interactive technology makes us more alert and can lead to insomnia when used before bed.
"Bedtime! Imma sleep like a baby tonight. Shutting all electronics down! Don't want my phone buzz'n all night." — Olympic track star Kerron Clement via Twitter"
Tips:
Use your bed for sleep, not for activities such as working, reading, watching TV, or listening to music.
Avoid bright lights in the evening and follow an electronic curfew. At least 30 minutes before bed, turn computers, phones, TVs, and other electronic devices off.
Keep your bedroom dark; blackout curtains may be helpful.
Watch the thermostat. Sixty-five degrees is an ideal sleep temperature; use extra blankets if needed.
Buffer intrusive noises with fans or white noise machines.
3.  Use Caution with Substances that Affect Sleep
Australian swimmer Grant Hackett won the 1,500 meter freestyle gold in the 2000 Sydney and 2004 Athens Olympic Games. In Bejing 2008, he finished second. There's been controversy about whether the sleeping pill Zolpidem (Ambien) was to blame. While Hackett says that he doesn't think sleeping pills affected the 2008 race outcome, he doesn't deny the powerful–and potentially dangerous–effects of the medication. He describes using Zolpidem to a point of "heavy reliance," during his recovery from shoulder surgery and for help with rest during competition. The Australian Olympic committee has banned the use of sleeping pills for its athletes in the London Games because, as Australia Olympic Committee President John Coates says, "Our overriding obligation is to protect the health of our athletes."
Sleeping pills aren't the only substances athletes (and the rest of us) need to be smart about. The World Anti-Doping Agency removed caffeine from its list of banned substances in 2004, but athletes still need to understand the effects of caffeine and energy drinks on sleep. The Australian Olympic committee expressed concern that athletes can create a "vicious cycle" by using caffeine as a performance enhancer and then needing to take medications to help with sleep.
To get good sleep without medication, many athletes have developed specific strategies and relaxation techniques. Eleven-time Olympic swimming medalist Natalie Coughlin uses a Pilates practice called constructive rest, which involves lying on the floor with her knees bent and feet flat, visualizing the tension disappearing from her muscles. Nastia Liukin, 2008 gymnastics gold medalist, writes down all of her thoughts before bed to help her clear her mind. Judo gold medalist Kayla Harrison jokes that she reads Atlas Shrugged before bed: "It puts me to sleep because it's so long and monotonous. You can pass out and then pick it up, and they're having the exact same 70-page conversation!"
Tips:
Use sleep medications sparingly, if at all.
Minimize caffeine intake in the afternoon and evening.
Take a warm bath before bedtime.
Drink chamomile or peppermint tea to relax and prepare for sleep.
Find a routine that works for you and stick to it.
The One Medical blog is published by One Medical, a national, modern primary care practice pairing 24/7 virtual care services with inviting and convenient in-person care at over 100 locations across the U.S. One Medical is on a mission to transform health care for all through a human-centered, technology-powered approach to caring for people at every stage of life.
Any general advice posted on our blog, website, or app is for informational purposes only and is not intended to replace or substitute for any medical or other advice. 1Life Healthcare, Inc. and the One Medical entities make no representations or warranties and expressly disclaim any and all liability concerning any treatment, action by, or effect on any person following the general information offered or provided within or through the blog, website, or app. If you have specific concerns or a situation arises in which you require medical advice, you should consult with an appropriately trained and qualified medical services provider.