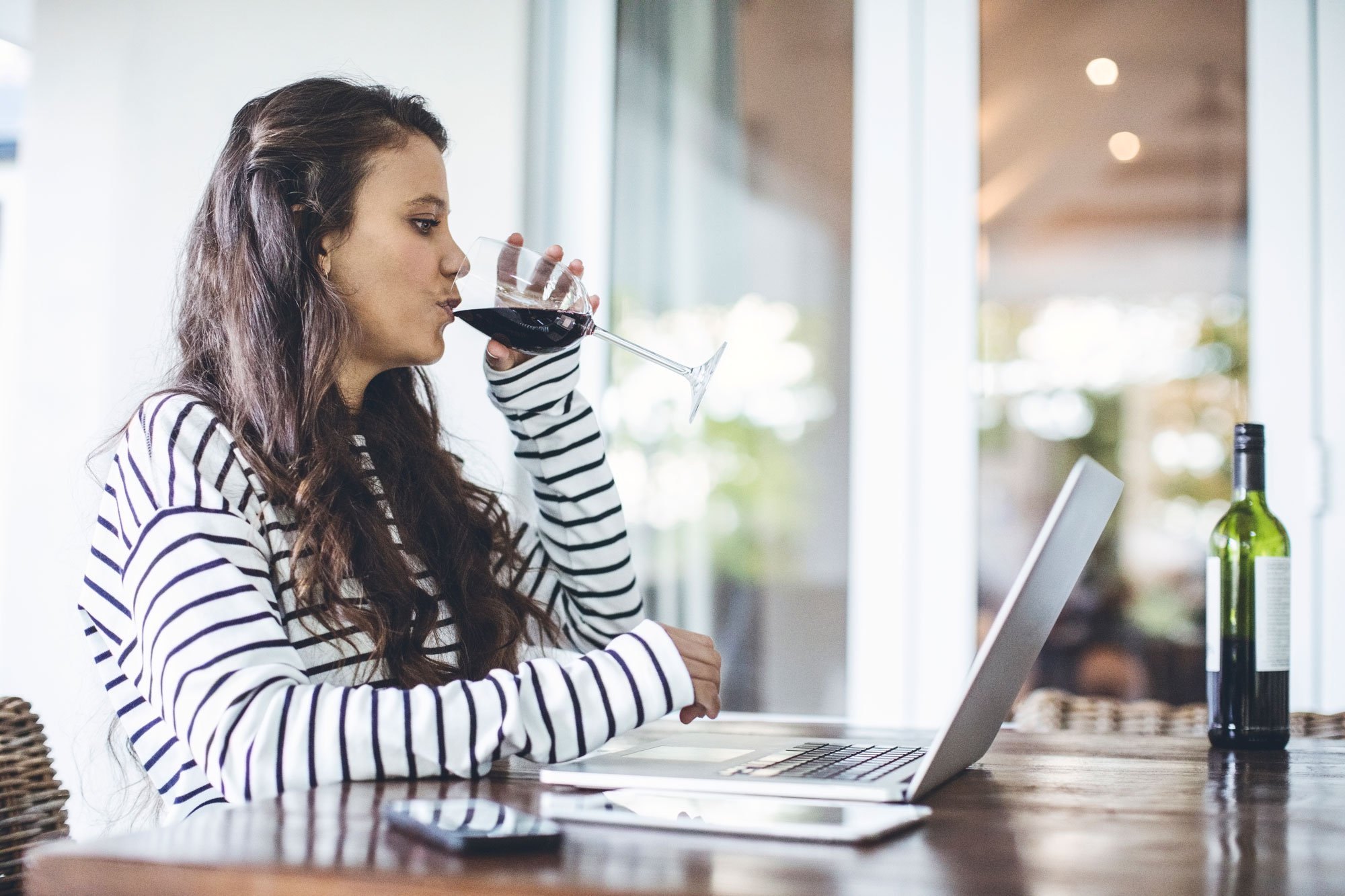 Throughout the coronavirus pandemic, the U.S. has seen toilet paper, hand sanitizer, and household disinfectants consistently fly off store shelves. But Americans haven't just been stocking up on cleaning supplies. They're also filling their liquor cabinets.
According to market research firm Nielsen, in-store alcohol sales rose nearly 27% percent during the nine weeks ended May 9th, 2020, at the start of the pandemic, from the same period last year. Meanwhile, online alcohol sales surged 253%.
The sales uptick has prompted concern from health officials, who worry that increased alcohol consumption could have serious long-term health consequences, including increased risk of illnesses like COVID-19. While the occasional glass of wine or beer may not have any extreme impact on your health, it's important to be mindful of your drinking habits, especially right now. Here's what you need to know about alcohol and your health:

Alcohol and COVID-19
Between remote work and limited social gatherings, you may have found yourself drinking more than usual. Perhaps it's after a long day home with the kids or during a virtual happy hour with coworkers or friends. Just as we stay home to protect ourselves against the virus, we should be mindful of unhealthy behaviors that may arise as a result.
While there is little information so far on the link between alcohol and COVID-19 in particular, excessive drinking is known to weaken the immune system and reduce its ability to fight off infection and serious illnesses like pneumonia. Research shows that prolonged alcohol consumption can lead to more serious lung diseases like acute respiratory distress syndrome, which is one of the more severe complications of COVID-19. This is because alcohol damages the immune cells and fine hairs in the lungs that clear infections out of the body. Alcohol can also alter the health of your gut and destroy key microorganisms that support the immune system, as well as damage immune cells lining the intestines. This makes it more difficult for the body to fend off viruses like the one that causes COVID-19 and increases the risk of more serious health complications if a person is infected.
Along with this, alcohol can negatively impact sleep quality by interrupting your circadian rhythm and inhibiting REM sleep. Poor sleep can in turn impair your immune system and raise your likelihood of sickness.
What's too much?
According to the CDC, moderate drinking — 1 drink per day for women and up to 2 drinks per day for men — is fine. Excessive drinking, which can lead to a weakened immune system and other serious health conditions as described above, however, includes the following:
Binge drinking: 4 or more drinks during a single occasion for women; 5 or more drinks during a single occasion for men
Heavy drinking: 8 or more drinks per week for women; 15 or more drinks per week (men)
Those who are at high-risk of COVID-19 or have preexisting conditions that put them at risk of serious illness, should consider limiting alcohol usage during this time given its effects on the immune system.
How can I cut back?
Cutting back on your alcohol consumption can help you stay both physically and mentally healthy amid the coronavirus pandemic. In addition to protecting your immune system from the virus, drinking less can elevate your mood, boost your productivity, and help you stay energized and motivated during quarantine. Here are some easy ways you can reduce your alcohol consumption:
Set limits
While it may be tempting to drink more often when you're stuck at home, try setting some parameters when it comes to alcohol. You may want to limit your drinking to only certain days of the week like weekends, or stick to a certain number of drinks. It may also be helpful to tally or jot down your drinks in a journal to keep yourself on track.
Alternate each drink with water
It's easy to get in the habit of refilling your cup every time you finish your drink. Slowdown your alcohol intake by drinking a glass of water after every alcoholic beverage. This will cut your alcohol consumption in half, as well as keep you hydrated.
Drink everything over ice
Ice can take up a large part of your cup or glass, reducing the amount of alcohol you consume per drink. It will also water down your drink and slow absorption into the bloodstream.
Avoid straws
Research shows that people tend to drink more quickly using a straw than they would sipping out of a cup or glass. Straws can also suppress the smell of a drink and lead to overconsumption.
Try a low alcohol-cocktail or mocktail
Lower strength versions of your favorite cocktails are great ways to curb your daily alcohol intake. There are also plenty of recipes for mocktails that taste like the real thing. Bitters and soda are a good substitute as well. If you're craving beer, a low-sugar kombucha is a great alternative.
Switch to a small glass
Some wine glasses are more like fish bowls! It's easy to lose track of how much you're consuming with these larger glasses. Switch to a smaller container that you can refill. The simple act of refilling can be a good indicator that you may want to slow down.
Eat beforehand
A full stomach will slow the absorption of alcohol while also reducing your cravings for alcohol. Eating at the same time as drinking can also help you drink less.
Know Your ABV
Alcohol by volume or (ABV) is the measure of alcohol content in a given beverage. Knowing the ABV of various alcohol types will help you make more informed decisions about what and how much you are drinking. Carbonated sweetened malt beverages like Smirnoff Ice and White Claw, for instance, are twice as alcoholic as a 12 oz. light beer. Likewise, some IPAs have double the ABV of other beers.
Don't mix with caffeine
Caffeine can mask the depressant effects of alcohol making it harder to gauge how intoxicated you are. This can cause you to continue to drink when you might have otherwise stopped. Caffeine also inhibits the body's natural protective reaction to larger amounts of alcohol.
If you feel like you're turning to alcohol to cope, are struggling to control your drinking, or think you may have a drinking problem, please reach out to your healthcare provider. For more tips on healthy drinking, read here.
The One Medical blog is published by One Medical, a national, modern primary care practice pairing 24/7 virtual care services with inviting and convenient in-person care at over 100 locations across the U.S. One Medical is on a mission to transform health care for all through a human-centered, technology-powered approach to caring for people at every stage of life.
Any general advice posted on our blog, website, or app is for informational purposes only and is not intended to replace or substitute for any medical or other advice. 1Life Healthcare, Inc. and the One Medical entities make no representations or warranties and expressly disclaim any and all liability concerning any treatment, action by, or effect on any person following the general information offered or provided within or through the blog, website, or app. If you have specific concerns or a situation arises in which you require medical advice, you should consult with an appropriately trained and qualified medical services provider.