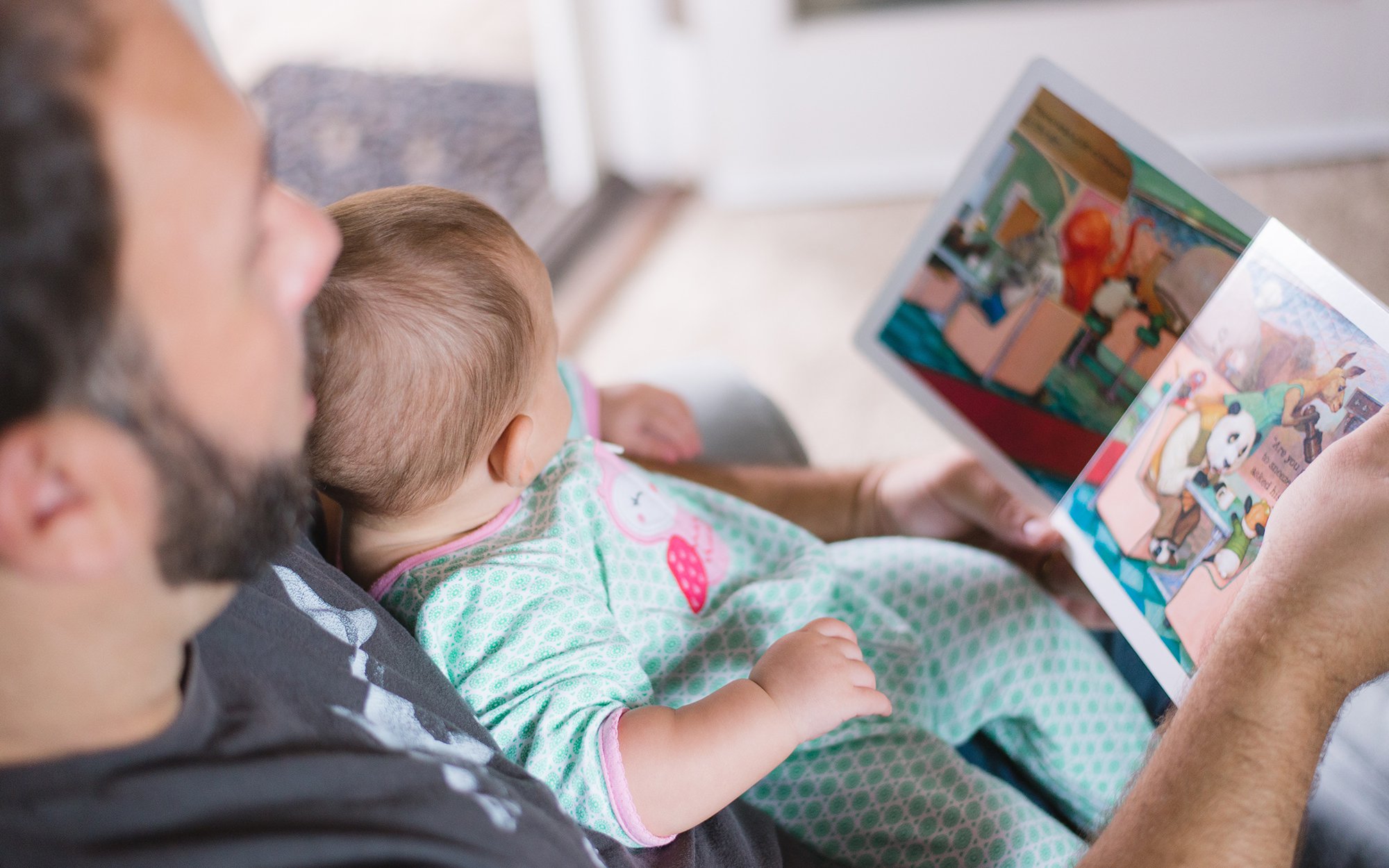 Being a parent is hard. There is no playbook on how to be a great parent and we are all trying to figure things out as best we can. As a family physician, I am often asked by parents how they can best help with their child's development, and the answer is far simpler than they realize: read! Reading to your child holds many benefits for both your child and your family. The best part about this bonding activity is that it easy to do almost anywhere and will immensely help your child grow and learn. Here are some of the amazing ways reading can improve the health of your family.
1. It helps your child's brain grow
Reading has been shown to improve language development and early childhood literacy, but what effect does it have on the brain? One study in 2015 found that increased reading exposure had strong ties to activating parts of the brain that support narrative comprehension (understanding a story, its characters, and predicting what happens next) and visual imagery. Who knew that Green Eggs and Ham was not only tasty but also helped your brain grow as well! Other studies have found that reading to your kid can even help with a child's future behavior by improving attention and decreasing aggression and hyperactivity. That is quite a lot of value for just 10 minutes of reading a day.
2. Makes bedtime fun for all
Before I became a parent, I thought children would slow down when they became tired and quietly drift off to bed at the end of the day…… how naive I was! Instead, the more tired my kids get, the more chaotic they become – making bedtime a perpetual wrestling match. This is a common issue facing parents which is why a regular bedtime routine is highly recommended by the American Academy of Family Physicians and American Academy of Pediatrics. Bedtime routines are a way to get control over the evening, and a bedtime story is your ultimate tool. Stories are able to capture your child's attention and engage them in play that won't rile them up before bed. They also serve as a positive signal to your child that it is time to rest and settle down. By introducing this level of fun, it can help change bedtime from a chore to a bonding experience for both children and parents to enjoy.
3. Exposure to new concepts
Reading can transport your child to an entirely new world and expose them to new ideas and concepts that are out of their norm. I'm not talking about worlds that demonstrate the power of a purple crayon or go on an adventure with a cat who likes to wear a striped top hat. Instead, I'm referring to the real life adventures your child will experience, such as going to the doctor or traveling on their first plane ride. Books are also helpful when introducing difficult topics, such as the loss of a loved one and chronic illnesses. New life experiences can be intimidating, but by introducing them beforehand with an engaging story can turn an otherwise scary event into a new and exciting adventure.
It is easy to start reading to your kids – and should be fun too! Check out these additional resources on ways you can get your family excited about reading.
The One Medical blog is published by One Medical, a national, modern primary care practice pairing 24/7 virtual care services with inviting and convenient in-person care at over 100 locations across the U.S. One Medical is on a mission to transform health care for all through a human-centered, technology-powered approach to caring for people at every stage of life.
Any general advice posted on our blog, website, or app is for informational purposes only and is not intended to replace or substitute for any medical or other advice. 1Life Healthcare, Inc. and the One Medical entities make no representations or warranties and expressly disclaim any and all liability concerning any treatment, action by, or effect on any person following the general information offered or provided within or through the blog, website, or app. If you have specific concerns or a situation arises in which you require medical advice, you should consult with an appropriately trained and qualified medical services provider.