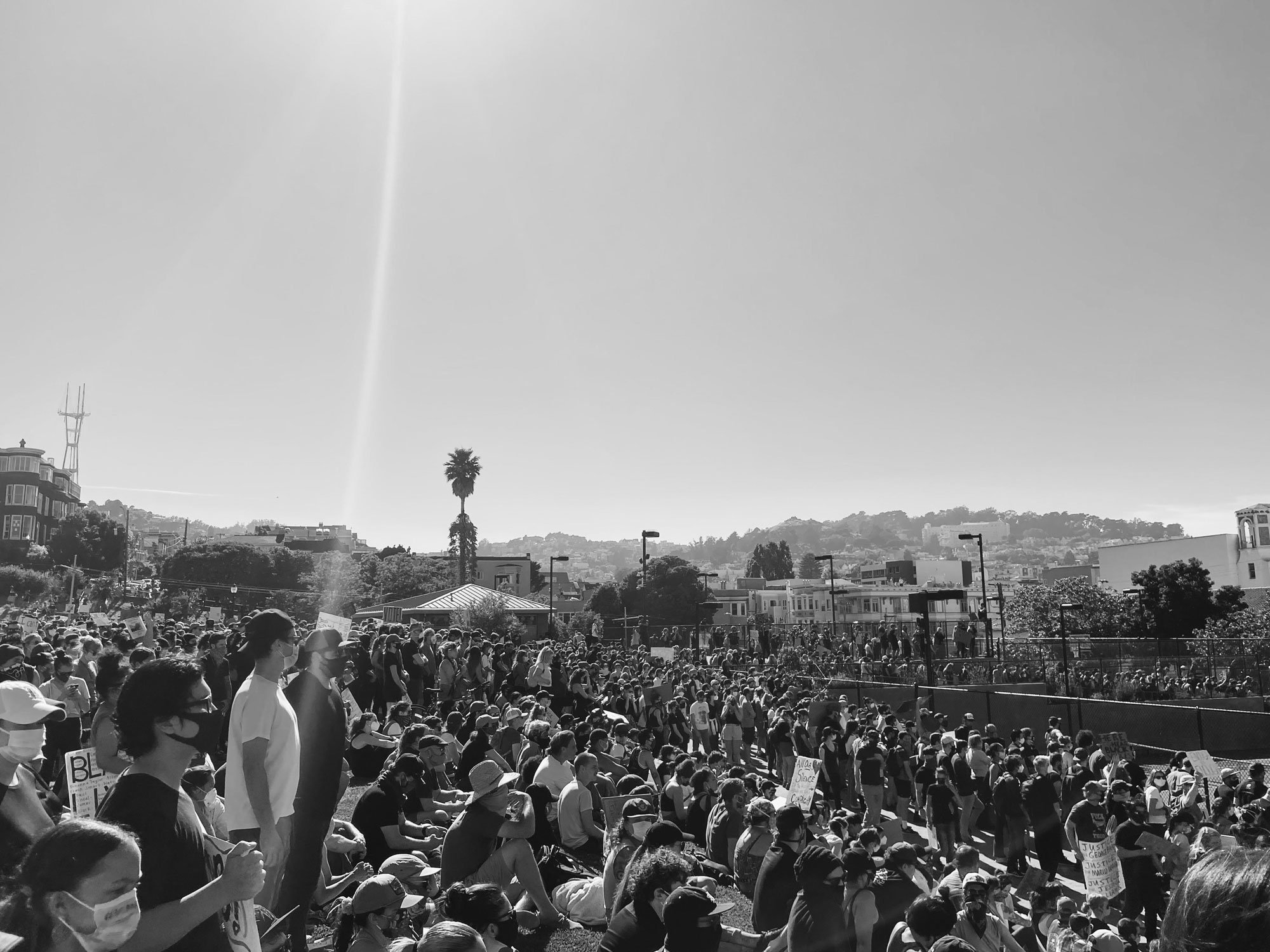 As many of our patients are taking to the streets in support of the Black community in ending police brutality and systemic racism, many patients are asking how to stay safe while protesting. We are still in the midst of the COVID-19 pandemic, so we encourage people to take preventative measures to continue limiting the spread while joining group demonstrations. Additionally, the fact that even peaceful protesters may be met with tear gas, pepper spray and rubber bullets is an unfortunate reality, but there are preventative measures you can take to lessen the impact on your body.
Below, please find our tips for staying safe while taking a stand:
Before leaving your home:
Wear your face mask. COVID-19 is known to spread from person-to-person transmission via respiratory droplets, including those produced by coughing, laughing, or even sneezing. Given protests often require people being in close proximity and chanting loudly, it's important to keep your mask on that covers your nose and face. Additionally, a face mask can help protect you from tear gas and pepper spray.
Don't wear contact lenses. Instead, wear glasses, goggles or face shields to protect your eyes from any chemicals or rubber bullets that may be used by law enforcement.
Don't wear makeup. Tear gas can cling to mascara and lipstick, making it harder to remove from your skin.
Wear pants and long-sleeves. Covering as much skin as possible can protect you from a variety of elements, ranging from sunburns to tear gas to pepper spray.
Bring water. Water, of course, helps you stay hydrated but also serves as a handy aid if you are hit with tear gas.
Bring a snack. A protein-rich snack can help keep your energy up.
While protesting:
Maintain 6-foot distance. While this may seem impossible at larger demonstrations, be mindful of opportunities to create a safe distance from others when possible.
Avoid indoor spaces. COVID-19 is more likely to spread while in indoor spaces, so try to stay in open-air environments whenever possible.
Use hand sanitizer often. Hand sanitizer that contains at least 60 percent alcohol is effective at killing COVID-19.
Be aware of your surroundings. While some may protest alone, it's helpful to have a buddy system and exit strategy.
Support from the sidelines. Some people are part of vulnerable populations that make them at higher risk of complications from COVID-19, including people with chronic disease or older adults. Contact protest organizers to see if there are areas reserved for people who need to avoid marching. And for those who cannot physically participate, consider supporting protests in other ways - through donations, speaking out, or virtual organizations.
If exposed to chemicals like tear gas or pepper spray:
Try not to panic. Tear gas is very irritating to the eyes, skin and respiratory system. Try not to panic and rub your face, as it will only make things worse. The body will react with tears immediately.
Get away from the source. The most serious injuries related to tear gas are caused by projectile canisters or being exposed while indoors. Move away from the source of the tear gas or pepper spray as quickly as possible but avoid running in the crowd.
Use lots of cool water. Tear gas is a chemical that needs to be flushed from the eyes, and the best way to do this is with lots of water. Milk may provide some comfort but isn't as effective for tear gas. While milk does provide some relief from pepper spray, baby shampoo diluted with water is most effective in breaking down oils from pepper spray.
Contact your doctor if symptoms persist. Skin pain caused by tear gas and pepper spray can last for hours, but if your vision is impacted for longer than 15-30 minutes or you're struggling to breathe after distancing yourself from the impacted area, you should contact a healthcare provider.
If hit with a rubber bullet:
Get to safety. Rubber bullets were intended to be used at a low, safe distance and not cause more damage than bruising. However, rubber bullets are being used at close proximities for crowd control, leading to potentially dangerous injuries.
Clean the area with soap and water. Even wounds that don't puncture skin can still embed dirt or other debris into the skin.
Evaluate the wound. If the wound has punctured the skin, it was likely traveling at a high velocity from a close distance. It's important to seek medical attention.
Check yourself for other injuries. Even if the rubber bullet did not penetrate skin, it can potentially cause other injuries, such as a fracture or debris in your eyes.
What to do after the protest:
Debrief about your experience. Systemic racism and police brutality are critical public health issues. It's healthy to process your experience after a protest in whatever way is best for you - it might mean talking to a friend, journaling, or engaging in self-care.
Take a shower. A cool shower can prevent tear gas or pepper spray from irritating your skin further.
Get a COVID-19 test. A crowded space creates higher risk for COVID-19 transmission. Given that some people can be asymptomatic carriers of COVID-19, it's a good idea to get a COVID-19 test 4-7 days after a protest to see if you're infected.
Please be safe out there and know that your One Medical team is here for support.
The One Medical blog is published by One Medical, a national, modern primary care practice pairing 24/7 virtual care services with inviting and convenient in-person care at over 100 locations across the U.S. One Medical is on a mission to transform health care for all through a human-centered, technology-powered approach to caring for people at every stage of life.
Any general advice posted on our blog, website, or app is for informational purposes only and is not intended to replace or substitute for any medical or other advice. 1Life Healthcare, Inc. and the One Medical entities make no representations or warranties and expressly disclaim any and all liability concerning any treatment, action by, or effect on any person following the general information offered or provided within or through the blog, website, or app. If you have specific concerns or a situation arises in which you require medical advice, you should consult with an appropriately trained and qualified medical services provider.