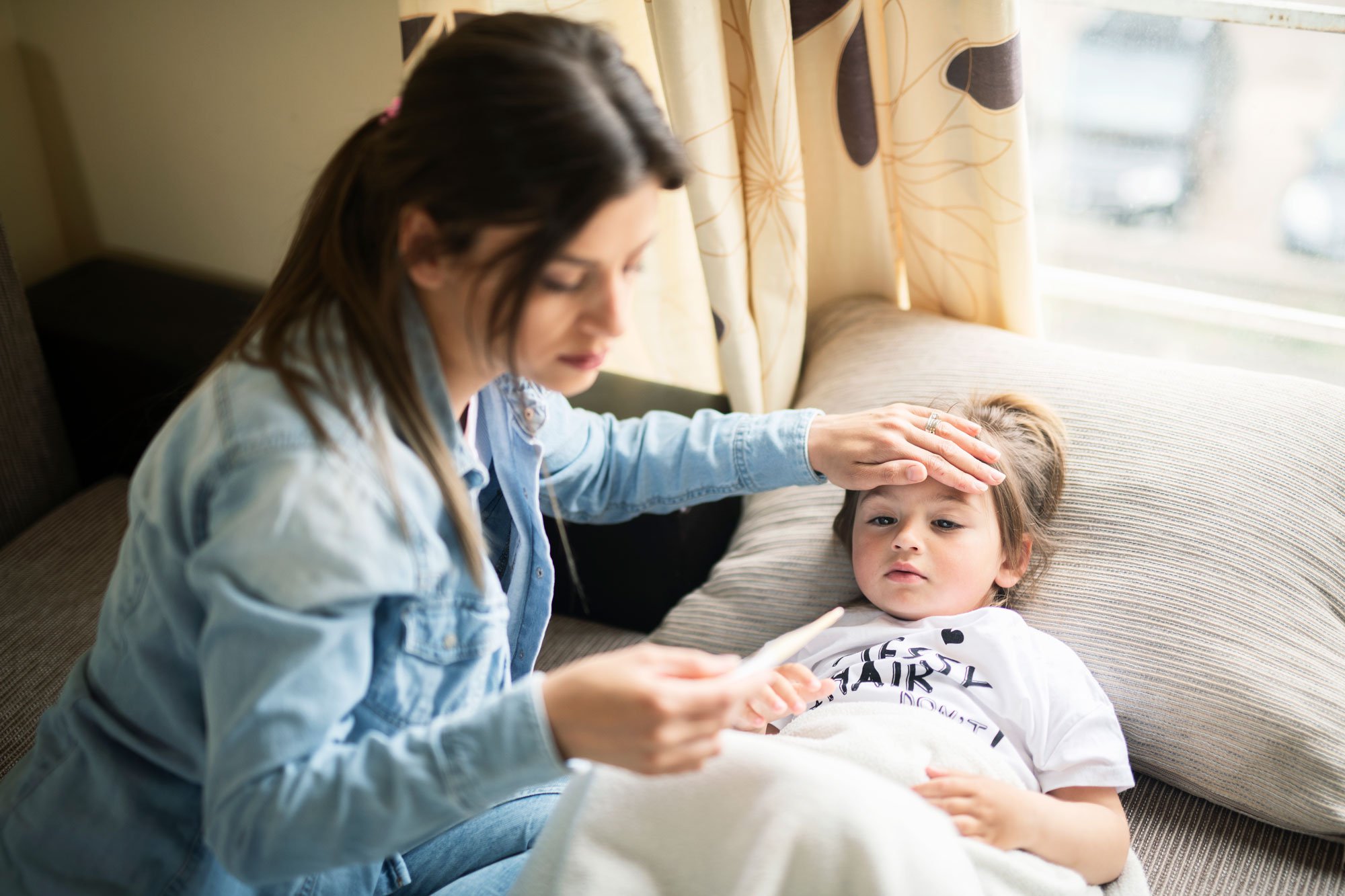 In both Europe and the U.S., several children have been hospitalized with a rare illness that may be linked to COVID-19. Similar to Kawasaki disease or toxic shock syndrome, the condition, known as "pediatric inflammatory syndrome" or PMIS is causing heart and kidney failure in both young children and teenagers. New York Governor Andrew Cuomo, for instance, said that health officials are investigating more than 100 cases statewide, as well as three deaths, while 52 cases have been confirmed in New York City alone.
Here's everything we know about the disease so far:

What are the symptoms?
Unlike COVID-19, PMIS does not cause respiratory symptoms like cough or shortness of breath. Instead, symptoms closely resemble a rare pediatric condition known as Kawasaki disease that causes inflammation of the arteries and can affect multiple organs, including the skin, blood vessels, kidneys, and heart. Commons symptoms of both PMIS and Kawasaki disease include:
High fever
Rash
Red eyes
Red or cracked lips
Red, swollen tongue resembling a strawberry
Swollen hands or feet
Skin peeling
Joint pain
Diarrhea
Abdominal pain
Blue or pale skin discoloration
Rapid breathing
Rapid heart rate
Lethargy
Unlike Kawasaki disease, which typically presents in children under 5 years old, cases of PMIS have been seen in children of all ages from infants to teenagers. Doctors have also noted that while shock is a rare complication in Kawasaki disease, many of the children with PMIS were in shock with very low blood pressure.
How is it linked to COVID-19?
The link between this inflammatory condition and COVID-19 is still unclear. Health officials are unsure what causes PMIS, but suspect it may be a post-infectious trigger. Of the patients in New York City, 25 tested positive for COVID-19 at the time of the symptoms, while 22 had COVID-19 antibodies suggesting they may have been infected earlier. Many experts believe a small number of children's immune systems overreact in response to viral infections, leading to runaway inflammation as happens in PMIS. Others have suggested that children may be more susceptible to the condition because their immune systems are not yet fully developed.
How is PMIS treated?
Children with PMIS are being treated with different therapies to reduce inflammation, including intravenous immunoglobulin and steroids, as well as medications to protect vital organs. PMIS patients may also experience problems with their heart and other organs that require hospitalization and in rare cases, support in a pediatric intensive care unit.
How concerned should I be about my children?
While much is still unknown about PMIS, it is thought to be a rare complication related to COVID-19. Most children with confirmed COVID-19 have generally shown mild symptoms or had no symptoms at all. Serious COVID-19 cases are rare among young people, and inflammatory complications are even rarer. That being said, it's important to adhere to social distancing orders and follow our general recommendations for protecting your child against COVID-19 to prevent further spread of the virus and life-threatening complications like PMIS.
If your child presents any of the symptoms listed above, please reach out to your child's primary care provider. One Medical providers can be accessed 24/7 via our on-demand video visits and secure messaging platform on the One Medical app.
Symptoms that should be addressed immediately, and may warrant visiting an ER, include the following:
Any fever in children less than 12 weeks of age
Fever above 104°F
Fever for longer than 4 days in a child of any age
Fast breathing or trouble breathing
Bluish lips or face
Ribs pulling in with each breath
Dehydration (no urine for 8 hours, dry mouth, no tears when crying)
Severe abdominal pain, diarrhea, or vomiting
Not alert or interacting when awake
Seizures
Fever or cough that improves but then returns or worsens
The One Medical blog is published by One Medical, a national, modern primary care practice pairing 24/7 virtual care services with inviting and convenient in-person care at over 100 locations across the U.S. One Medical is on a mission to transform health care for all through a human-centered, technology-powered approach to caring for people at every stage of life.
Any general advice posted on our blog, website, or app is for informational purposes only and is not intended to replace or substitute for any medical or other advice. 1Life Healthcare, Inc. and the One Medical entities make no representations or warranties and expressly disclaim any and all liability concerning any treatment, action by, or effect on any person following the general information offered or provided within or through the blog, website, or app. If you have specific concerns or a situation arises in which you require medical advice, you should consult with an appropriately trained and qualified medical services provider.