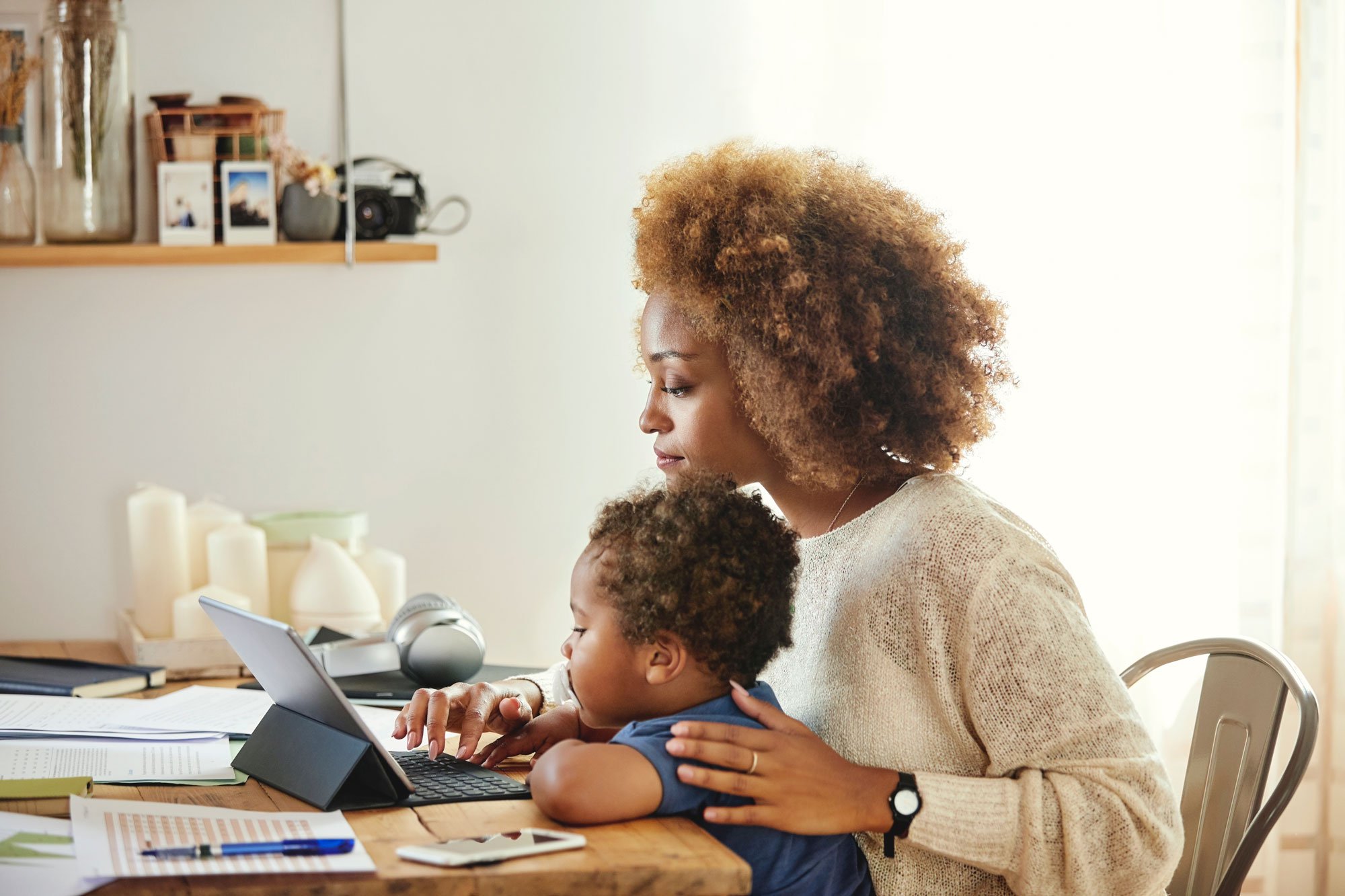 Parenting on an average day is exhausting. From dealing with picky eaters to managing family schedules, your days may feel neverending. Now add a global pandemic to the mix and you might be feeling completely overwhelmed. Your established routine has gone out the window, you're worried about your child's health, as well as your own, and now school has been shut down for the remainder of the year. Whether you're balancing working from home with keeping your kids stimulated, or struggling with the stir-crazy, boundless energy that comes with staying indoors, we're here to help. Here, we address some of the most common parenting concerns during the Covid-19 pandemic.
How do I talk to my child about Covid-19?
Between news headlines and family and friends, it's likely that your child has already picked up bits and pieces about coronavirus. But with limited information, they may be worried about themselves, as well as their loved ones, and have several questions. It's important that parents maintain an open dialogue about the virus to help minimize some of that anxiety. Here are some tips for talking to your child about Covid-19:

Remain calm and reassuring
Kids often pick up on their parents' anxiety through both verbal and physical cues. It's important to set aside your own stress when dealing with kids so that they feel safe. Your child may be worried about something they saw on TV or read online, so speaking calmly and maintaining a cool composure will help assuage their fears. You may want to explain to them that children typically only experience mild symptoms similar to a cold of flu, but that it's still important to practice preventative measures to keep themselves and others safe.

Provide just enough information
Don't offer up too much information as this may overwhelm or frighten your child. You want to strike a balance between being truthful and feeding into their anxiety. So rather than delve too much into the details, respond as best as you can to your child's own questions. Think about what information is pertinent to your child and their own self-protection.

Be available
Your willingness to talk will help your child feel comfortable opening up to you with their questions and concerns. This paves the path for greater understanding of the virus and helps your child learn how to best protect themself.

Explain preventative measures
Teaching your kids about the ways they can protect themselves against Covid-19 can help them feel a bit more in control of the situation. You should explain the importance of preventative measures like washing their hands, coughing into their elbow or a tissue, and social distancing. See here for more guidance you can share with your child.

Talk to them about what's being done to stop the outbreaks
Your child will feel reassured knowing that there are adults in the world who are actively fighting against the virus. Explain to your kids that healthcare providers are treating those who are sick and working on testing and vaccines to help prevent the spread of the virus. If your child is distressed with changes in their routine, you can also explain that social distancing and stay-at-home mandates are helping them stay safe and healthy.

Check-in regularly
Keeping the conversation going will help your child remain calm as the situation evolves and more information becomes available. This will also allow you to monitor their own mental health as things progress. Keep an eye out for excessive worry or sadness, unhealthy eating or sleeping habits, and difficulty with attention and concentration, as they may be signs of more serious behavioral problems.
How much screen time should my kids be allowed right now?
Typically, we recommend following the guidance of the American Academy of Pediatrics on limiting screen time. But these are not typical times. While sheltering in place and isolating, screens can be a great way for kids to maintain connections to family and friends, provide educational opportunities, and allow for parents to have a few quiet minutes for self-care. A few recommendations to keep screen time helpful and balanced:

Keep it interactive
Connect with friends and relatives to catch up, play games, or read stories. My toddler has enjoyed having storytime with Nana over Facetime (and I've enjoyed the few minutes he's engaged as well)!

Use it for education
Check in with your child's teacher, as many are delivering education online. Plus, here are some of our One Medical providers' recommended educational resources:
Engage in music and arts
If your child usually participates in music and art classes, see if their program has an online alternative.

Storytime
Many local bookstores have shifted their storytimes to live streaming or pre-recorded sessions that you can share with your child. A few of our favorites:
Get moving
Your favorite local kids gym, dance, or yoga studio may have an online offering. You can also check out the following:
Designate media-free time
Ensure that there are times where the screens are put away, such as during meals and bedtime routines. Need some ideas for keeping kids busy without screens? We've got some for you!
How worried should I be about healthy eating during this time?
Between less frequent grocery shopping trips and picked over store shelves, cooking healthy, balanced meals may be more challenging right now. And if you're juggling childcare and working from home, planning nutritious meals may feel impossible. Cut yourself some slack and know that a few weeks off your family's regular diet won't cause any long-lasting damage to your kids. We are all doing our best right now and dinner shouldn't be an added source of stress. Here are some ideas on how to provide a variety of nutrients given the current constraints.

Eat fruits and vegetables whenever possible
Buying fresh produce may be difficult right now, but it's important that your family keeps up a good intake of fruits and veggies. Stock up on these items whenever possible and freeze any produce that you can't use immediately. Most fruits and vegetables will retain their nutrients when frozen. You can also use vegetables in large batches of soups or stews that can provide meals for several days and can easily be frozen and reheated. If fresh produce isn't available, frozen, dried, or canned options are also nutritious alternatives.

Look for healthy, shelf-stable foods
In limiting your grocery store trips, you may want to look for more durable foods that can last your family longer. Dried or canned beans are protein-filled, fibrous foods that can be incorporated in several meals and last for several months. Canned fish and meats are packed with iron and Omega 3 fatty acids, as well as a range of vitamins and minerals and can be served in both hot and cold meals. Dried grains like whole wheat pasta, quinoa, lentils, oats, and couscous are also versatile, nutritious options. For longer-lasting dairy products, you may want to swap out regular milk for boxed options like soy, almond, or rice milk.

Stock up on snacks
Kids often need snacks to stay energized throughout the day. Rather than giving your kids chips and cookies, opt for healthier foods like raisins, granola bars, trail mix or nuts.

Consider using a slow cooker or instant pot
If working at home and childcare are consuming your time, slow-cookers, crock pots, and instant pots are easy ways to cook healthy meals. These options require little attention and can make several meals out of a few ingredients.

Cook together!
Now is a great time to share family recipes and get your kids involved in planning and cooking meals. Have your kids mix ingredients, wash produce, or set the table. Getting the family involved will keep your kids entertained and help make meal prep feel like less of a chore.
How do I ensure that my child gets enough physical activity or exercise?
While group sports are not recommended as we practice social distancing, there are both indoor and outdoor options to keep kids active. Get your family moving inside with a family dance party, online yoga classes, or interactive video games. If you want to take your kids outdoors, going for a walk, bike ride, or scootering around your block are great ways to burn some energy. Going outside can also be great for your child's eyesight and prevent nearsightedness. When taking your kids outside to exercise and play, however, make sure to maintain social distancing and keep your child at least 6 feet away from others. This means avoiding playground equipment and playdates. Be sure to also remind your child to wash their hands when coming back inside.
What about social time and play dates?
During this time, in-person playdates should be avoided. Look for virtual options to engage with friends such as video chat and online games. It is also best to avoid in-person visits or babysitting sessions with grandparents, as people over age 60 are at higher risk of complications from Covid-19. Connecting over phone, video chat, or letters can help grandparents feel less isolated as well.
For more information about Covid-19 and kids, see here.
The One Medical blog is published by One Medical, a national, modern primary care practice pairing 24/7 virtual care services with inviting and convenient in-person care at over 100 locations across the U.S. One Medical is on a mission to transform health care for all through a human-centered, technology-powered approach to caring for people at every stage of life.
Any general advice posted on our blog, website, or app is for informational purposes only and is not intended to replace or substitute for any medical or other advice. 1Life Healthcare, Inc. and the One Medical entities make no representations or warranties and expressly disclaim any and all liability concerning any treatment, action by, or effect on any person following the general information offered or provided within or through the blog, website, or app. If you have specific concerns or a situation arises in which you require medical advice, you should consult with an appropriately trained and qualified medical services provider.