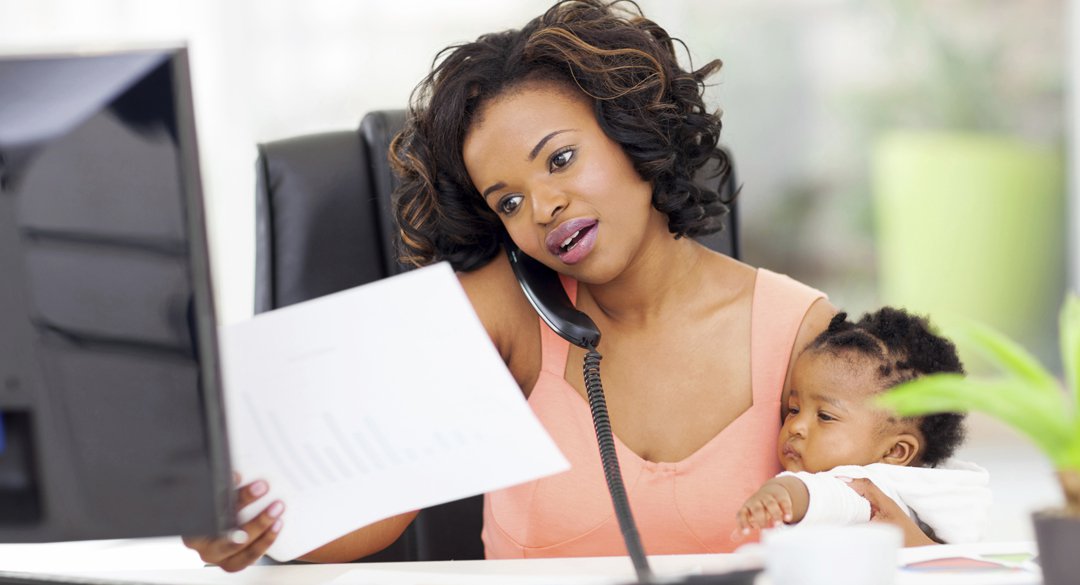 Returning to work after becoming a new mom can be exciting and challenging for a variety of reasons. If you're lucky enough to have lengthy maternity leave to truly disconnect from your job, then re-entering the world of early meetings and nonstop deadlines can be rough. But for some mothers, the prospect of returning to work and continuing to breastfeed can be particularly tricky.
Breastfeeding is one of the best ways to protect your infant's health, and babies who are breastfed have been shown to have a lower risk for health problems including obesity, high cholesterol, and allergies. Plus, new moms who breastfeed benefit from a lowered risk of hypertension, as well.
With both of my children, I went back to work after three months of maternity leave and had to breastfeed on the job. I remember packing up my breast pump bag and wondering if I could really pull off pumping two to three times a day, keeping the milk on ice, and toting it home while still focusing on my patients. All the planning it required was really intimidating, especially in my sleep-deprived state. But I figured out how to make it work, and I want to help other new moms returning to work feel confident and ready to adapt to their new breastfeeding routine.
Know Your Breastfeeding Rights
Part of making breastfeeding at work easier is knowing your rights as a lactating mom and doing some groundwork before your maternity leave. Did you know that under the Affordable Care Act, pregnant and postpartum women can access lactation support and counseling from trained providers as well as certain breastfeeding equipment like electric pumps?
Take as many weeks away from work as your job allows and is realistic for you. At least six weeks can help you recover from giving birth and settle into a breastfeeding routine. If your employer is making it difficult to take the time you need, talk to your human resources manager about your concerns.
Talk with your supervisor or office manager about your breastfeeding plans. Make sure you know when and where you'll pump and where you'll store milk. Encourage them to visit the womenshealth.gov site for employers to get solutions for supporting nursing mothers if necessary.
Under the Patient Protection and Affordable Care Act, most employers, with few exceptions, must offer their breastfeeding employees reasonable break times to pump for up to one year after the baby is born and a place, other than a bathroom, to comfortably, safely, and privately express breast milk.
Top 10 Tips for Breastfeeding While Working
1. Find a pump you like and feel comfortable using; a good-quality machine can pump both breasts and be cleaned in as little as five minutes. A couple of weeks before you return to work, get familiar with your breast pump. Take it out of the case, make sure you can operate it and actually do a practice pump. If something's not clear, check out the directions and/or talk with a lactation consultant.
2. To maintain and build up your milk supply, try to feed the baby at the breast as many times as possible during work days and for all feedings on non-working days if possible. Build up a stockpile of milk in the freezer to take the pressure off of pumping in case you're nervous about not producing enough.
3. Making milk takes energy, so take care of yourself. Get as much sleep as you can and make sure you're drinking and eating enough. Keep snacks in your pumping bag or at your desk. Some mothers enjoy "lactation cookies," baked from ingredients that are thought to support milk production,  like whole grains, fiber, brewer's yeast, and flax. Some companies like Milkmakers even deliver.
4. Prep and pack everything you'll need for pumping at work the night before. My bag included: a clean pump, a cooler bag to store expressed milk at work and transport it home, brushes for cleaning bottles and pump attachments, sanitized bottles to express milk at work, a nursing bra, sanitizing wipes and nursing supplements. You may also want a hand pump as a backup. And don't forget to pack a separate baby bag for the daycare or nanny and have bottles of milk ready in the fridge.
5. Wear clothing that's easy to open and/or remove like a loose top or wrap dress since you'll be partially undressing a few times a day. Avoid fabrics that easily show stains like silk; dark or patterned tops are a good idea. Keep a shawl or scarf on hand for coverage if your office is chilly.
6. Many mothers have a larger milk supply early in the day so try to pump in the morning. Nurse the baby right before you go to work if possible so you can arrive relaxed, and nurse as soon as you return home to maximize feedings at the breast and minimize pumping. Help your baby adjust to the bottle, but wait at least a month before introducing it. It may be helpful to have someone else give the baby the bottle at first.
7. If you prefer multitasking, consider a hands-free pump and pumping bra — create a DIY version by cutting slits into a sports bra. It will keep the suction components in place and allow you to type on your laptop while you pump (you'll probably want to use mute or skip phone calls, unless you want to explain that whooshing sound.)
8. Being stressed out doesn't help your milk flow, so some women make their pumping time a no-work zone. Looking at photos or videos of your new baby while you pump may also help: the images will trigger a release of oxytocin (also known as "the love hormone") which helps with milk let down.
9. Schedule your pumping sessions for the times you would normally feed your baby. In the first few months of life, hungry babies generally need to breastfeed 12 times in 24 hours(!). One time-saving tip is to place the suction components back in the refrigerator between pumping sessions at work so you don't have to rinse them each time.
10. Share your experience and find support from other women who are working and breastfeeding. If no one at your job is nursing, connect with a local community group through Kellymom.com or  La Leche League International and get more ideas from WorldBreastfeedingWeek.org.
The One Medical blog is published by One Medical, a national, modern primary care practice pairing 24/7 virtual care services with inviting and convenient in-person care at over 100 locations across the U.S. One Medical is on a mission to transform health care for all through a human-centered, technology-powered approach to caring for people at every stage of life.
Any general advice posted on our blog, website, or app is for informational purposes only and is not intended to replace or substitute for any medical or other advice. 1Life Healthcare, Inc. and the One Medical entities make no representations or warranties and expressly disclaim any and all liability concerning any treatment, action by, or effect on any person following the general information offered or provided within or through the blog, website, or app. If you have specific concerns or a situation arises in which you require medical advice, you should consult with an appropriately trained and qualified medical services provider.