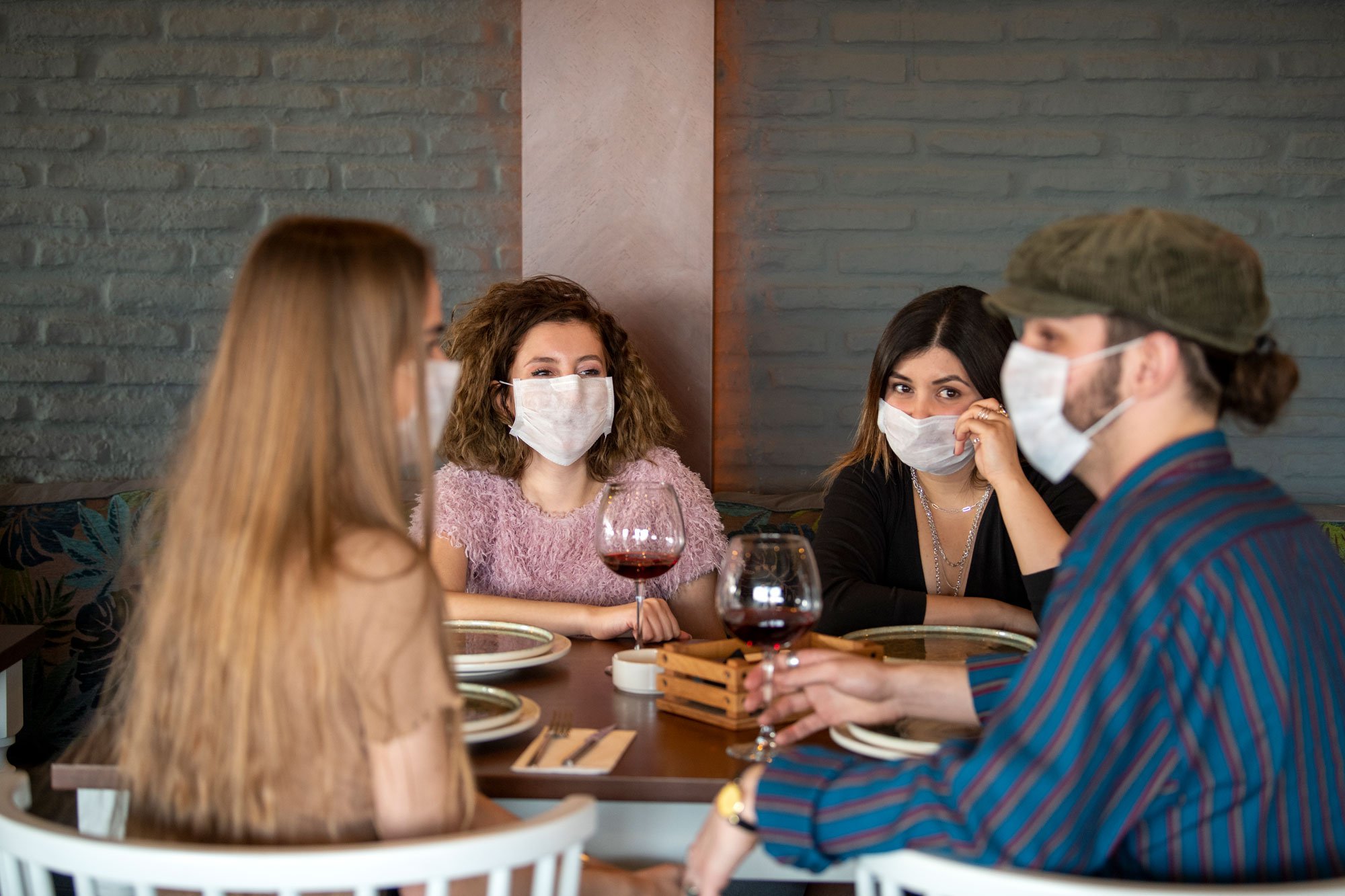 In the last few weeks, several cities and states have begun lifting lockdown restrictions and resuming business operations after months of closure and limited access. Many restaurants and bars have started allowing indoor dining again, while several beaches and parks have reopened to the public. But as COVID-19 cases continue to spread at alarming rates and hospitalizations increase, more states are looking to reverse their course of action and once again restrict certain activities. If the constantly evolving guidance has you feeling confused, you're not alone. Between rising case numbers and rapidly changing public health orders, you may be unsure about what you can safely do at this point in the pandemic. To help you navigate this new phase of the pandemic, we answer some of the most common questions about life in a coronavirus world.
Is it safe to host or attend a bbq, birthday party, or family gathering?
Until a vaccine is developed, there will always be some risk associated with social interaction. Everytime we engage with another person, we risk exposing ourselves and others to the virus. That being said, if you live in an area where small gatherings are permitted and you yourself are not at high-risk of serious infection, there are ways to keep you and your guests safe. First of all, it's important to keep your group small. Pay attention to what your local government has declared as the maximum size for group gatherings. You should also consider the confines of your space. There should be enough room for people to maintain at least 6 feet apart from each other at all times. Outdoor spaces are inherently safer, says One Medical provider, Natasha Bhuyan, MD. "Although COVID-19 is transmitted via droplets from one person to another, open air locations minimize the risk," she explains. You may even consider opting for public gatherings at a park or beach where there will be more space for people to spread out. With more open space, you'll reduce the risk of repeatedly touching the same surfaces or objects. Whether you're indoors or outdoors, it's also important to keep a safe distance and wear a mask as much as possible. "As much as you may want to, you should also avoid hugging and kissing your loved ones," says Bhuyan. "Opt instead for hands-free greetings like elbow bumps, air hugs, and air high-fives." Finally, avoid sharing food or drinks. If you do decide to eat together, have each person bring their own food and utensils to minimize the risk of contact and touching common surfaces.
Is it safe to fly?
The configuration of planes and airports often means close contact with other people and frequently touched surfaces. Before traveling, you should assess the risk and decide whether it's critical to travel right now. If you are traveling for leisure, you may consider alternative methods of transportation like road trips. If you do decide to fly, however, many airlines are taking extra safety precautions, such as limiting the number of people onboard, to protect the health and safety of their crew and passengers. Bhuyan suggests researching the airline you are flying and the policies they have implemented to minimize the spread of COVID-19. Be sure to call and ask questions about mask policies, disinfection processes, and food and drink services if you can't find answers online. When booking a flight, you also might choose a window seat where you'll be less exposed to people walking down the aisle. At the airport, you can minimize your contact with other people and high-touch surfaces, by checking in to your flight and saving your boarding pass on your smartphone. If you want to avoid airport shops and limit social interaction, bring your own food and a reusable water bottle. Bring a face mask and wear it both in the airport and on your flight. You can take it off when you eat or drink but be sure to put it back on as soon as you're done. You should also pack hand sanitizer and sanitizing wipes and use them regularly. "It's important to sanitize the areas of the seat that you may touch with your hands, including the arm rests and the tray table," says Bhuyan. "The best way to sanitize is to use disinfectant wipes that are EPA-approved against SARS-CoV-2. Allow the disinfectant to sit for a few minutes per the manufacturer guidelines."
Is it safe to stay in a hotel or vacation rental?
After months of staying home, you may be ready to get out of the house and go on vacation. Between direct contact with hotel staff and shared amenities, however, your lodging accommodations can also increase your risk of exposure to COVID-19. While there is no way to eliminate that risk entirely, there are precautions you can take to make your stay safer. Before booking a place to stay, for instance, you should check to see what steps the establishment is taking to keep guests safe. Many hotels have outlined their COVID-19 policies and strategies on their websites. Make sure to ask about disinfecting procedures, mask usage, employee testing, shared facilities like gyms and spas, and hotel occupancy. You can even ask to be placed in a room that hasn't been occupied for a few days to reduce your risk of exposure. Once you arrive, it's important to wear a mask and practice social distancing in all common spaces, including the lobby and elevators. "It's best to use an elevator alone. It might be a bit awkward at first, but feel comfortable "passing" an elevator if someone is already in it and take the next one," says Bhuyan. "Or consider taking the stairs, which has many health benefits anyhow." Though your room will have been cleaned prior to your arrival, it's a good idea to bring your own sanitizing wipes to disinfect commonly touched surfaces, including door knobs, remotes, light switches, night stands, and lamps. It can also be helpful to keep some windows open as air circulation is helpful to dilute out the virus. During your stay, limit how often you order room service. "Interacting with others increases your risk of COVID-19 transmission," says Bhuyan. "However, if staff that deliver room service are practicing good hand hygiene, disinfecting processes, and wearing a mask, they can deliver room service while remaining 6 feet away from you." You should avoid hotel gyms and spas in places with widespread community transmission. If you choose to use these facilities, take precautions such disinfecting the equipment before and after usage, physical distancing from others, and wearing a mask.
Is it safe to go swimming?
According to the CDC, there is no evidence that COVID-19 can spread to humans through the use of pools, hot tubs, or spas. In fact, proper amounts of pool chemicals like chlorine should kill the virus that causes COVID-19. That being said, community pools and gyms should be avoided in places with widespread community transmission. Personal pools, however, should not pose any risk if nearby surfaces are disinfected regularly and proper hygiene is practiced. As for ocean or lake swimming, while there is some concern about coronavirus in natural bodies of water due to sewage contaminants, there is little information to support transmission of the virus in water. Public health officials are currently more concerned about crowded beaches and their public utilities. If you do go to the beach, it's important to maintain social distancing.
Is it safe to go out to a bar or restaurant?
The decision to dine out right now is highly dependent on your location. Some cities have allowed bars and restaurants to reopen both indoor and outdoor operations, while some are limiting dining to outdoor seating. At this point, you should assess the current level of COVID-19 spread in your community before eating out. Additionally, you should consider how long you'll be eating for and whether your party will be able to maintain distance from other customers during the duration of your meal. Before going out, call the restaurant or bar and confirm that seating arrangements have been made to allow for social distancing. To help you decide, the CDC has broken down each dining type by risk level:
Lowest Risk: Food service limited to drive-through, delivery, take-out, and curb-side pick up.
More Risk: Drive-through, delivery, take-out, and curb-side pick up emphasized. On-site dining limited to outdoor seating. Seating capacity reduced to allow tables to be spaced at least 6 feet apart.
Even More Risk: On-site dining with both indoor and outdoor seating. Seating capacity reduced to allow tables to be spaced at least 6 feet apart.
Highest Risk: On-site dining with both indoor and outdoor seating. Seating capacity not reduced and tables not spaced at least 6 feet apart.
If you choose to head out to a restaurant or bar, you can mitigate your risk of exposure a few ways. First, wash your hands and use hand sanitizer frequently. You should do this before eating, as well as after touching common services such as menus, tabletops, and silverware and using the restroom. If you have the opportunity to sit outside, take it. There is better ventilation and air flow outside, which dilutes the number of virus particles per volume of air. Patio furniture is also usually much easier to move around in case you are too close to another group of diners. Whether indoors or outdoors, be sure to wear a mask whenever you aren't eating or drinking. This will protect you and your fellow diners, as well as restaurant and bar staff. You should also limit the use of shared utensils. Asking for single-use condiments and disposable utensils can help reduce risk of cross contamination between diners. You may even consider asking your waiter if you can eat your meal takeout-style at the table. This way your food will be placed in a box with plastic cutlery that may be less risky than traditional dinnerware. Finally, avoid using self-service food and drink options like water fountains, soda dispensers, salad bars or buffet tables where you're more likely to be in close proximity to other people.
Is it safe to visit elderly family members?
Throughout quarantine, many kids and adult children have been separated from their elderly parents and grandparents. After months of being apart, many people are eager to see their loved ones again. While it's safer to stay home, there are some precautions you can take to have a safer visit. Before going, you should first evaluate and assess the risk. According to the CDC, people over 65 are at high risk of severe illness from COVID-19. As a result, it's especially important for seniors to be diligent about social distancing and other precautions such as mask wearing and hand washing. When deciding whether to make the trip, you should consider where the elderly person falls on the age spectrum. The older they are, the greater the risk. Additionally, you should consider their health. If your parent or grandparent has an underlying health condition or is immunocompromised, that is an added risk. Additionally, it's important to evaluate how well you and your other family members have been social distancing. If you have been working throughout the pandemic and regularly interacting with customers, for instance, you should probably wait to visit older members of the family. If you do decide to go forward with the visit, it's best for your and your family to be extra diligent about social distancing for at least two weeks ahead of the trip to reduce the risk of anyone being infected with COVID-19. You might also get tested ahead of your trip to avoid unknowingly spreading an infection to your elderly family members. If you can, avoid flying by plane and road tripping to your elderly family member's house to further minimize exposure. While visiting, wear a mask, maintain at least six feet of physical distance, and stay outdoors when you can. Avoid close contact like hugging and kissing as much as possible and do not share food or utensils. For more information on expanding your quarantine bubble and visiting friends and family outside your household, read here.
The One Medical blog is published by One Medical, a national, modern primary care practice pairing 24/7 virtual care services with inviting and convenient in-person care at over 100 locations across the U.S. One Medical is on a mission to transform health care for all through a human-centered, technology-powered approach to caring for people at every stage of life.
Any general advice posted on our blog, website, or app is for informational purposes only and is not intended to replace or substitute for any medical or other advice. 1Life Healthcare, Inc. and the One Medical entities make no representations or warranties and expressly disclaim any and all liability concerning any treatment, action by, or effect on any person following the general information offered or provided within or through the blog, website, or app. If you have specific concerns or a situation arises in which you require medical advice, you should consult with an appropriately trained and qualified medical services provider.