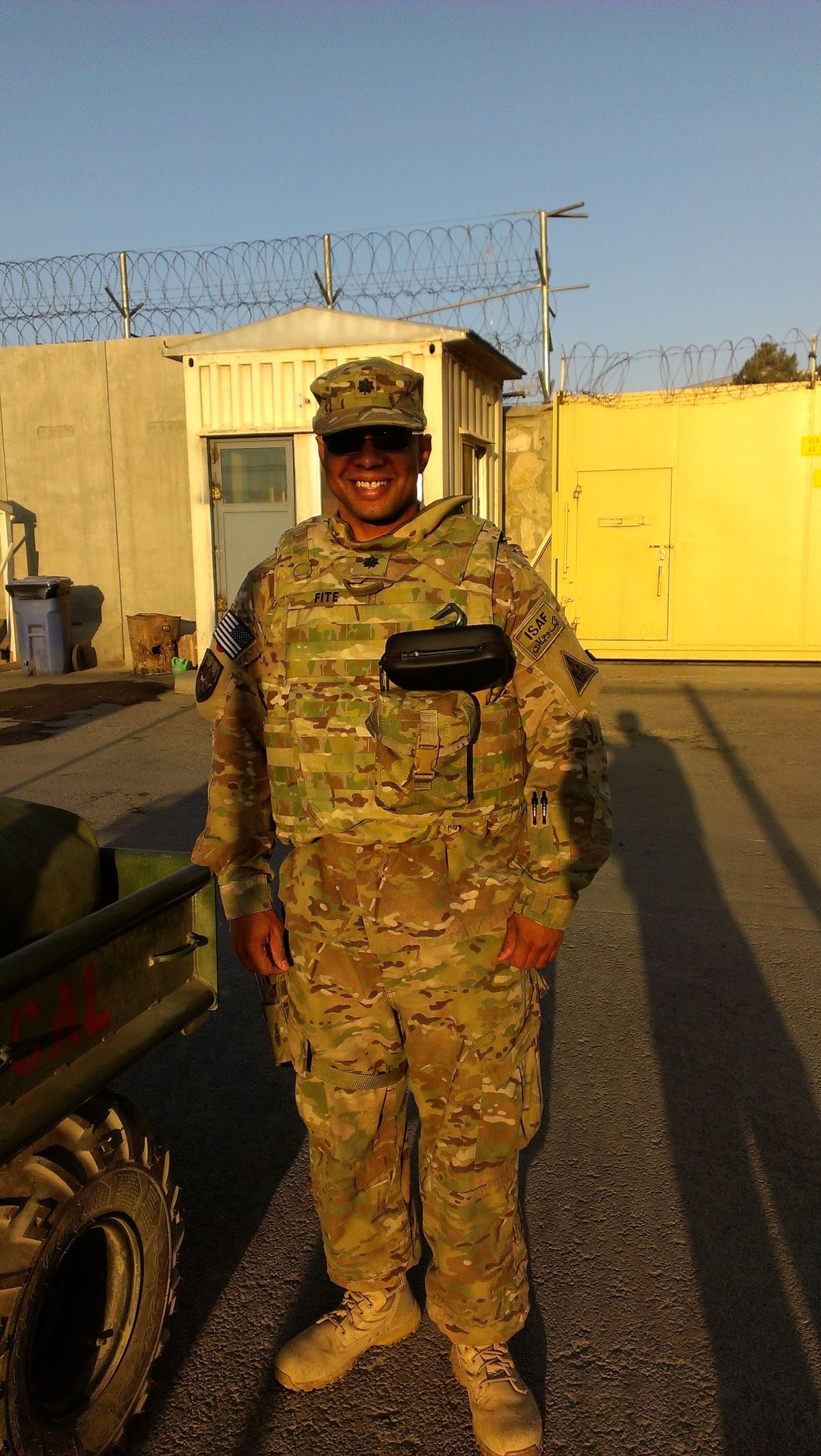 At One Medical, our providers come from all kinds of backgrounds, including the military. In addition to serving patients in our offices, several our providers also serve our country as members of the U.S. military reserve. These reservists, many of whom are former active-duty members of the armed forces, hold careers in the civilian world and are called for training and service when necessary. In honor of Veterans Day, we spoke to One Medical Atlanta District Medical Director and Army reservist, Michael Fite, MD, who has recently been deployed, about how his military career has informed his approach to family medicine at One Medical.
Q: Can you tell us a little about your journey into healthcare?
A: As a kid, I loved M*A*S*H. One of my favorite characters on the show was Hawkeye, who was a Chief Surgeon for the Army. I think that got in my head and shaped what I wanted to do because I knew I wanted to be a doctor from a young age. That or an astronaut, but I found out early on I couldn't do that because I didn't have 20/20 vision. So I went to college and became a pre-med student. I quickly ran out of money while at school though and like a lot of people, I wasn't really sure what to do with my life even though I still was interested in becoming a doctor. I ended up enlisting in the Army and became a medic/ lab technician. I served on active duty for almost three years. From there, I competed and was awarded an ROTC scholarship and went back and completed college. I decided that I still wanted to go to med school. While in the process of applying to school, I was sent back on active duty as a chemical officer. I ended up going to Operation Desert Storm in the cavalry in Saudi Arabia and Iraq. That experience really motivated me to be a doctor at that point. I left active duty still serving in the reserves and went to med school shortly thereafter. I've basically been serving in the Army ever since for about 35 years.
Q: So what made you decide to go back to med school?
A: It was always what I wanted to do. I wanted to be a physician, but I didn't know what kind of doctor I wanted to be. I didn't really know what a family doctor was back then, but I used to watch Marcus Welby M.D. repeats on TV and thought what he was doing was cool. The main character, Marcus Welby, was a family practitioner who did all sorts of things, like delivering babies, doing house calls, treating kids and adults, and even doing minor surgeries. I found out in med school that was called family medicine. That's when I knew specifically, I wanted to be a family doctor.
Q: What made you decide to enlist if you knew you wanted to be a doctor?
A: Necessity. I'm from inner city D.C. and raised by an awesome, amazing single mom, so we didn't have a lot of money. In college, I ran out of money and was in a quandary about how to proceed. I asked my mom what she thought I should do. She replied, "Well have you considered the military?" So it was a necessity, honestly. But it has provided me a great deal of opportunity. It's given me an opportunity to travel, to learn about different cultures, and to get training that I couldn't get anywhere else. I've been able to gain a different perspective as a veteran who has been deployed, mobilized, and in combat multiple times, that I think has been useful and helpful in civilian settings.
Q: What has it been like treating patients in the Army?
A: The primary responsibility for Army doctors is to take care of the service members, meaning anyone in the Army, navy, air force, and coastguard, as well as civilian members of the Department of Defense. All these different branches of the military train and fight together. So our primary responsibility is to take care of these folks and preserve what we call the "fighting strength", so they can continue to do their jobs. We're a support system for them, as well as to their families. Service members won't feel comfortable doing what they need to do, unless they know their families are provided for back home. So we treat them as well. I've been a military doctor since 1999 and it's been more of an honor than anything. Having been enlisted and a platoon leader in active duty, I've been able to see what they have to do first hand, so to be able to understand what they go through and provide them care has really been a privilege. That's probably why I've done it so long.
Q: What are the biggest similarities and differences between practicing in the Army and practicing in a civilian, primary care office?
A: Patients are patients. It doesn't matter whether you're a marine or you're the mother or son of one of those men or women. Primary care is primary care. The approach you take to caring for patients is the same across the board. As a doctor, you want to understand holistically what is affecting someone's health and keeping them from living their best life. And that's the same for both military and civilian care. There are differences, though, in terms of the types of things causing barriers to health. For civilians, for instance, you don't typically have to worry about impalements from explosions or traumatic brain injuries. Even suicide, depression, and anxiety manifest differently in military members, especially because of lingering stigma within the services
Q: How do you think serving in the Army has impacted your approach to patient care?
A: There's a saying in Army medicine that says,"If it's not arterial blood, don't sweat it." What that means in a kind of tongue in cheek way is that, unless there is an existential threat to a person, place or thing (like in the case of arterial bleeding), you probably have time to make a decision. We make a lot of decisions as if they have to be made right this second when the truth of primary care is a lot of decisions don't need to be made immediately. As a matter of fact, it's better in some ways if health decisions aren't made right away, so that the solution is sustainable in the long term. For instance, you might say, "I'm going to lose weight. I'm not going to eat donuts ever again." And within six months, you're pigging out on donuts again. It's better to come up with a solution that really just modifies that amount you eat so you can lose weight over time safely. I've learned that some of the best solutions are those made with a little bit of insight and change management.
Another thing, I've learned just in my travels in the military, is that people are people. Some of my assignments include Europe, Cuba, and various places in the Middle East like Iraq, Afghanistan, and Kuwait. Whether you're in a prison in Abu Ghraib, Iraq, or Hawaii, everybody wants food, shelter, and a better life for their children. People may have differences of opinion about how to get those things, but in the long run, they want the same things out of life. That has helped me to be a more rounded person. It's helped me understand that I can have a completely different opinion from someone and still get along with them without needing to change their mind. Going overseas has helped me understand that there are different mentalities than ours and appreciate the diversity in the world.
Q: What do you think serving in the Army has taught you about being a primary care provider?
A: Relationship is key. What helps me be the most effective provider, physician, is to be able to establish a relationship where my patient knows I'm there for them. I'm present and my job is to figure out how to help them make their situation better. My job isn't to tell them what to do, but to give them advice and to listen. Sometimes all they really need is to know that there's some non-judgmental person that cares about them who hopefully knows a little something about medicine too.
Q: How do you approach patient care in a civilian primary care when some of the conditions you are treating patients for are much less severe than some of the injuries you treat in the Army?
A: Well to be honest with you, most of my career as an Army doctor has not been involved in emergent trauma cases though there have been some. As a matter of fact, because of those more serious cases, my appreciation for the serenity of more 'boring' times in the aid station (military version of field medical office) is keen. This sentiment has a maddening effect on younger medics who crave action and want to feel useful and practice their craft, but I'm quick to remind them when there's action that means that somebody's hurt. And I never want that, no matter who they are. Most of the time as a family doctor, I'm just doing what most primary care doctors do. Believe it or not, even when I was assigned to treat Iraqi detainees, one of the main things I was treating them for was allergies. Human beings are human beings and even when they may want to kill you, they're sneezing. At the end of the day, it's about the relationships. It's about being empathic, listening and understanding.
Q: You went back to get your Masters in Healthcare Management at Harvard's School of Public Health. What made you decide to do that?
A: I've always been really deep into community medicine. I was a National Health Service Corps Scholar, which provides healthcare providers to communities in need. After a while of treating patients and medical directing in federally-qualified community health centers, I found I was having trouble communicating with administrators. It was like the saying, "Men are from Mars and Women are from Venus". I got some good advice from a mentor who basically said, "If you think that you may be interested in doing this type of work, then you should consider going to school." So I applied for the program at Harvard and just fell in love with it. The program was about taking doctors who were interested in transforming healthcare and training us to be better stewards and leaders of our healthcare system. This was right around when Obamacare was being devised and voted on in Congress in 2008-2010. It was a great program that wasn't focused on how to make money in medicine, but about how to take this broken, fragmented, insane, insane perversely incentivized healthcare system and transform it into something that's better for patients, doctors, and society at-large. As a primary care doctor, that meant a lot to me. Ultimately I wanted to take that back to community health centers. It ultimately led me and my family to Portland where I worked as the Chief Medical Office for a community health center for a few years.
Q; What brought you to One Medical?
A: I was working at Kaiser Permanente. Although it's a great organization, I felt I wanted to do more in my practice. I was frustrated that we were still practicing primary care the same way as we did when I graduated from med school over two decades ago. I just stumbled on One Medical and I had no idea what it was. As I talked to people about it, it seemed like One Medical emphasized the importance of the doctor-patient relationship and was simultaneously infusing it with technology. I'd been saying for years that there are certain issues that people shouldn't have to come into the doctor for and One Medical did that with its app. The technology and its philosophy on primary care really intrigued me. The concept of being able to have professionals address certain tasks freeing me up to concentrate on my patent in front of me resonated. And lastly I think it was just timing. I wanted to do something different and One Medical was coming to Atlanta. I thought, "This would be super disruptive." And that's perfect for me.
Q: How, I mean how do you think you've balanced being a member of the military with also having this job as a civilian in primary care?
A: It's been relatively easy. When I put on my camouflages, I just take my earring out and shave, but I'm still the same person. A big misconception about the Army is that everybody yells at everybody all the time. Truth of the matter is, especially in medicine, if you have to yell at somebody to do something, you're not much of a leader. You should be able to influence and learn from folks in the military the same way you do here in the civilian sector. Good leadership is good leadership and caring. Period. Honestly, it's not that hard to make the transfer because at the end of the day, you are who you are and your core values are what they are. If that's the way you live your life in the military, you'll live your life in the civilian world the same way.
Q: Anything else you'd like people to know about serving your country, both through being a practitioner and a member of the military?
A: One of the things I'd hope you might notice is that I'm not exactly stereotypical of what you would think an Army colonel would be like, yet I've proudly served for over 35 years. The same way there are stereotypes about race and gender, veterans and service members also face bias which can be damaging. If I raise my voice, it's not because I have PTSD or because I've been 'brain-washed'. It is more likely because I'm authentically passionate about what I do. I have the best job in the world and want only the best for my patients and folks I work alongside with. We should always be checking our biases and preconceived notions no matter where they come from. Most veterans are well adjusted, high functioning, super smart people. I want the best for them too. They've sacrificed much and deserve the best care and understanding we can provide.
The One Medical blog is published by One Medical, a national, modern primary care practice pairing 24/7 virtual care services with inviting and convenient in-person care at over 100 locations across the U.S. One Medical is on a mission to transform health care for all through a human-centered, technology-powered approach to caring for people at every stage of life.
Any general advice posted on our blog, website, or app is for informational purposes only and is not intended to replace or substitute for any medical or other advice. 1Life Healthcare, Inc. and the One Medical entities make no representations or warranties and expressly disclaim any and all liability concerning any treatment, action by, or effect on any person following the general information offered or provided within or through the blog, website, or app. If you have specific concerns or a situation arises in which you require medical advice, you should consult with an appropriately trained and qualified medical services provider.