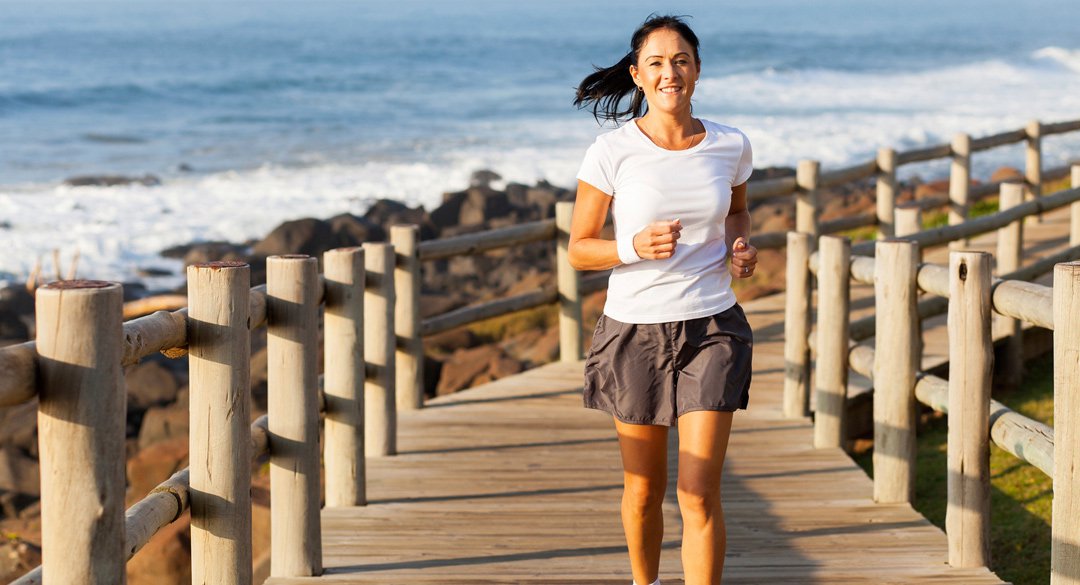 You've mastered the art of aging gracefully and embraced the wisdom that comes with it, but it's hard to stay on your game when you're dealing with some of the not-so-desirable side effects. Mood swings, fatigue, hot flashes, thinning hair, insomnia, and a plummeting libido are just a few of the unpleasant symptoms of menopause. But there's hope for women who want to manage their symptoms naturally.
When it comes to dietary and lifestyle changes to support menopausal symptoms, there are two key principles to keep in mind. The first is the importance of managing blood sugar. Optimal blood sugar regulation helps mitigate pressure on the adrenal glands. Before menopause, the ovaries and adrenals are both responsible for the production of estrogen and progesterone, but the adrenals become the primary producer of these hormones once ovarian activity declines. Adrenal function is very important when it comes to navigating hormonal fluctuation.
The second principle is stress management. During perimenopause and menopause, stress is often a self-perpetuating cycle: Hormone imbalance can create stress, and stress can cause wreak havoc on hormones, causing further imbalance.
In keeping with these principles, here are some of my top dietary and lifestyle recommendations for minimizing, mitigating, and managing menopausal symptoms:
1. Limit alcohol consumption.
That means no more than three drinks per week. Alcohol is also one of the most refined carbohydrates and can upset blood sugar regulation and interfere with your sleep cycles. Excessive alcohol consumption has also been associated with osteoporosis.
2. Minimize caffeine intake.
Even small amounts of caffeine can increase cortisol levels in the body, and interfere with sleep in sensitive individuals. A 2014 study published in the journal Menopause suggested that limiting caffeine may be helpful for women experiencing hot flashes and night sweats.
3. Eat whole foods.
Make a shift in this direction with the goal of eliminating all processed and refined foods. Processed or refined foods spell trouble for blood sugar regulation—their lack of nutrient value means they're converted to sugar very quickly, leaving you hungry for more almost instantaneously. They also have the capacity to change the gut flora, which in turn can cause estrogen recirculation. Follow "In Defense of Food" author Michael Pollan's mantra: Eat food. Not too much. Mainly plants. And follow these 10 healthy eating rules.
4. Minimize sugars and eliminate sweeteners.
Sugars and artificial and alternative sweeteners only perpetuate the desire for something sweet. If you want to free yourself from the constant battle of should-I-or-shouldn't-I-indulge, remove sugars and sweeteners from the mix.
5. Minimize toxic exposure.
Limit your exposure to pesticides in produce and harmful chemicals in food storage containers and cling wraps. Your liver plays an essential role in the regulation of sex hormones, so minimizing toxic exposure helps set the stage for optimal liver function. Know the dirty dozen and the clean fifteen, and be savvy about how you store your food — avoiding storing in plastics, and if you must, ensure the containers are BPA free.
6. Choose organic when purchasing animal produce.
This will help minimize your intake of xenoestrogens — synthetic chemicals that elicit an "estrogen-like" reaction in the body — as well as hormones and antibiotic residue.
7. Find out whether you have food allergies and sensitivities.
Symptoms such as weight gain, mood swings, fatigue, and even night sweats can be exacerbated by consuming a food to which you have a reaction. Work with a nutrition professional to determine if you have any food allergies or sensitivities.
8. Stay hydrated.
It's easy to misinterpret thirst as hunger; minimize cravings and regulate blood sugar by staying hydrated. Aim for half of your healthy body weight (in pounds) in fluid ounces. If you weigh 140 pounds, for example, try to drink about 70 ounces of water per day. This doesn't include hydration from food.
9. Be savvy about personal hygiene.
Think of your skin as a sieve; the products you use on your skin are absorbed into your bloodstream and through your liver. Therefore, they should be "clean" enough that you could ingest them (if you had to!). The Environmental Working Group's Skin Deep website offers a good guide to identifying safe products and spotting harmful chemicals.
10. Don't negotiate on exercise.
Regular exercise can help keep hormones balanced and increase mood-boosting endorphins.  
11. Build a stress management toolbox.
Find practices that help you manage and change your perception of stress and incorporate them into your daily regimen. These might include yoga, meditation, and breathing exercises.
The One Medical blog is published by One Medical, a national, modern primary care practice pairing 24/7 virtual care services with inviting and convenient in-person care at over 100 locations across the U.S. One Medical is on a mission to transform health care for all through a human-centered, technology-powered approach to caring for people at every stage of life.
Any general advice posted on our blog, website, or app is for informational purposes only and is not intended to replace or substitute for any medical or other advice. 1Life Healthcare, Inc. and the One Medical entities make no representations or warranties and expressly disclaim any and all liability concerning any treatment, action by, or effect on any person following the general information offered or provided within or through the blog, website, or app. If you have specific concerns or a situation arises in which you require medical advice, you should consult with an appropriately trained and qualified medical services provider.