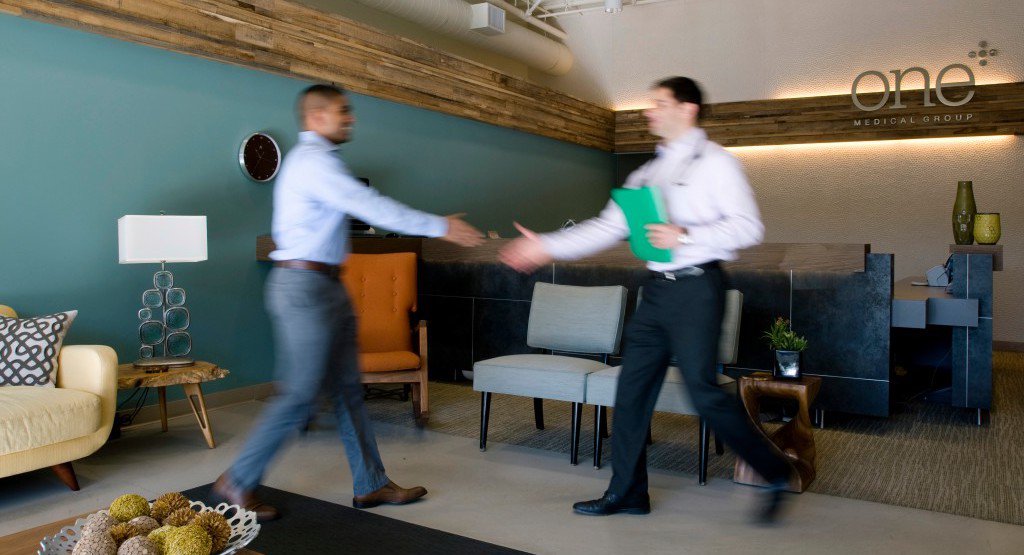 The first time he stepped into his new health care provider's office, Charlie* a transgender man in Washington, DC, says he knew he was in the right place.
Even before provider Amy Stulman, a nurse practitioner in Union Station, asked what pronouns he wanted to use, Charlie spotted a Human Rights Campaign (HRC) logo in her office, as well as a copy of Trans Bodies, Trans Selves: A Resource for the Transgender Community.
"She did a good job of signaling in her office that she's trans-competent," says Charlie. "It's clear she really cares about her patients and really wants to get it right."
Just like cultural competency, being non-judgmental is an intangible skill that develops over time. Making a medical visit feel comfortable and non judgmental is complex, requiring nuances in non-verbal communication, a thoughtful way of asking questions, unbiased listening and heart.
Here are three ways that these providers make their offices a safe space for every patient.
Good care starts with being sensitive and getting little details right.
"So much of what the patient experiences with me can be influenced by what happens in the office before they even get to me," says Jess Pinder, a nurse practitioner in San Francisco.

"Feeling like a 'different' person was motivation for me to go into this work." – Jess Pinder, NP
At Pinder's office in the Financial District, there's an all-gender bathroom, as well as locked multi-stall restrooms for men and women in the building's hallway that can only be accessed with a door code. Previously, when patients asked for the restroom code, an admin shared the one that appeared to match their gender. But they realized that process required making assumptions that might not be correct.
Pinder solved the dilemma by posting the code for both the men's and women's rooms on a small sign by the front desk.
"They feel welcome, they get the info they want and they don't have to tell us," says Pinder. "Setting up that environment all over the clinical space makes people not feel judged. Feeling like a 'different' person was motivation for me to go into this work."
And with more than half of communication happening nonverbally, Pinder makes sure he's present and authentic during a visit. So even if he's taking a history, when he gets into a sensitive area, he honors that moment.
"When I ask about sexual behavior and drug use and alcohol and domestic violence, I'm not even at my desk. I'm with the patient talking to them away from the computer."
"So much of it is body language and having open body language where you look at the patient," says Pinder. "I'm not asking to plug it into the computer; I'm asking so I can engage with them."
Good providers treat patients the way they would want to be treated.
Working in the emergency room of a large hospital, Renaldo Barrios remembers seeing some of the staff treating people poorly.
"They would say things like 'what are you doing in the ER? This isn't an emergency,' " says Barrios, a nurse practitioner in San Francisco's Castro neighborhood. "People don't know any better. They feel ill and they will go anywhere they can to get help. That showed me what not to do."
So in his practice, Barrios makes it a point to be compassionate with all his patients.
When he's getting to know a new patient, he tries to set them at ease by asking questions about their job and neighborhood, gradually working into topics like blood pressure, STDs, mental health and drug or alcohol use. By the time they get to discussing what kind of sex they have and the number of partners, they're pretty comfortable.
"When people come to us they're not feeling well and the last thing people need is to be told something is wrong with them," Barrios says. "Sometimes that's all it takes is to listen to people and make them feel comfortable to make them feel better."
That includes not shaming patients for running late for an appointment. Barrios still sees them, even if they're 10 minutes late, explaining that they can probably cover everything, but if not they can return later in the week.
"Most people who are late don't mean to be late," says Barrios. "That kind of deflates the whole stress of being late. When people are late, most people become stressed, I know I do."
Good providers don't make assumptions, they ask questions and listen.
In her Washington, DC, practice, Stulman doesn't make assumptions about anything, especially with new patients. For example, if a male patient says he has a boyfriend, Stulman doesn't conclude he's gay. He may have had a girlfriend a couple weeks ago. Stulman finds some patients talk about behaviors, and some talk about identity — both of those can be valuable health information, and they're not always congruent.
"I let the patient set the tone when it comes to identity and language, says Stulman. "If they say queer then I use that or if she says lesbian I use that."
Stulman says when providers make assumptions, a female wellness visit can be especially awkward for many gay women. For instance, some uninformed providers launch into a spiel about birth control methods without verifying whether the patient needs to prevent pregnancy. Or they abruptly end the sexual health conversation when they learn a patient is gay.
"I find the more open you are, the more details people give you," Stulman says. As a patient shares details, then Stulman opens a conversation about possible health risks they can explore together.
It's made a big difference for Charlie, who says Stulman has been a partner in his health, by doing things like extending herself to learn new procedures or letting his partner be there during a sensitive exam.
"Amy is always affirming all the time and willing to learn with me," he says. "One Medical in my experience has been willing to go to bat for the patient in ways that are really consistent with the way I view a doctor-patient relationship, which is collaborative. I haven't experienced that at a lot of other health care establishments."
*Not his real name.
The One Medical blog is published by One Medical, a national, modern primary care practice pairing 24/7 virtual care services with inviting and convenient in-person care at over 100 locations across the U.S. One Medical is on a mission to transform health care for all through a human-centered, technology-powered approach to caring for people at every stage of life.
Any general advice posted on our blog, website, or app is for informational purposes only and is not intended to replace or substitute for any medical or other advice. 1Life Healthcare, Inc. and the One Medical entities make no representations or warranties and expressly disclaim any and all liability concerning any treatment, action by, or effect on any person following the general information offered or provided within or through the blog, website, or app. If you have specific concerns or a situation arises in which you require medical advice, you should consult with an appropriately trained and qualified medical services provider.