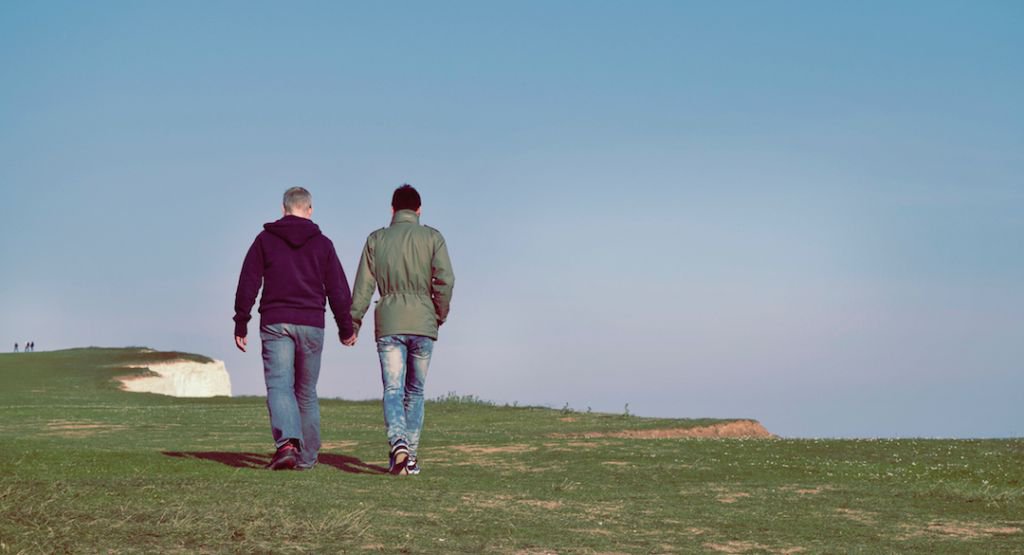 Mental health issues such as depression and anxiety disorders are common, and anyone can be impacted by them. But when you add the societal stigma, discrimination, and bullying LGBTQ individuals can face, it's not surprising that studies find that they suffer from higher than average rates of depression, anxiety, substance abuse, and suicide.
There's no shame in not feeling your best emotionally — it's okay to not feel okay. The most important thing is that you don't resign yourself to feeling this way. Help is available. We've put together some advice and resources to help you give your emotional well-being the attention it deserves.
What symptoms to look out for
Mental health issues can have both emotional and physical symptoms. These may include:
Trouble falling/staying asleep or sleeping too much

Irritability

Sadness

Anxiety or panic

Substance abuse

Thoughts about self-harm or suicide

Muscle tension

Headaches

Upset stomach

Fatigue

Palpitations (heart racing)
These symptoms can also be attributed to other medical conditions, so it's important to talk to the right person to get help.
Talk to your primary care provider (PCP)
If you have a provider you feel comfortable with, that person is a great place to start for mental health help. At One Medical, all of our PCPs can identify and treat mental health conditions such as insomnia, fatigue, stress, anxiety, and depression. Depending on your preferences and the severity of your symptoms, your provider may recommend options like meditation, mindfulness apps, lifestyle changes, therapy, or medication. And if you need specialized care, they can guide you to the right resources so you're not left feeling overwhelmed or anxious about where to go.
It's important that you feel like you can talk to your provider about all aspects of your health — including your sexuality, gender identity, and mental health. We understand that many LGBTQ folks have had poor experiences with healthcare providers, and we hope to change that paradigm. As a practice, we're committed to providing excellent care to diverse populations. Our goal is for every patient to feel respected, comfortable, and well cared for.
Don't have a provider you can open up to? We can help you find one who understands you and your health needs. Our website lets you search for providers who are interested in LGBTQ care, mental health, or both. Just click "Interests" at the top of the page and you can select "Anxiety, Depression & Insomnia," "LGBT Care," and/or "Stress Management." Keep in mind that all of our providers see LGBTQ patients, so you're not limited to those who list this as an interest. If you're still not quite sure who may be the right provider for you, give us a call. Our team can guide you to the right place.
Not able to join One Medical? GLMA and OutCare Health both have directories of an array of LGBTQ-friendly health professionals.
How to get the most out of your appointment
Book a standard appointment to discuss your mental health concerns.

I've personally had many patients bring up mental health concerns, such as sleep issues, stress, anxiety, or depression, at the end of an appointment that they made for other health concerns. This doesn't leave us enough time to discuss what they're experiencing and come up with a proper treatment plan. Mental health deserves just as much attention as physical health — it's totally okay to book an appointment just to talk about mental health. In fact, we encourage it.

Come prepared with notes about what you want to discuss.

It's easy to forget things during an appointment. Preparing a list in advance can help you keep your appointment focused and ensure you don't forget any important details or questions. It also gives you extra time to think about — and notice — your feelings and symptoms.

Don't be afraid to talk about your true feelings and behavior.

Whether you feel overwhelmed, you can't sleep, you've been drinking too much or using drugs, or you've been suicidal, it's important to be totally honest with your provider. We're here to help you, not judge you. The more we know, the better we can do that.
Check out LGBTQ mental health and support resources
Having a place to turn when you need it is essential — whether you're feeling suicidal or just having a bad day and need to talk with someone who gets you. There are a number of organizations that provide mental health support, crisis counseling, resources, and other support for the LGBTQ community, including:
Gaylesta
This is a nonprofit psychotherapist association for gender and sexual diversity. They have a directory of mental health professionals and therapy groups focused on LGBTQ mental health.
It Gets Better
Watch inspiring stories from other LGBTQ people who have been through what you're going through. They also have a directory of over 1100 organizations around the world that offer support to LGBTQ youth.
Trevor Project
Trevor Project offers a safe, non-judgmental place for LGBTQ youth to talk and get help in a crisis via telephone, instant messaging, and text. They also have a social networking site where LGBTQ youth can connect with each other in a safe space and a variety of resources and information on LGBTQ topics.
———————————————————————-
Your mental well-being is critical to your happiness and health. If you're not feeling well emotionally — even if it seems relatively minor — don't suffer in silence. We're here to help guide you through.
The One Medical blog is published by One Medical, a national, modern primary care practice pairing 24/7 virtual care services with inviting and convenient in-person care at over 100 locations across the U.S. One Medical is on a mission to transform health care for all through a human-centered, technology-powered approach to caring for people at every stage of life.
Any general advice posted on our blog, website, or app is for informational purposes only and is not intended to replace or substitute for any medical or other advice. 1Life Healthcare, Inc. and the One Medical entities make no representations or warranties and expressly disclaim any and all liability concerning any treatment, action by, or effect on any person following the general information offered or provided within or through the blog, website, or app. If you have specific concerns or a situation arises in which you require medical advice, you should consult with an appropriately trained and qualified medical services provider.