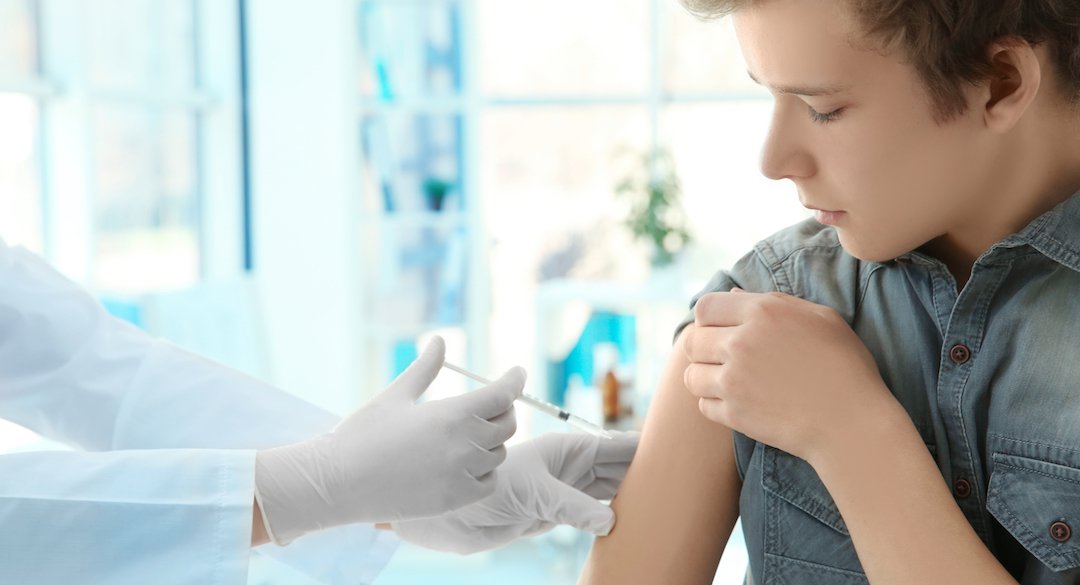 Updated August 24, 2022.

Preventing cancer is probably not what comes to mind when you think of vaccines. But that's precisely what the human papillomavirus (HPV) vaccine does. According to the CDC,HPV causes 36,500 cases of cancer in the United States each year and over 33,000 of those cases could be prevented with the HPV vaccine. With numbers like that, this vaccine can have a huge impact on health. Here are our answers to the most commonly asked questions about the HPV vaccine:
What is HPV and why should people get vaccinated against it?
HPV is the most common sexually transmitted infection in the United States with nearly 42 million people currently infected. There are more than 150 strains of the virus, although not all strains are sexually transmitted. Nearly everyone will get at least one strain of HPV during their life. Some strains cause warts on the skin or genitals, but in many cases there are no obvious symptoms of HPV, and it goes away on its own. However, some strains of HPV cause or are associated with cancers, including:
Cancer of the cervix, vulva, and vagina
Cancer of the penis
Cancer of the anus and the back of the throat (called oropharyngeal cancer)
Until recently, cervical cancer had been far more common than the other cancers caused by HPV. This is likely because cervical cell abnormalities that can turn into cancer can be detected with cervical cancer screenings and treated before they become cancerous, while there are no approved screening tests for other HPV-related cancers. Recently, the incidence of throat cancer caused by HPV — which affects individuals of all sexual orientations — has been increasing. This makes getting vaccinated extremely important.
What is the HPV vaccine?
There are three different HPV vaccines, but only Gardasil 9 is currently available in the United States because it offers protection against more strains of HPV. This vaccine offers protection against the strains of HPV associated with the majority of cervical, anal, and oropharyngeal cancer cases, as well as most genital warts. And while Gardasil 9 was developed to prevent cancer of the cervix, vulva, vagina, penis, and anus, it can also protect against the types of HPV that cause throat cancer.
The vaccine itself is administered in multiple doses. Depending on your age and health, that can either be a series of two shots six to twelve months apart or three shots over six months. It's more common for those who start their vaccine series over the age of 15 or those with certain immunocompromising conditions to need the three-shot series. Your primary care provider (PCP) will let you know which schedule is right for you.
Who should get the HPV vaccine?
The CDC recommends all kids (male and female) should get vaccinated at age 11 or 12 — regardless of whether they're sexually active. The goal is to get kids vaccinated before they're sexually active and exposed to the virus to offer the greatest protection against cancer.
Everyone through the age of 26 who has not gotten or completed the HPV vaccine series yet should also be vaccinated as soon as possible.
Those older than 26 who haven't been vaccinated yet should talk to their primary care provider to see if they could still benefit from it. This is especially true for those with an active, non-monogamous sexual life. If you decide to get vaccinated over age 26, talk to your insurance company to make sure it's still covered.
Please note: If you've already been vaccinated with the original Gardasil, it is not recommended that you get vaccinated with Gardasil 9 as well.
Who shouldn't get the HPV vaccine?
The vaccine isn't recommended for anyone who's had a life-threatening allergic reaction to anything in the HPV vaccine, including yeast, or to a previous dose of the HPV vaccine. Individuals who are pregnant or plan to get pregnant during the six-month shot series should not get vaccinated as Gardasil 9 hasn't been tested in pregnant women.
Is the vaccine safe?
The Food and Drug Administration (FDA) only licenses vaccines that are proven safe and effective. Gardasil 9 went through years of extensive safety testing and has been proven very safe in clinical trials with more than 15,000 females and males. The CDC and FDA continuously monitor the vaccine to make sure it's safe and beneficial for the public. You cannot get HPV or HPV-related cancers from the vaccine itself.
What are the potential side effects of the vaccine?
Many people experience no side effects. The most common side effects are mild and can include:
Pain, redness, swelling, itching, bruising, bleeding, or a lump in the arm where the shot was given
Headache
Fever
Nausea
Dizziness
Brief fainting spells can happen after any vaccination. Sitting or lying down for about 15 minutes after the shot can help prevent fainting and injuries from falling due to fainting.
The HPV vaccine is one of only two vaccines out there that can prevent cancer — and the benefits far outweigh the risks. If you have any questions or want to get the Gardasil 9 vaccine, make an appointment to talk with your PCP today.
The One Medical blog is published by One Medical, a national, modern primary care practice pairing 24/7 virtual care services with inviting and convenient in-person care at over 100 locations across the U.S. One Medical is on a mission to transform health care for all through a human-centered, technology-powered approach to caring for people at every stage of life.
Any general advice posted on our blog, website, or app is for informational purposes only and is not intended to replace or substitute for any medical or other advice. 1Life Healthcare, Inc. and the One Medical entities make no representations or warranties and expressly disclaim any and all liability concerning any treatment, action by, or effect on any person following the general information offered or provided within or through the blog, website, or app. If you have specific concerns or a situation arises in which you require medical advice, you should consult with an appropriately trained and qualified medical services provider.