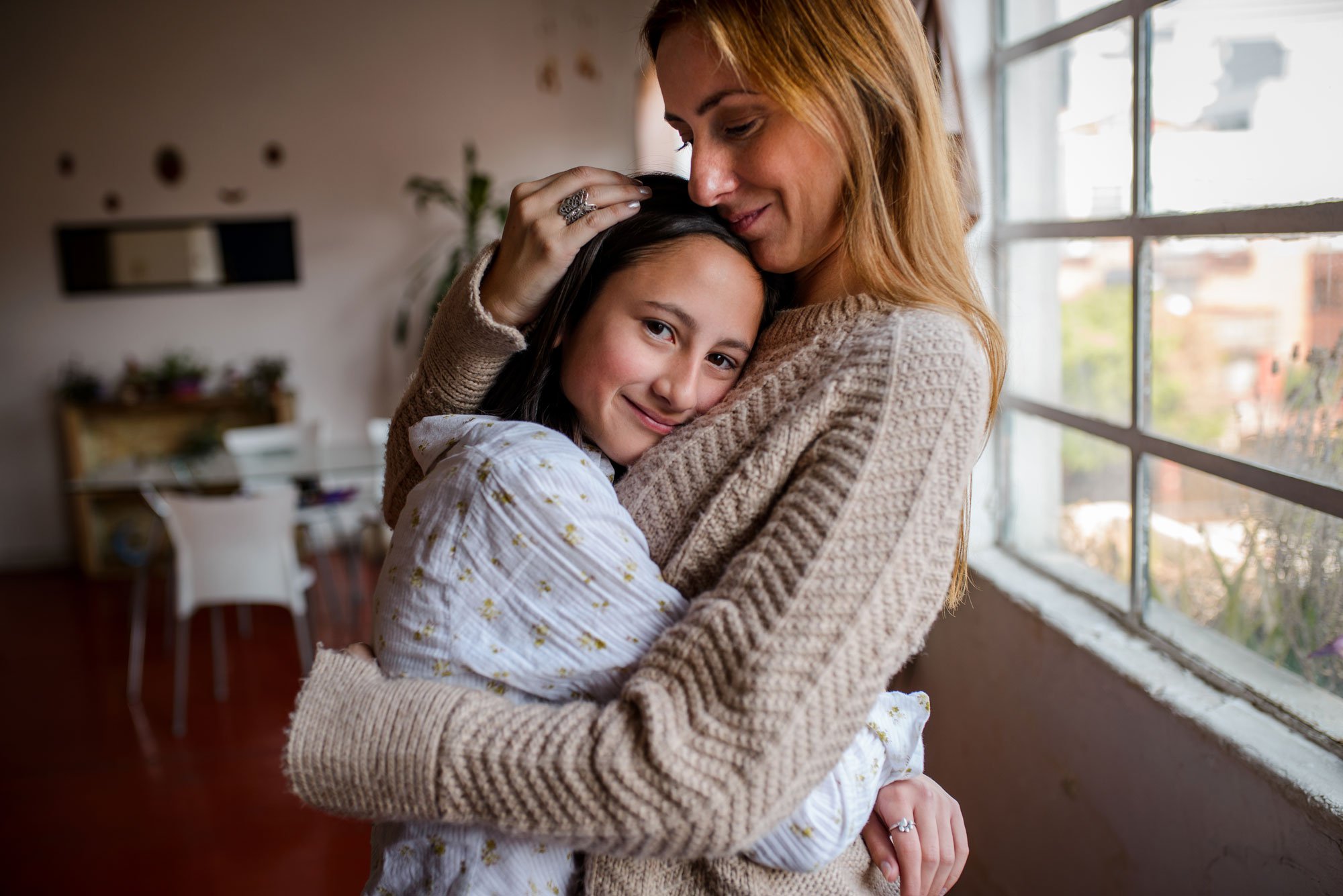 Over the last few decades, public awareness of the LGBTQ+ community has grown immensely. Media is more representative than ever, more U.S. adults are identifying as LGBTQ+ or nonbinary, and children and young adults are coming out earlier and in greater numbers than ever before.
Despite a growing awareness and acceptance of the LGBTQ+ community, however, many parents and family members often struggle to know how to respond when a child comes out or is questioning their gender identity or sexuality. For some, this information may have been suspected for a while, while for others, it may be a complete surprise. Expected or not, it can be difficult to know what to say to your child or how to show your support, no matter how open-minded you are.
Research shows, however, that familial support can make all the difference in your child's mental and physical health. One study found that lesbian, gay, and bisexual young adults who experienced high rates of family rejection in their teens were eight times more likely to report having attempted suicide, six times more likely to report high levels of depression, and three times more likely to use illegal drugs than their peers. Meanwhile, family acceptance during adolescence has been linked with higher self-esteem, social support, and overall health. Likewise another study found a dramatic decrease in suicide rates among trans youth with supportive parents.
Creating a loving, respectful, and accepting environment can help your child lead a happier, healthier life. Here's how you can show your support:
1. Let them come to you
While you may have an idea of your child's sexuality or gender identity, you can't know for sure until they tell you themselves. Though you may feel inclined to bring up the topic yourself, it's important to let your child come to you in their own time. Coming out is a deeply personal experience and decision and it may take your child time to fully understand how they truly identify. Asking your child about their gender or sexual identity before they are ready or pushing them to talk may actually be counterproductive as it may cause them to feel embarrassed and shy away from opening up in the future. The best thing you can do is create a safe, welcoming space where your child feels comfortable opening up about their gender or sexual identity. Show your support and acceptance by openly discussing LGBTQ+ related issues in the news or by positively talking about LGBTQ+ people you know, in the media, or characters in a show or book. Make it clear that any slurs, jokes, or hate speech regarding gender or sexuality are not tolerated in your household. Demonstrating these subtle signs of support will let your child know that it is okay to come out if they choose.
2. Lead with love
Coming out can be an extremely nerve-wracking, vulnerable, and emotional experience for many LGBTQ+ people due to fears of rejection and disappointment. Children or teens may be worried about their parents' immediate reactions or that they will lose their love entirely. Some even fear being kicked out of the house. Knowing this, it's important to remind your child that you love them unconditionally. If your child comes out to you, let them know that nothing will change your love for them and that you are here for them no matter what. You don't need to be an expert in LGBTQ+ issues, or even need to fully understand their gender identity or sexuality to show support. Simply acknowledge how much bravery and strength it takes to come out and thank them for sharing that information with you. Even a hug can go a long way.
3. Keep communication open
After an initial conversation with your child, you may feel like your work is done and all has been said and done. The fact is, however, that your child's gender and sexuality will continue to play a big role in their life, for the rest of their life. Ignoring the subject after they have come out may leave your child feeling dismissed or unsupported. Keeping the dialogue going can help validate your child's feelings and show them you take their gender identity and sexuality seriously. It also enables you to keep an eye on their mental well being and better understand their needs. Regularly check in and ask how they are feeling and how things are going with school, friends, or a particular extracurricular activity. Ask how you can help or make things easier for them right now. Listen without interrupting, lecturing, or trying to find a solution. Instead, let them lead the conversation and ask follow up questions. It may be difficult getting your child to open up, but regularly providing opportunities for them to talk will let them know you are available when they do feel like sharing.
4. Educate yourself
There are many myths and stereotypes about the LGBTQ+ community, so it's important to get the facts. Educating yourself on LGBTQ+ issues and the youth experience can help strengthen your relationship with your child and help you better understand what they are going through. Your child will also see this effort as a sign of acceptance and validation. One of the best places to start in particular, is with terminology. There are many different terms and acronyms used to describe gender identity and sexual orientation, and the language is evolving all the time. Using the correct language will help you communicate more effectively with your child, as well demonstrate your love and support. Ask your child what pronouns they would like to use and use them! Your child may even have a different name they would like to go by that better aligns with their gender identity. While it may seem overwhelming at first, organizations like PFLAG, have glossaries and other educational resources available online to help you make sense of it all. Other great resources include Trevor Project and The Family Acceptance Project.
5. Connect them with resources or a role model
Many LGBTQ+ children and teens often feel alone in their journey, especially if they don't have any friends, family members, or peers they can relate to. Local LGBTQ+ centers and youth groups can be a great way for your child to find a sense of community. It can also be helpful to connect your child with a positive LGBTQ+ role model, found either through friends, your local LGBTQ+ center, organizations like PFLAG, or a healthcare professional. Seeing an adult live proudly, openly, and happily as an LGBTQ+ person can help your child feel hopeful about their own future. Additionally, there are numerous organizations and resources online that can connect your child to LGBTQ+ issues and communities. Check out the CDC, GLAAD, GSA Network, CenterLink, and GLSEN, for a few.
6. Advocate for them
As a parent, it's your job to protect your child and keep them safe. This means standing up for your child among family, at school, and in your community. Sadly, LGBTQ+ youth face higher rates of bullying, harassment, and violence from their peers than non-LGBTQ+ youth. Keeping an open line of communication with your child, as well as maintaining frequent contact with their teachers and school administrators, will enable you to watch out for signs of bullying or know if any issues arise. Get to know the school's policies and speak out if there is an issue. If your school is not taking the issue seriously, take it to the principal, school board, or PTA. You can also advocate for your school to have a Gay Straight Alliance club, a student-run organization, supported by teachers, that creates a safe, inclusive space for LGBTQ+ students and their allies.
If you live somewhere in the U.S. that has active legislation or laws which impede your ability to fully advocate for your child, seek out legal advocacy groups, such as Lambda Legal or Gay and Lesbian Advocates and Defenders. These organizations can provide legal assistance and representation to students and professionals facing discrimination or harassment in all public settings, such as schools and places of bussiness. They can also connect you to resources to help you better advocate and protect your child at school and in your community.
7. Seek support for yourself
You may have mixed feelings about your child coming out and that's okay. Some parents feel a sense of relief that their child finally opened up, while others may feel shock, guilt, or denial. Even if you feel positively right away, you may still have worried about your child's future and safety. It's important to give yourself time to adjust to the idea that the life you envisioned for your child may look a bit different than you expected. As you look for ways to support your child, you should also seek support for yourself. Look for parent groups and resources in your area, such as those offered by PFLAG. It can be helpful to connect with others who have gone or are going through a similar experience and have a safe space to process your feelings. You can also reach out to your primary care provider, who can refer you to a counselor, therapist, or other behavioral health specialist, if you would like to talk with someone further.
8. Find inclusive, affirming healthcare providers
A major part of caring for any child is keeping them healthy. If your child identifies as LGBTQ+, that means finding healthcare providers who are well-versed in the unique health needs of the LGBTQ+ community and provide gender-affirming, nonjudgmental care.
At One Medical, you can feel confident knowing that your child is in the right hands. Our providers understand the unique health concerns and obstacles members of the trans and non-binary community often face and are committed to providing culturally competent, affirmative care at every visit and creating safe, judgment-free spaces for all. This includes everything from asking for your child's gender identity, pronouns and preferred name to offering gender-neutral bathrooms whenever possible. All of our providers adhere to our philosophy of inclusivity so LGBTQ+ patients can expect to be treated with affirmation, compassion, and professionalism by whoever they see. You can also choose to see a provider who specializes in areas like PrEP, hormone therapy, and mental health, as many of our providers are experts in these fields, or identify as a member of LGBTQ+ community themselves. For more information on our LGBTQ+ services, see here.
The One Medical blog is published by One Medical, a national, modern primary care practice pairing 24/7 virtual care services with inviting and convenient in-person care at over 100 locations across the U.S. One Medical is on a mission to transform health care for all through a human-centered, technology-powered approach to caring for people at every stage of life.
Any general advice posted on our blog, website, or app is for informational purposes only and is not intended to replace or substitute for any medical or other advice. 1Life Healthcare, Inc. and the One Medical entities make no representations or warranties and expressly disclaim any and all liability concerning any treatment, action by, or effect on any person following the general information offered or provided within or through the blog, website, or app. If you have specific concerns or a situation arises in which you require medical advice, you should consult with an appropriately trained and qualified medical services provider.