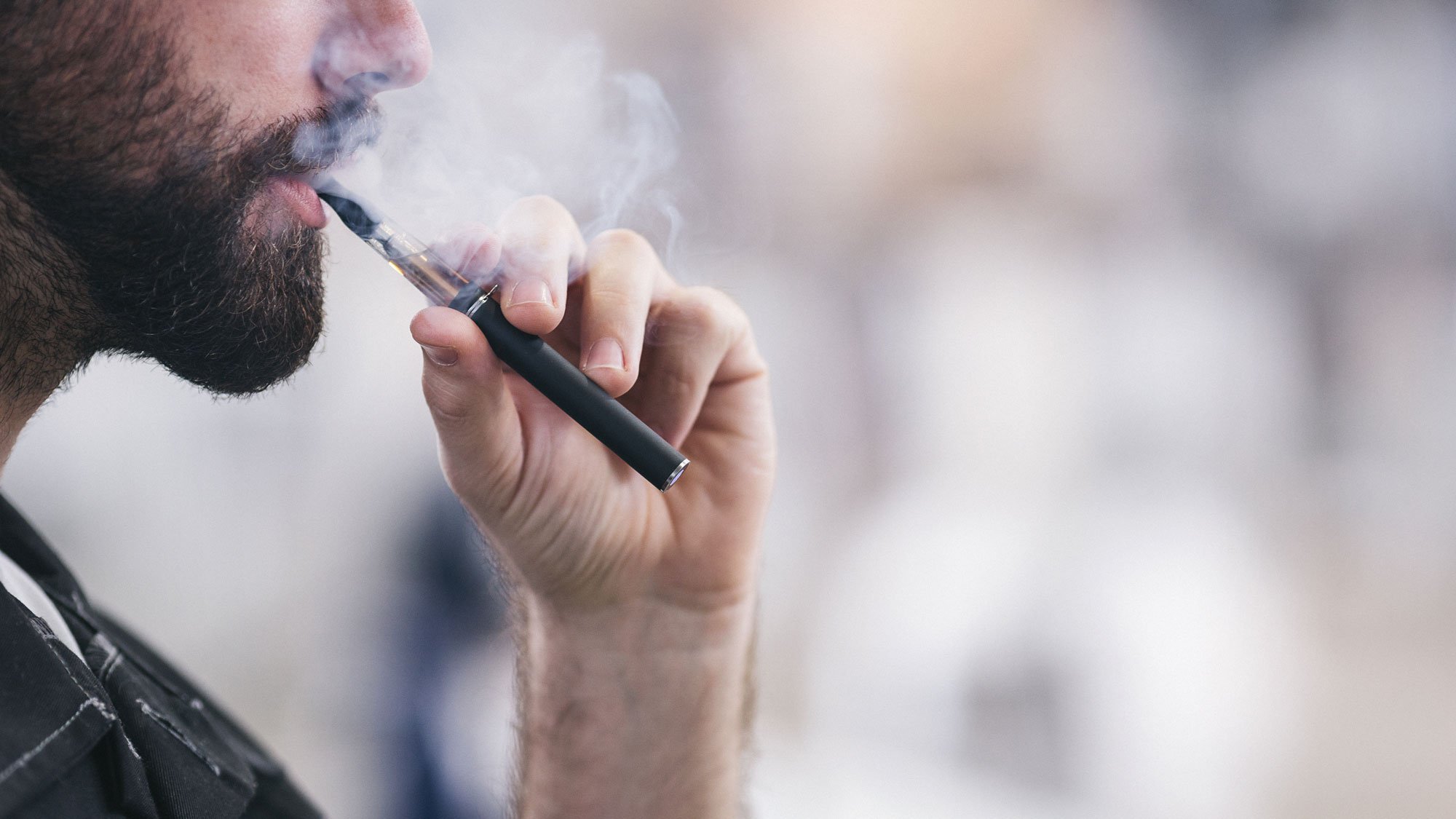 E-cigarettes have dominated headlines lately, as new information continues to come to light about the safety of vaping. The latest findings have spurred much debate, as many smokers originally turned to vaping as a "healthy alternative" to cigarettes. Even more startling, however, is the growing use amongst adolescents. According to the the Center of Disease Control (CDC) more than 1 of every 4 high school students (27.5%) in 2019 reported using in electronic cigarettes in the past 30 days. While the short and long term consequences of e-cigarettes are still being investigated, now may be a good time to quit or help a friend or family member kick the habit.
How did I get addicted to vaping in the first place?
Early on, e-cigarettes were promoted as a way to help people stop smoking. Unfortunately, e-cigarettes contain the same addictive substance as regular cigarettes — nicotine.
Addiction to nicotine (also called nicotine dependence) occurs because of the pleasurable effects the chemical has on your body and brain. With each puff of an e-cigarette, your body releases dopamine, a neurotransmitter that can improve mood and increase feelings of physical pleasure.
Studies showed that e-cigarettes significantly helped some people wean off cigarettes, but not off tobacco entirely. Many users continued to vape after 1 year and even lead to relapse more and start smoking again compared to former smokers who did not use e-cigarettes. Even worse is that non-smokers who took up vaping were more likely to being smoking cigarettes a year later.
E-cigarettes are able to deliver nicotine more efficiently and in higher quantities, making them potentially even more addictive than regular cigarettes. That is why there is no surprise that quitting vaping can be just as hard as quitting regular cigarettes.
Why is vaping bad for me?
According to One Medical provider Malcolm Thaler, e-cigarettes can be harmful for a number of reasons:
E-cigarettes have been known to cause dry cough and nose and mouth irritation.
Some studies show that vapor from e-cigarettes can reduce lung function, though other studies weren't conclusive in the same way.
Some e-cigarette cartridges have been found to contain cancer-causing chemicals and formaldehyde, which is a carcinogen linked to lung cancer, sinus cancer, and leukemia. Some of the latest studies are showing a link to lung cancer in animal studies, but no long term studies in humans are available yet.
Nicotine found in e-cigarettes can raise your heart rate and blood pressure and damage blood vessels that supply blood to your heart.
We still do not know of the long term consequences of vaping yet, as it's still too new to gauge effects over time.
Why were some people being hospitalized from vaping?
There was an increased rate of hospital admissions and deaths from people who vaped towards the end of 2019. This was from e-cigarette or vaping product use-associated lung injury (EVALI) , in which people presented with intense physical symptoms (shortness of breath, fever, and chest pain), similar to how people present with a severe case of pneumonia. Vape products that contained vitamin E acetate were the main culprit in causing EVALI, but more research is currently underway investigating the short term and long term harms of vaping.
What are the benefits of quitting?
The benefits of quitting are numerous, and they range from healthier lungs and a stronger immune system to cleaner teeth. You may also notice more energy, as well as a boost in confidence knowing you broke the cycle of addiction.
What should I expect while quitting?
Quitting vaping can be just as hard as quitting smoking for some people, so we want you to be prepared for the challenges you might face if you decide to stop.
Nicotine withdrawal can occur as quickly as 30 minutes after your last e-cigarette use. Withdrawal symptoms vary from person to person and depending on level of addiction, but they often include intense cravings for nicotine, headaches, difficulty concentrating, irritability, and weight gain.
Be sure to pay attention to any symptoms of depression or anxiety, as quitting vaping can also cause significant negative changes in mood.
What tips can help me quit?
While quitting is hard, it can be done. Following these tips will help keep you on the right track:
Prepare yourself: Figure out the reasons you want to quit, then come up with a plan and try to stick to it. Set a date to start tapering your e-cigarette use.
Learn to cope with stress: It's not uncommon to rely on an e-cigarette to elevate your mood in times of stress. While quitting, it's important to find new sources of relief, like meditating, writing, or working out.
Try nicotine replacements: Nicotine gum, patches, or other alternatives to vaping can help ease withdrawal symptoms. Your body will still be getting doses of nicotine, so you can focus on breaking any physical habits you've developed connected to vaping.
Consider a prescription aid: Prescription medications like Zyban (bupropion) and Chantix (varenicline) can help you quit using nicotine if you feel like you need additional help.
Check out more tips here and learn more about the latest updates on vaping on the CDC website for children and adults
How can my doctor help?
If you're considering quitting vaping, talking to your doctor beforehand is a great idea. Be sure to ask questions about what withdrawal symptoms to expect, how to create an action plan, and what prescription medications you may be able to try.
Ready to talk to a doctor about quitting vaping? Book an appointment today, or reach out to our virtual care team.
The One Medical blog is published by One Medical, a national, modern primary care practice pairing 24/7 virtual care services with inviting and convenient in-person care at over 100 locations across the U.S. One Medical is on a mission to transform health care for all through a human-centered, technology-powered approach to caring for people at every stage of life.
Any general advice posted on our blog, website, or app is for informational purposes only and is not intended to replace or substitute for any medical or other advice. 1Life Healthcare, Inc. and the One Medical entities make no representations or warranties and expressly disclaim any and all liability concerning any treatment, action by, or effect on any person following the general information offered or provided within or through the blog, website, or app. If you have specific concerns or a situation arises in which you require medical advice, you should consult with an appropriately trained and qualified medical services provider.