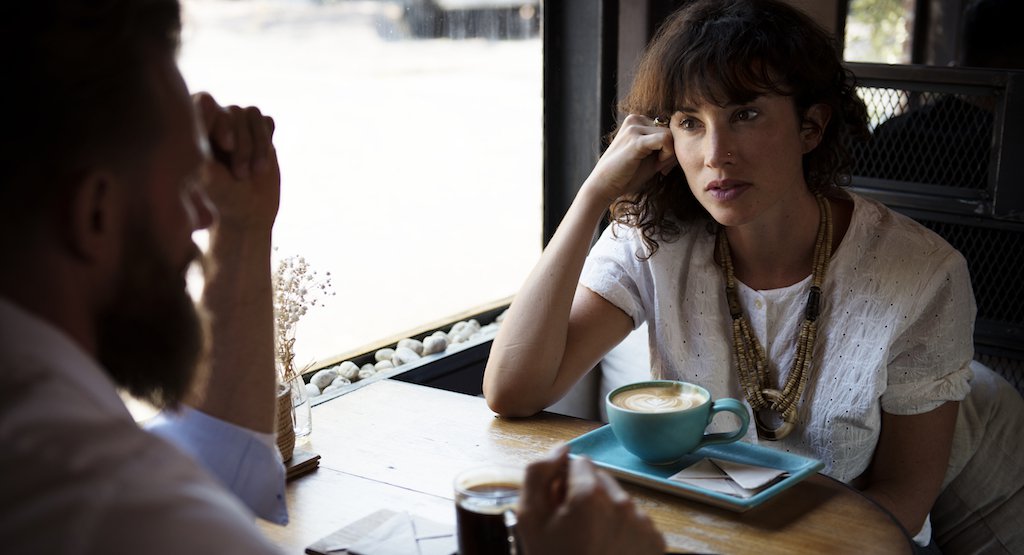 Adulting is hard on so many levels. Between work, romantic relationships, family commitments, and friend issues, you've probably got your fill of tricky situations to navigate and awkward interactions to weather. But one potentially difficult area to discuss shouldn't be ignored, no matter the discomfort level involved: your health.
Discussing topics like sexually transmitted infections (STIs) and mental health isn't easy. But whether you're talking with your partner or provider, coming to these conversations armed with the right knowledge can help situations go smoother than expected. Here are our expert-approved tips for tackling even the most awkward, embarrassing, or difficult health conversations:
The Issue: You suspect your loved one is struggling with their mental health.
Maybe you've noticed your boyfriend or girlfriend withdrawing from friends and family. Or maybe your best friend is exhibiting unusual behavior that makes you concerned. If you're worried about a loved one's mental wellness, reaching out at the appropriate time can have a massive impact.
"Find the right moment — i.e. not on your way rushing to work, and not in the middle of an argument or at a party," says Los Angeles-based clinical therapist, Alyssa Mass. "It's always helpful to think of how you might want to be approached if the situation were reversed and to be really clear that your question is coming from a place of care and concern. Don't accuse someone of being depressed or anxious, but first let them know you see a change in their behavior and give them a chance to open up about where they're at."
Mass also says that specifics can help clarify your intention and start an important dialogue. "Sometimes examples can help," she says. "Like, 'I noticed you used to play basketball with your friends after work and you haven't been in weeks, is something going on?' or 'I noticed you don't seem to be sleeping at night, is something bothering you?' Also, keep in mind, you don't need to solve their problem; help and support to the extent you feel you can, and if it's beyond your scope, help and support them in seeking professional help."
The Issue: You're dealing with mental health issues and you're not sure how to talk about it.
One of the most important steps you can take is to first find a primary care provider (PCP) who can help lead you to the right resources and get you the support you need. Establishing a solid relationship with a PCP you trust can also help that person track your health over time, so they can pick up on physical and mental changes you may not be aware of or ready to talk about. "If a provider sees a patient over and over and sees they're clearly struggling, they should say something like, 'hey, I've noticed a trend,'" says One Medical New York provider, Navya Mysore, MD. "We should be screening for mood at the annual physical, so that's a perfect entry point for someone to say if they've been feeling crummy and haven't brought it up. It's also hard to be frank about mental health, so patients may not necessarily say, 'I'm depressed.' They may outline symptoms, like they're having a hard time focusing, or they haven't been meeting friends as much, or they're having restless sleep." According to Mysore, your PCP will take stock of those symptoms and piece together the right diagnosis from there, collaborating with patients on the right individualized and tailored treatment plan.
Whether you choose to share your struggles with loved ones is up to you, and it can sometimes be tough to tell when to divulge those details in different kinds of relationships. "All of this is very personal, of course," Mass says. "I'm sure there are people out there who choose to never share past mental health history. Building a relationship is largely based on being able to share vulnerabilities with one another, but if it feels like vulnerable information to you, I always suggest sharing when you have some level of trust in the person across from you."
Mass says it's also important to remember that there's no need to rush into full disclosure. She suggests slow but steady conversational strategies to test the waters. "Dropping something like, 'yeah I had a bit of a hard time in my early 20s' gives you a chance to gauge the reaction. 'Oh really, me too?' or 'oh man, my sister had a hard time then, too,' may help you feel safe to say more. Whereas a response like, 'Huh? Oh don't tell me you're one of those people who thinks depression is a real thing? Those people just need to get over it,' may make you think twice about how much more you're ready to share. Going slow allows you to keep your own feelings, and vulnerabilities safe in a new relationship and gives you the power of when and how to disclose information."
The Issue: You've been diagnosed with an STI.
Some casual daters choose to keep their sexual health status private until things turn serious, and some prefer to share info from the start — sometimes even in their online dating profiles. "I've certainly seen that on my friends' apps and I've thought, 'whoa, that's really great that people are more outward about things,' because it makes it so much more transparent," Mysore says.
But for people in long-term relationships, timing an STI talk that hasn't ever occurred can be tricky. "If you're going to have a discussion with a long-term partner, it might be helpful to come in together to see the provider who can say, 'this is what's going on and this is how we can avoid passing things from one partner to the other,'" Mysore says, nothing that this strategy can help debunk pervasive mythology around STIs like herpes. As for when to get the conversation going? "The earlier the better," she says.
The Issue: You don't want to or can't have children.
Again, timing is everything with this kind of serious, long-term talk. "It's hard to say [when to discuss it] in casual dating because you never know when something casual could become something more serious," Mysore says. "If you don't think you're looking for a long-term relationship with that person, the question of whether or not you can get pregnant or have children may not get brought up. But it's worth telling people if children aren't in your plan so that you're on the same page — again, the earlier the better to lay your cards out on the table. And you can say, 'this is what my plan is right now, and that might change in the next couple of years.'"
The Issue: Your partner isn't satisfying you sexually and you're not sure how to broach the topic without hurting their feelings.
"The most important thing to recognize is that we're all responsible for our our own pleasure," says Emily Morse, sexologist and host of the Sex With Emily podcast. "So, while it's easy to blame a partner for your dissatisfaction, remember, you're 50 percent of the equation. With that in mind, reframe your approach to communication. Think about things they do that turn you on, as well as things you'd like to improve in your own sexual repertoire. Eliminate the blame and shame, and simply lead the conversation with positive thoughts and encouragement for making things even better than they are today."
The Issue: Your preferred bedroom behaviors include alternative sexual practices you're not sure your partner is into (like bondage/discipline, dominance/submission, and sadism/masochism, aka BDSM).
"Every relationship is different, so there's no real rule to this," Morse says. "But the more openly you communicate from the start, the easier it will be to bring things up. I'm not saying to jump right into discussing fetishes on the first date — not that I haven't — but the more we talk about sex, and the earlier we do it, the better the sex will be." In some cases, kinky behaviors may not be a couples' norm, but one partner wants to explore the territory. "If you're looking to try something new, I love the 'sexual bucket list' concept," Morse adds. "You and your partner each write down three things you want to try, then swap lists and discuss them together."
The Issue: You and your partner just can't get on the same page and you're not sure how to deal with it alone.
"Let me be clear: therapy is always an option," says Morse. "There are certainly things that are really difficult to work through on your own. Trauma, shame, and trust issues are just a few of the concerns that can really hurt a relationship. If you and your partner are trying to fix a situation and open communication isn't doing the trick, then bring in some backup. I think most — okay, all — relationships can benefit from professional help. Whether it's couples therapy or sex therapy, when you're trying to keep things going, why not use all the tools at your disposal?"
Still have questions? Make an appointment to talk to your PCP today.
The One Medical blog is published by One Medical, a national, modern primary care practice pairing 24/7 virtual care services with inviting and convenient in-person care at over 100 locations across the U.S. One Medical is on a mission to transform health care for all through a human-centered, technology-powered approach to caring for people at every stage of life.
Any general advice posted on our blog, website, or app is for informational purposes only and is not intended to replace or substitute for any medical or other advice. 1Life Healthcare, Inc. and the One Medical entities make no representations or warranties and expressly disclaim any and all liability concerning any treatment, action by, or effect on any person following the general information offered or provided within or through the blog, website, or app. If you have specific concerns or a situation arises in which you require medical advice, you should consult with an appropriately trained and qualified medical services provider.