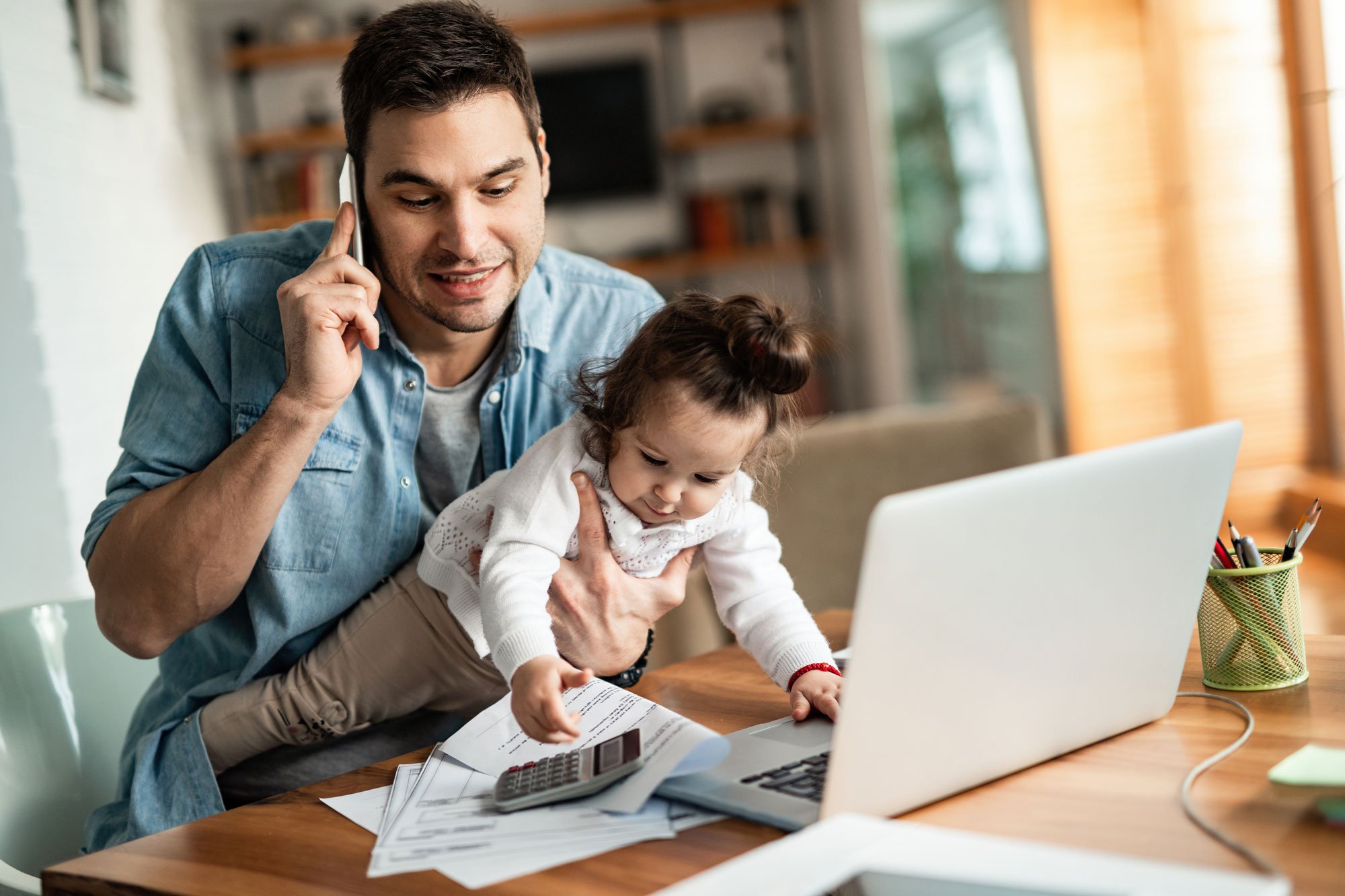 In these unprecedented times, there are so many things calling for our attention. You've got kids with boundless energy running around the house during your conference calls, public health announcements on every news channel, and new social distancing guidelines released every few hours. As the coronavirus pandemic evolves, it can be difficult to stay focused and productive amid all the chaos. You may catch yourself misplacing items, forgetting things, or even feeling restless and fidgety. If you're having trouble concentrating, know that you're not alone.
Why am I feeling so distracted?
Between daily news updates, social media, and distractions around the house, we're faced with constant stimuli that make it hard to focus. While a dose of stress can improve our concentration and productivity at times, it eventually depletes important neurotransmitters like serotonin and dopamine that play a key role in our mood, learning, motivation, and happiness. In other words, all this stress is wearing our brains out. Fortunately, there are several ways we can reduce our stress, boost our mental energy, and improve our focus.
Organize your day
While Covid-19 has interfered with many of our normal activities, it's important to continue giving your day some structure. Studies show that following a schedule or routine can reduce decision fatigue, boost productivity, and fend off depression. Start by prioritizing your day's to-do list and create a schedule around the most pressing items, being sure to build in regular breaks. Leaving room for these pauses will allow your brain time to reset and refocus, while helping you stay on task. Sometimes just knowing you have a break coming up can keep you motivated through the remainder of a project. You can also use a paper to-do list, put up a bulletin board, or download a time-management app like 2Do, Due, or Remember the Milk if you need help visualizing your goals. If you find you are misplacing things, make a designated place for important objects like your wallet, headphones, phone, and keys.

Minimize distractions
Though it's important to stay up to date on the latest public health guidance, social media and our phones in general can consume too much of our time and mental energy. To prevent distractions, turn off as many notifications and sounds on your phone and computer as you can. Set aside a few regular times specifically for checking your email, social media, and news consumption and give yourself a time limit. Some social media platforms even allow you to create those boundaries within their apps. You can also use productivity resources like RescueTime, StayFocusd, Coach.me, or Anti-Social to limit your time on these devices.
Practice mindfulness
With all the noise in the world right now, it's easy to let your mind wander. Whether you're anxious about the future or thinking about that pile of laundry in the next room, you may find yourself feeling miles away from what's going on right in front of you. Practicing mindfulness is a great way to root yourself in the present and be in the moment. Studies show these exercises can improve your memory, motivation, and attention span. Every hour, take a break to move your body. Try a breathing exercise or guided meditation. Calm your mind by practicing daily mindfulness either on your own, or with an app like Headspace or Calm. This will pay huge dividends.
Get enough rest
Sleep is also a major contributor to attention, focus, organization and motivation. Without enough, you're likely to feel less energized and creative and more indecisive. Likewise, if you are interrupted or distracted, it will be more difficult to refocus on a task if you're sleep-deprived. If you can, aim for 7 to 8 hours of sleep nightly with a consistent bedtime and wake up time. You should also try to limit your caffeine after 12 pm, as it can make it harder to fall and stay asleep. While you may be tempted to stay up following the news right now, it's more important to let your mind and body rest. Try to avoid watching or reading the news an hour before bedtime, as screens, especially those displaying stressful news, can interfere with your sleep cycle. If you're having trouble falling asleep, check out these tips.
Keep exercising
Regular exercise can also increase your energy, focus and productivity, and it even improves the quality of your sleep. Try to build small amounts of exercise into your day. Take a 20 minute walk in the morning or after dinner, do 10 minutes of yoga, hold a plank position for 1 minute, or jump rope for 5 minutes. If you're missing the gym right now, several companies like Peloton, Down Dog, and CorePower Yoga are also offering free or discounted classes for the time being. Even walking up a few flights of stairs or having a dance party in your apartment can be helpful. Move your body!
Can medication help me cope?
For most people, trying one or more of the strategies above will have a positive effect. While there are medications to help patients with attention disorders, they can often increase anxiety, reduce sleep, and impact your appetite. If you're not finding these approaches helpful and your difficulty focusing is affecting your work or your relationships, consider booking a remote or in-person visit. Your One Medical provider will dive deeper with you to find effective solutions.
The One Medical blog is published by One Medical, a national, modern primary care practice pairing 24/7 virtual care services with inviting and convenient in-person care at over 100 locations across the U.S. One Medical is on a mission to transform health care for all through a human-centered, technology-powered approach to caring for people at every stage of life.
Any general advice posted on our blog, website, or app is for informational purposes only and is not intended to replace or substitute for any medical or other advice. 1Life Healthcare, Inc. and the One Medical entities make no representations or warranties and expressly disclaim any and all liability concerning any treatment, action by, or effect on any person following the general information offered or provided within or through the blog, website, or app. If you have specific concerns or a situation arises in which you require medical advice, you should consult with an appropriately trained and qualified medical services provider.