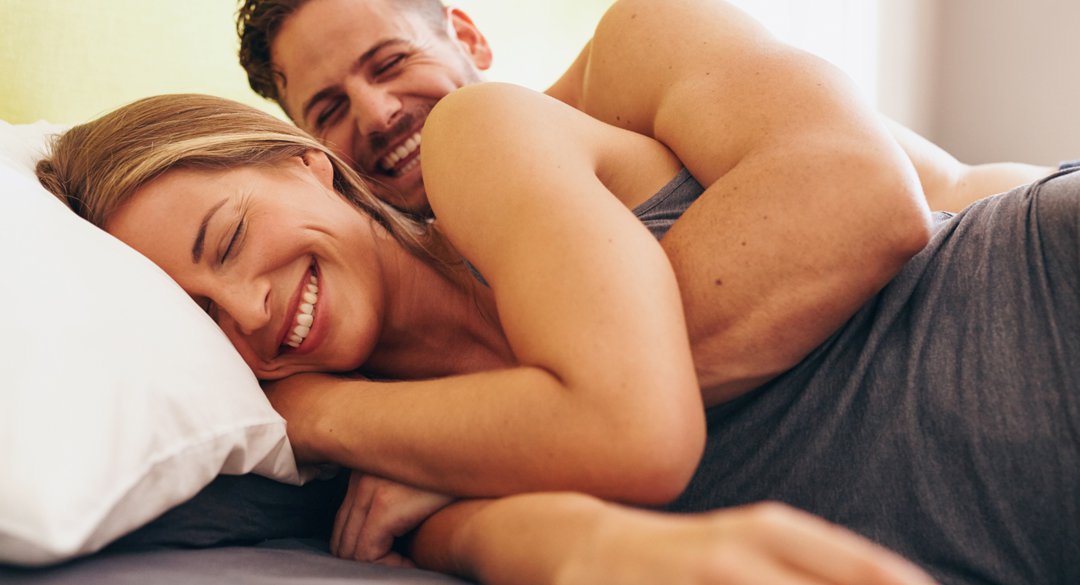 Some topics are easy to bring up at the doctor's office. Others you'd rather discuss over cocktails than in a clinic. If you're more of a Charlotte, less of a Samantha, then talking about your sex life can be uncomfortable. Especially if you're trying to gauge whether yours is, well, normal.
It's almost impossible not to wonder how much of a normal, healthy activity really is "normal" and "healthy," especially since it's common to encounter lots of conflicting messages on sex from friends and the media.
And frankly, science hasn't helped either. A 2015 study indicates that once-weekly sex sessions are the most satisfying, but other research suggests otherwise. For example, one 2004 study found that more sex was associated with higher rates of happiness. But a study published last year found the opposite: increased frequency actually decreased the desire for and enjoyment of sex, and didn't lead to more happiness at all.
So how is a guy or girl to know how much sex is the "right" amount? Demure readers, take heart; we asked the experts so you don't have to.
Normal is…
"When it comes to sex, there is no normal!" says Victoria Albina, a nurse practitioner in Washington, DC.
Surprise!
There are tons of factors that can contribute to how much sex you want or don't want, so there's no definitive answer for what a "normal" or "healthy" amount is.
Carol Queen, staff sexologist at famed San Francisco-based sex toys and book emporium, Good Vibrations, says sex frequency varies widely. "Some people are content with very little sex and others want it every day," says the author of The Sex & Pleasure Book. "And research suggests newly involved couples often have the highest incidence of partner sex, frequency-wise."
Frequency tends to drop off somewhat over time, Queen says. So if you've been worried that your long-term relationship is losing its mojo, relax; "normal" doesn't necessarily mean retaining the same kind of heat you had during the honeymoon phase.
Natasha Bhuyan, a doctor in Phoenix, says the quality of the interaction matters more than frequency. "The most important factor related to sexual activity is open and honest communication among partners," she says.
Define what's normal for you
Rather than focusing on what friends, magazines, or even experts say is the right amount of sex, pay attention to what feels right to you.
"It might be better to ask 'how much sex is normal for me?'" Queen says. "That points to factors like how much sex you want, whether you have a partner and what your relationship is like, what your habits are regarding initiation and communication and, indeed, whether you are having good and satisfying sex."
Libido varies from person to person. "Some folks are asexual or anorgasmic, and some folks like to have sex daily or multiple times a day," Albina says.
Asexuality means that a person simply doesn't experience sexual attraction. This doesn't mean they don't desire love or an emotional connection; it just means sex itself doesn't interest them. Anorgasmia is a medical term for regular difficulty achieving orgasm. This condition affects more people than you might think: one study found it affected one in five women. Your "normal" is as individual as you are.
The healthy side of sex
It's not surprising that something so essential to creating life comes with plenty of health perks. Research suggests that sex has been linked to stronger immunity, lower risk for cardiovascular disease, reduced risk of prostate cancer, and decreased stress.
Alisa Vitti, a holistic health counselor and founder of FLOLiving, an online women's health center, says sex serves many purposes. "Aside from thinking of it as a pleasurable activity, people should be thinking of sex as a therapeutic tool," she says. "Whether it's to manage stress, maintain immunity, regulate hormones, or make a baby, sex can be used therapeutically. It's a powerful act."
But according to the experts we interviewed, you don't have to miss out on these health benefits just because you're single.
Remember, sex doesn't always have to involve two people. "Not everybody is coupled up and not all couples have synced up sex drives, so it's important for us to broaden our definition of 'normal sex' to include self-pleasuring," Vitti says. "I recommend women self-pleasure at least once a week."
Is there such a thing as too much?
If you're a fan of the iconic radio show, Loveline, or you're familiar with Drew Pinsky's VH1 show, Sex Rehab with Dr. Drew, then you've probably heard the term "sex addiction." But if a "normal" amount of sex is different for everyone, how do you know what's abnormal?
"Addiction is when someone keeps engaging in a particular type of behavior, regardless of the consequences," Bhuyan says. "For people who have hypersexual disorder, they may engage in criminal or dangerous sexual behavior, yet feel like they are unable to stop. They may put their finances, relationships and jobs at risk."
But is there a way to assess whether you're dealing with an addiction or if you just really, really enjoy sex? And what distinguishes the average sex enthusiast from celebrities like Tiger Woods, Russell Brand, and David Duchovny who have made headlines for their self-described addictions? "Like with screening for any other addiction, I always ask, 'Is the amount of sex you are having or want to have getting in the way of your life, work, or happiness?,' " Albina says. "Are you prioritizing sex or masturbation over other social interactions?"
Bhuyan says talking to a mental health counselor can help you decide if sex becoming a problem. So outside of the extreme of addiction, the entire spectrum of sex frequency is pretty much fair game. Just be sure to stay safe!
The One Medical blog is published by One Medical, a national, modern primary care practice pairing 24/7 virtual care services with inviting and convenient in-person care at over 100 locations across the U.S. One Medical is on a mission to transform health care for all through a human-centered, technology-powered approach to caring for people at every stage of life.
Any general advice posted on our blog, website, or app is for informational purposes only and is not intended to replace or substitute for any medical or other advice. 1Life Healthcare, Inc. and the One Medical entities make no representations or warranties and expressly disclaim any and all liability concerning any treatment, action by, or effect on any person following the general information offered or provided within or through the blog, website, or app. If you have specific concerns or a situation arises in which you require medical advice, you should consult with an appropriately trained and qualified medical services provider.