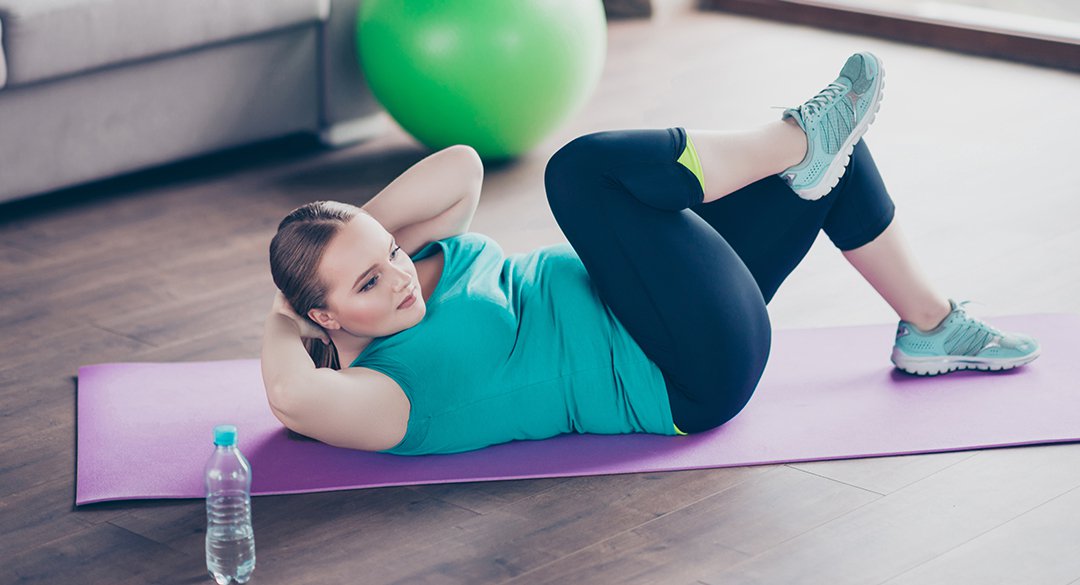 Updated November 20, 2018.
You've heard it a million times: exercise is good for you. Maybe your doctor has hammered that fact into your head or your friends and family have nagged you to be more active. Those gentle reminders to get up and get active are for good reason: exercise is a major part of staying healthy at any age. There are plenty of way to stay in great shape with just a few key moves…right in your living room.
How Anyone Can Exercise at Home
"The key is to get on a routine exercise schedule regardless if it's at home or at the gym," says my San Francisco colleague Brian Secemsky, MD. "In fact, even exercising 15 minutes a day has been demonstrated to benefit the heart and increase life expectancy compared to living a sedentary lifestyle."
Fifteen minutes may not sound like enough time, but many studies have demonstrated the benefit of a quick workout. According to a large Taiwanese study involving more than 400,000 participants, just 15 minutes of moderate-intensity exercise (e.g. brisk walking or bicycling under 10 mph) daily reduced the risk of death from all cause. This group also extended their estimated life expectancy by three years compared with their peers who didn't exercise at all.
Even though the Centers for Disease Control and Prevention (CDC) guidelines advocate 150 minutes of moderate-intensity aerobic activity a week for adults, the number shouldn't be intimidating; research shows that minutes of exercise don't have to be consecutive to count. In fact, accumulating small bouts of physical activity can be especially beneficial for older adults.
The benefits of regular physical activity are well established and you can argue that these benefits are even more important for older individuals. Exercise can improve coordination, balance, muscle and joint flexibility, bone health, strength and endurance, and possibly even cognition.
In fact, a French study of more than 1,000 elderly participants found that low levels of exercise–below the public health recommendations–had a health-protective effect, and that again just 15 minutes of daily activity had benefits.
Working Exercise Into Your Everyday Routine
It's easier to sneak in physical activity than you think. And don't worry about investing in fancy equipment–fitness can come free of charge. The easiest exercises that can be done at home are exercises that use body weight, or gravity, as resistance, and for anyone at risk for falls, most exercises have chair or couch-based modifications.
And you definitely don't need a home gym either: you can exercise while watching TV, listening to a podcast or radio, or reading a book. You can even try making it fun by making a small competition of it, trying to do a couple extra reps during the next commercial break. Or even better, do the exercises with a partner or friend. The key is to enjoy your activities, that way you will have the highest success of incorporating these movements into your regular routine.
Here are some easy ways to start incorporating exercise into your day:
Do a few exercises during commercial breaks in your favorite TV shows.
Set reminders in your phone or leave sticky notes around the house to remind you to get up and move every hour.
Stay accountable by telling a friend or loved one to check in on your fitness routine regularly.
Set goals around performance to motivate yourself to stay committed.
Substitute everyday objects for expensive equipment;  if you don't have hand weights, swap in soup cans or other household items.
5 Quick + Effective Fitness Moves to Try Now
Ready to get started? Focusing your new fitness routine on your core will whip you into shape fast. The 'core' consists of not just the abdominal area–it also includes the lower back, the butt, and the thigh muscles. Having a strong, stable core improves your balance and reduces the chance of back, hip and knee pain while making everyday tasks easier.
The key to getting the most out of our favorite core moves below is squeezing the abs, buttocks, quadriceps, and hamstrings as hard as you can during every rep. You'll stay more stable and be in the right position.
If you spend just three minutes on each exercise below, you'll have an effective 15-minute workout:
1. Planks
Lie on the ground on your front, then get off the ground onto your elbows with your back and legs in a straight line. Start with a count of ten and work your way up as you can and repeat as many times as you can. These first two exercises involve using a static isometric hold. This simply means trying to stay in one stable position.
2. Bridges
Start on your back with your legs bent. Then raise your hips by squeezing your buttocks. At the top of the hold the back and thighs should be in a straight line. Lower with control and repeat as many times as you can.
3. Step-ups/Step-downs
Step up and down on a step or short step stool in a slow controlled motion. Keep your spine in a straight, vertical position for the entire movement.
4. Sit-ups
Start by lying on the ground on your back with your legs bent. Then sit up to a vertical position. Arm position can be varied to make the sit up harder. The arms can be swung to aid the sit up. Start with sets of five or ten and work your way up to three to five sets or as many times as you can.
5. Single-leg stand
Simply balance on one leg with a straight, vertical spine without wobbling for 10 seconds and work your way up to 30. It sounds easy, but for many it can be challenging. It's harder than it looks! Consider standing next to a table or chair in case you lose your balance and need to grab onto something.
If you need to be in a chair/on the couch:

Leg lifts and holds – raise one leg, squeezing the thigh muscles, hold for 10 seconds, and slowly lower down. Repeat as many times as you can.
Side-lying leg lift – similar to leg raises except laying on your side. Repeat as many times as you can on each side.
Incorporating these exercises into your life can make a significant difference in your overall health and you don't necessarily need to invest tons of time. As David Bowden, my San Francisco sports medicine counterpart, says "It isn't easy to make our fitness a top priority all the time–having a home exercise routine will help you seize that opportunity." Happy exercising!
The One Medical blog is published by One Medical, a national, modern primary care practice pairing 24/7 virtual care services with inviting and convenient in-person care at over 100 locations across the U.S. One Medical is on a mission to transform health care for all through a human-centered, technology-powered approach to caring for people at every stage of life.
Any general advice posted on our blog, website, or app is for informational purposes only and is not intended to replace or substitute for any medical or other advice. 1Life Healthcare, Inc. and the One Medical entities make no representations or warranties and expressly disclaim any and all liability concerning any treatment, action by, or effect on any person following the general information offered or provided within or through the blog, website, or app. If you have specific concerns or a situation arises in which you require medical advice, you should consult with an appropriately trained and qualified medical services provider.