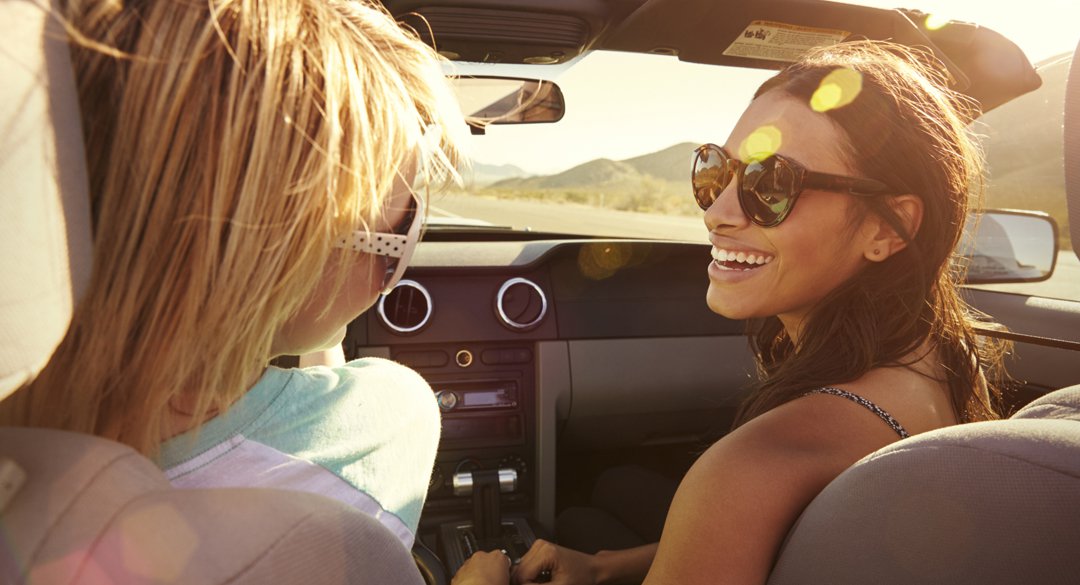 Summer is the perfect time to pack up the family, grab some friends, or head out on the open road solo for a long drive. But whether you're going cross-country or visiting local attractions, you'll want to be prepared. Shilpi Agarwal, MD, completed her medical residency in Los Angeles and managed to survive years of the city's notorious traffic scene. Follow her top tips for staying healthy in your car the next time you hit the road:
1. Wear sunscreen.
The summer sun can be brutal, even when you're spending all your time inside your car. You're more likely to get sunburned on your left cheek and arms while driving, so apply sunscreen daily, paying extra attention to those areas.
2. Don't text and drive.
It's tempting to check your phone or send text updates while you're traveling, but it's really not safe. According to the U.S. government, 300,000 people were injured and more than 3,000 died in 2014 in crashes caused by distracted driving. Please pull over if you need to send a text, and the same goes for eating, putting on makeup or taking a selfie.
3. Pack snacks.
Having healthy snacks on hand is a good idea. Foods like edamame, popcorn, trail mix, and grapes can be a good option and easy to travel with. The heat of the car can sometimes cause spoilage, so be sure to bring your snacks with you when you reach your destination. If you have to store your snacks in the car, dry foods like pretzels and crackers tend to have more staying power.
4. Keep a bottle of H2O handy.
5. Always use the bathroom before you leave.
6. Stay cool.
Temperatures can skyrocket during the summer, so always roll down your windows upon entering the car to let any hot air out.
7. Work those abs.
Use your car time wisely! Ab exercises that isolate the core muscles can easily be done while driving. Contracting your abs for one to two seconds in rounds of six or eight can help get your core in check and cut down some of your gym time later.
8. Don't forget your kegels.
Kegel exercises help strengthen the pelvic floor muscles. All you have to do is contract the pelvis as if you are holding in your urine. Doing these for just one to two minutes during your car ride can be really helpful.
9. Pack a first aid kit.
In case you ever get stuck in the car, keep a first aid kit on hand that contains Band-Aids, hard candies, a water bottle, gauze and alcohol pads. Always be sure to pull over if you're not feeling well.
10. Take a break when you're sleepy.
With so many of us living in a constant state of sleep deprivation, you may be tempted to push on through to your destination when you start feeling drowsy. But it can be hard to tell when you're about to nod off, which can lead to a serious or fatal accident. When you start yawning a lot and your eyes feel heavy, let your partner take the wheel or find a safe place to rest for the night.
The One Medical blog is published by One Medical, a national, modern primary care practice pairing 24/7 virtual care services with inviting and convenient in-person care at over 100 locations across the U.S. One Medical is on a mission to transform health care for all through a human-centered, technology-powered approach to caring for people at every stage of life.
Any general advice posted on our blog, website, or app is for informational purposes only and is not intended to replace or substitute for any medical or other advice. 1Life Healthcare, Inc. and the One Medical entities make no representations or warranties and expressly disclaim any and all liability concerning any treatment, action by, or effect on any person following the general information offered or provided within or through the blog, website, or app. If you have specific concerns or a situation arises in which you require medical advice, you should consult with an appropriately trained and qualified medical services provider.