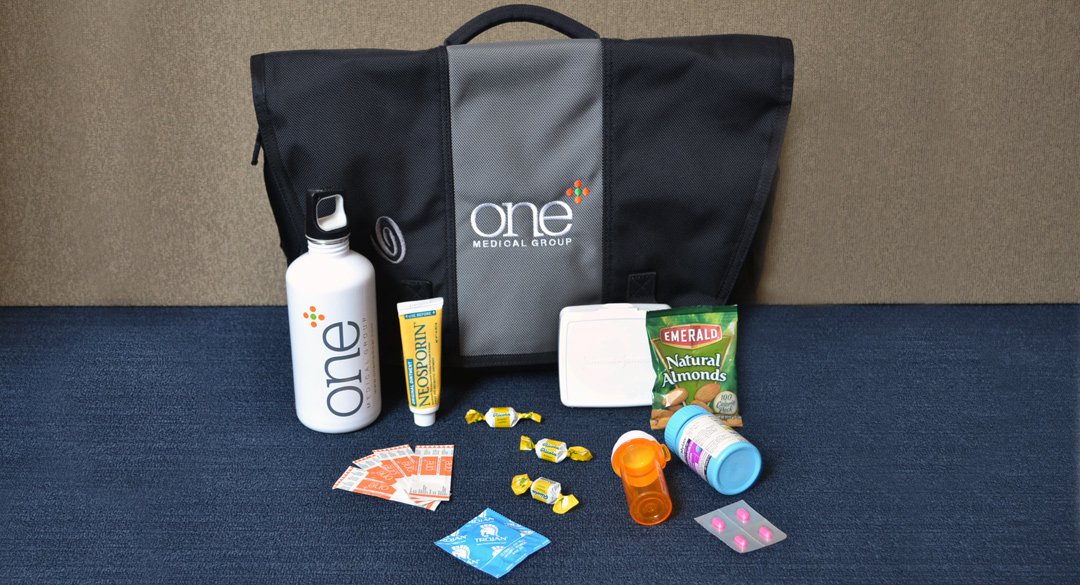 It's hard enough to stay healthy at the office — staying healthy on a business trip is a whole other story. Between red-eyes, marathon meetings, and the siren song of room service, good intentions can easily be derailed on the road. But it's simple to keep your diet and exercise regimen in check while traveling; all it takes is some preparation. Here's our must-pack travel checklist.
Healthy Snacks
From airport temptations to late-night business dinners, it's easy to fall off the healthy eating wagon. Keep cravings at bay by packing snacks that include a balance of healthy fats, carbohydrates, and protein. Nutritionist Samantha Treyve, MS, RD, likes these nutritious, portable, packaged snacks:
Prescriptions
Be sure to pack any prescription medications you use, along with copies of your prescription in case you need a last-minute refill. If you're a One Medical member, you can request refills via our app. If you're traveling to a different time zone and are currently on a medication that must be taken at the same time every day (like birth control), make sure you keep the timing consistent; either adhere to your local time zone or adjust the timing of your dose by an hour each day leading up to your trip so you're in sync with the new time zone by the day of your arrival. If you have any questions about how to adjust the timing of your medication, contact your provider.
Over-the-Counter Medications
The Centers for Disease Control and Prevention (CDC) offers a comprehensive list of over-the-counter medicines to pack in your suitcase. Here are the essentials:
An antihistamine and/or decongestant for allergies
Acetaminophen (Tylenol) or aspirin to treat minor aches and pains and relieve fever
Cough drops for a sore throat or to soothe a dry mouth on the plane
An antifungal and/or antibacterial ointment for minor injuries
Health Insurance Card
Be sure to keep your card in your wallet for any unexpected doctor's visits or prescription refills.
First-Aid Kit
It's better to be safe than sorry. Keep a mini first-aid kit in your luggage with:
Band-Aids
Gauze
Antiseptic cream
Earplugs and Eye Mask
Sleeping on an airplane can be tough due to cramped conditions and occasional turbulence. Make relaxation a little easier with the help of an eye mask to block out light and earplugs to drown out noisy neighbors.
Lightweight Running Shoes
You don't need a gym membership to fit in a good workout on the road. Just lace up your running shoes and get out the door. One Medical's Arnold Lee, MD, recommends Brooks Puregrits for trail running and Mizuno Wave Creations for hitting the pavement. No room in your suitcase? Wear your sneakers on the plane for a no-excuse workout solution.
Resistance Bands
Even if you can't leave your hotel room for a workout, you can still fit in some strength training. Choose a set with varying lengths to challenge different muscle groups, and an attachable strap for fast and easy clean up when you're ready to check out.
Yoga Mat
Long flights and back-to-back meetings can leave your spine in knots. Stretch it out on a foldable yoga mat that packs neatly into your carry-on.
Refillable Water Bottle
It's easy to get dehydrated during flights, but it's also important to drink up when your feet are firmly planted on the ground. Invest in a refillable bottle that you can carry around at all times; you can even purchase collapsible bottles that fold easily into your suitcase.
Condoms
If you're single and sexually active, it's a good idea to keep condoms in your carry-on. Consistent and correct use of latex condoms reduces the risk of HIV and other STDs and conditions like HPV, genital herpes, and syphilis.
The One Medical blog is published by One Medical, a national, modern primary care practice pairing 24/7 virtual care services with inviting and convenient in-person care at over 100 locations across the U.S. One Medical is on a mission to transform health care for all through a human-centered, technology-powered approach to caring for people at every stage of life.
Any general advice posted on our blog, website, or app is for informational purposes only and is not intended to replace or substitute for any medical or other advice. 1Life Healthcare, Inc. and the One Medical entities make no representations or warranties and expressly disclaim any and all liability concerning any treatment, action by, or effect on any person following the general information offered or provided within or through the blog, website, or app. If you have specific concerns or a situation arises in which you require medical advice, you should consult with an appropriately trained and qualified medical services provider.