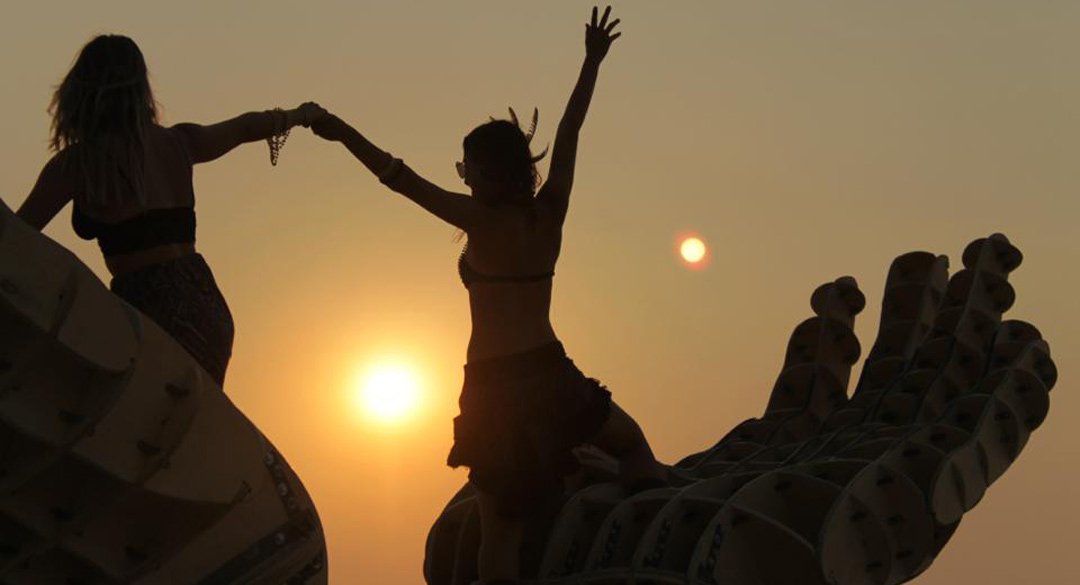 Next month, nearly 70,000 people from around the world will converge in Nevada's Black Rock Desert for Burning Man, a weeklong event dedicated to community, art, self-expression, and self-reliance. Over the course of a few days, the empty desert (or "playa") will be transformed into a temporary metropolis called Black Rock City, filled with wondrous camps, incredible art, round-the-clock music and more.
But as fun as this may sound, spending a week in this desert environment "is not for the faint of heart," says the official Burning Man site. Daytime temperatures frequently exceed 100 degrees. Blinding dust storms are a daily occurrence. The desert sand is highly alkaline and sticks to everything. And of course, getting a good night's sleep is the last thing on anyone's mind.
So how do Burners stay healthy on the playa?
Here are 10 health tips from Michelle Rhee, a One Medical physician and Burning Man veteran.
1. Plan for at least one gallon of water per day.
You'll be walking, biking, and dancing in desert conditions during the day and night, so Rhee suggests you "double or even triple the amount of water you'd normally drink at home—at least one gallon per day."
To make sure you've got water on you at all times, Rhee recommends a CamelBak. "I love my CamelBak. It is always on my back and much more difficult to lose than a water bottle," says Rhee. "My CamelBak Mule holds 3 liters, and I go back to camp at least one to two times to replenish."
You should also watch carefully for signs of dehydration, including feeling dizzy, weak, or hyperthermic, decreased urination, and increased heart rate. "You are in the danger zone if you stop urinating and have really weak pulses," cautions Rhee. "If this happens, go immediately to the medical units to get IV fluids. This is the quickest way to hydrate." On the way over, she recommends that you start drinking coconut water or something that has sugar and salt in it to help keep the fluids in your blood vessels.
2. Bring a spray bottle to mist yourself.
When it comes to sun and heat protection, Rhee also suggests that you bring a spray bottle with a fan or a mister. "Spraying yourself with cool water with a fan will actually cool you down quicker than dousing yourself with a bucket of water," says Rhee.
Also watch carefully for heat-related distress — if people start acting delirious, they stop sweating or are unconscious, seek immediate help.
3. Pack a basic first aid kit.
While the medical clinics at Burning Man are well stocked with things you might need (Rhee even had a friend get an EKG onsite!), she recommends you that you bring:
Band aids of all sizes (and antibiotic ointment like Neosporin)
Sports or paper tape with non-adherent pads for larger cuts and wounds
Moleskin for blisters
An ace bandage for sprains
Tylenol/ibuprofen or pain killer of your choice
Sudafed/Benadryl for congestion
Emergen-C packets for hangovers
Tryptophan 500 to 2000 mg or Melatonin 5 mg to help you sleep
Inhalers if you are asthmatic or prone to asthma-like reactions
Saline drops for your eyes
Saline nasal spray for your nose
4. Anticipate UTIs and yeast infections.
Given the very dry and often less-than-hygienic conditions, women may be more prone to urinary tract infections (UTIs) and yeast infections on the playa (in fact, One Medical often sees a spike in UTIs immediately following the event). To prevent lady troubles, Rhee recommends the following:
Drink plenty of water
Minimize bladder irritants like alcohol, caffeine, and other stimulants
Consider a daily, female-specific probiotic (like Fem Dophilus) and a cranberry tablet
Use protection and urinate after having sex
Always wipe from front to back
Wear loose, breathable materials like cotton
"Just in case, you could bring some over-the-counter remedies like clotrimazole cream (for yeast infections) and Azo (for dysuria, or pain with urination)," says Rhee.
Last but not least, follow the Burning Man principal of radical self-reliance by taking responsibility for your personal health and safety: If you do develop concerning vaginal or bladder symptoms on the playa — especially serious symptoms like fever, nausea, vomiting, abnormal vaginal discharge, blood in your urine, or back pain — visit one of the medical clinics, says Rhee.
And don't forget that when you get home, you can use the One Medical mobile app to treat most UTIs and yeast infections without an appointment.
5. Prepare for dust storms.
Dust storms are a fact of life in the desert, so most people wear goggles and some sort of scarf or bandana to protect their face and nose. If the dust gets to be too much, Rhee recommends flushing your nose/sinuses with a Neti pot and irrigating your eyes with cool water followed by saline drops.
Dust storms can also be disorienting. Rhee suggests bringing a compass to help you know which direction you're facing… and also keeping a close eye out for vehicles that might not be able to see you. "Accidents are the thing I am most concerned about when it comes to dust storms," says Rhee. "People still operate their bikes and art cars in the dust storms and can come at you when you least expect it, so be extra vigilant when you're walking around in a storm."
6. Avoid "Playa Foot" by keeping feet clean and moisturized.
"Playa foot" is a condition caused by the alkali dust that makes up the desert — essentially, it's a chemical burn on your feet.
To prevent it, Rhee recommends keeping your feet covered out on the playa, washing your feet well every day, and applying moisturizer before getting in bed and before heading out. If you do notice irritation, soak your feet in water and wash your feet extra well, being careful to remove any dust embedded in the cracks of your skin.
According to the Burning Man prep guide, soaking your feet in water with a small amount of vinegar can also help to neutralize the alkali (1/4 vinegar and 3/4 water is a good mix). When you're done, make sure to dry your feet very well and check for any errant playa dust. Continue to wash your feet a couple times a day to allow them to heal.
If you see any signs of infection (redness, swelling, increasing pain, red streaks running up your legs), if you develop a fever, or if your feet become so sore that you are no longer able to walk on them, seek immediate medical attention.
7. Don't wait for blisters to happen.
Walking, biking, and dancing can also take a toll on your feet. To prevent blisters, Rhee urges people to "wear shoes that you can wear all day. And just don't buy a pair of shoes that you have never walked around in before you get there. You need to know they are comfortable."
If you do get a blister on a weight-bearing location, Rhee suggests moleskin cut out in a donut to fit around the blister.
8. Eat hydrating, nutrient-rich foods.
To keep your energy up and your immune system strong, eat meals that include a protein, a complex carb, and healthy fat.
"A common dish I like to make is quinoa, chick peas, green onions, spinach, walnuts, dried cranberries, and feta with a honey, grainy mustard and red wine vinegar dressing," says Rhee.
Rhee also recommends bringing lots of "simple things you can just pull out and eat," such as Odwallas, cut-up fruit, raw energy bars such as Kind bars, or a smoothie that has proteins, greens, and immune boosters. "I also like to bring something warm for the evening when it gets cold, such as soup with some spice," adds Rhee.
9. Party smart.
While overindulging in alcohol and taking drugs isn't something Rhee condones, she does acknowledge that "lots of people party on the playa."
To avoid trouble, Rhee recommends the following:
Eat something that is nourishing and lines your belly before you go out.
For every unit of alcohol, drink 8 ounces of water. In fact, Rhee suggest you "double fist" your drinks — water in one hand and the drink in the other.
Before you go to sleep, drink a good amount of water with electrolytes and take some ibuprofen.
Always have a buddy — someone who knows you and can help if you've had one too many.
Never mix alcohol with drugs (or mix drugs).
Talk to your provider about possible drug interactions. When combined with certain recreational drugs, some prescription medications — particularly those for mental health conditions — can have adverse effects.
10. Know how to get emergency help.
"If you're suffering from serious dehydration, if you think you might have an infection, or if someone is bleeding or unconscious (or in danger of harming themselves or others), it's time to stop the party and get professional help," says Rhee.
Black Rock City's Emergency Services Department (ESD) operates two medical stations on the 3:00 and 9:00 plazas, and behind the Center Cafe at 6:00. Look for the neon blue cross on top of the buildings. These stations are staffed by emergency health care providers (doctors, nurses, medics, etc.) who donate their time and medical expertise; they're also set up to provide rapid first-response medical care anywhere within Black Rock City.
If you're not close to one of these stations, look for a paramedic wearing a yellow T-shirt with the ESD logo — they can be found walking around some of the more popular sites. You can also get help from the khaki-clad Black Rock Rangers, who are trained to respond to emergencies and will know how to get the appropriate resources to the scene.
Be well, be safe, and see you on the playa!
Photo by Mike Simonsen
The One Medical blog is published by One Medical, a national, modern primary care practice pairing 24/7 virtual care services with inviting and convenient in-person care at over 100 locations across the U.S. One Medical is on a mission to transform health care for all through a human-centered, technology-powered approach to caring for people at every stage of life.
Any general advice posted on our blog, website, or app is for informational purposes only and is not intended to replace or substitute for any medical or other advice. 1Life Healthcare, Inc. and the One Medical entities make no representations or warranties and expressly disclaim any and all liability concerning any treatment, action by, or effect on any person following the general information offered or provided within or through the blog, website, or app. If you have specific concerns or a situation arises in which you require medical advice, you should consult with an appropriately trained and qualified medical services provider.