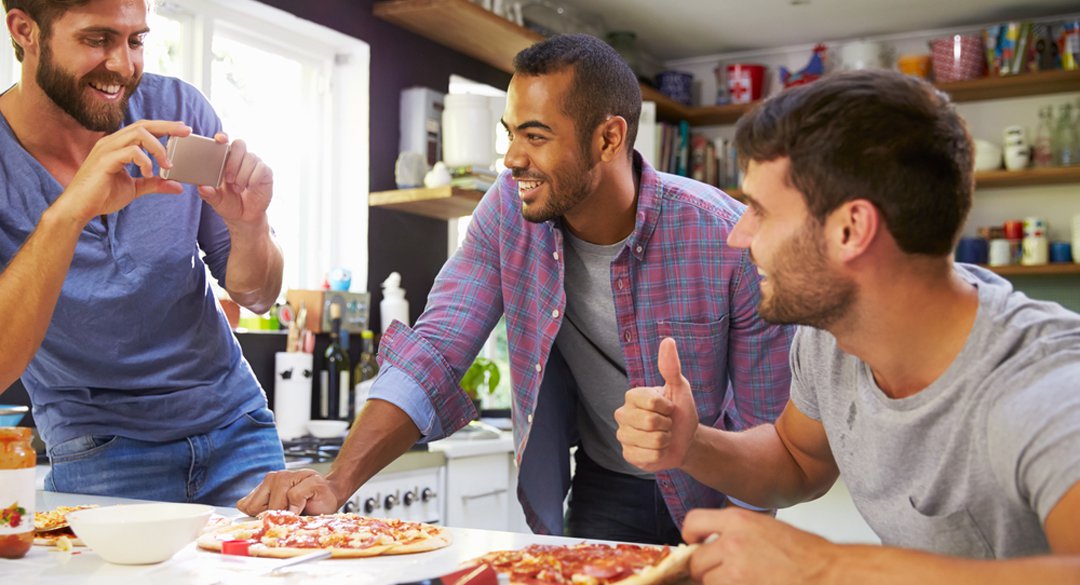 If you spent Valentine's Day looking lovingly into your partner's eyes, good for you!
If you spent it watching your relationship crumble, you probably have "Unbreak My Heart" on repeat and Domino's on speed dial.
And you're definitely in good company. According to Mashable, Facebook status updates indicate that Valentine's Day is one of the year's biggest breakup days. And if you've ever been the dumper or dumpee, you know that breaking up can be as painful as a root canal and as emotional as a Titanic/The Notebook double feature.
That post-breakup pain is real: in fact, a 2010 study found that showing participants pictures of their exes activated parts of their brains that register physical pain.
Breakups suck and it's normal to feel bad for a while. But if you're truly unable to pick yourself up after a reasonable amount of time, you may want to consider seeking help. "As with many challenging life circumstances, you may find yourself not sleeping, eating, or adapting after a breakup, on what you or friends and family feel is a normal course of recovery," says Zach Ortiz, a One Medical MD in Phoenix. "Please see your provider if you are having these symptoms beyond two weeks or are having signs of more complicated grief, such as harming yourself or others."
Breaking up really is hard to do, but thankfully there are healthy ways to cope with the unpleasant feelings in order to emerge a stronger person.
Here's what some of One Medical's providers recommend for heartbreak recovery:
1. Give yourself space to mourn…
Don't beat yourself up for feeling down in the dumps. Regardless of how long the relationship lasted, it was a significant part of your life and it's important to honor the fact that it's over.
"If you're on the receiving end of an unanticipated break up, you have experienced a sudden. unexpected loss," Ortiz says. "You should grieve this as you would the passing of a close friend or relative. Bereavement is a normal, healthy part of recovery and doesn't require suppressing your feelings with medications, stoicism, or pride. Allow yourself to be vulnerable, to confide in friends and family, and to draw on your short-term creature comforts–yes, ice cream and chocolate count."
Phew.
2. …Then dust yourself off and spread some love
Once you've spent an adequate amount of couch time with Netflix, Kleenex, Ben and Jerry, tune into the positive parts of the relationship. It may seem like focusing on the good things will just lead you back into your ex's arms, but it's an important way to move on.
"When you surface from your loss, celebrate the fact that you gave a piece of you to someone else," Ortiz says. "Reflect on the positive perspective you gained from being together and bring those fruits to bear with others who still love and appreciate you every day."
3. Cut off all contact (yes, that means Facebook)
Who hasn't ended a relationship and "accidentally" stumbled upon an ex's Facebook page once or twice or five times? But to truly heal, you'll need to purge the person from your life, at least for a while.
"The number one rule is to cut all ties with your ex, including on social media, until the emotions die down," says Kristen Scarlett, a mental health counselor in New York. "Keeping in touch, or checking what your ex is up to on Facebook will just prolong the mourning period."
Divya Dua, a Boston MD, agrees. "I'd be wary of social media," she says. "People get caught up in the posts, pictures, and likes. It is important to keep a healthy distance from the easily accessible connections we have today."
According to Greg Sauers, a Physician Assistant in San Francisco, you don't have to make any permanent decisions, but a temporary ban can make bouncing back easier. "It doesn't mean that you can't be close in the future, but during the breakup, it's healthy to have some space to process everything that's happening in your head and heart," he says.
So how do you avoid the temptation to click, text, or dial? Do something else. "This is when healthy distractions are key!" Scarlett says. "I recommend trying activities that you haven't had time for, like yoga or an art class. I highly recommend spending time with friends, but warn not to overdo the alcohol. This time should be used to focus on health and wellness."
4. Confide the right amount to the right people
Most Sex and the City episodes revolve around Carrie and the girls discussing, dissecting, and debating the details of their relationships. While this sort of obsessive chatter makes for great TV, it's not always healthy in real life.
"Spending time with family and friends can be a great way to focus on other important people in life," Dua says. "It's a good idea to include them in what you're going through and how you're feeling. But while speaking to others is helpful, excessive thoughts and rumination can be unproductive."
Rather than turning every brunch into a he-said-she-said, keep reading.
5. Keep the rest of your life on track
It's tempting to dive headfirst into a vat of ice cream post-breakup, but the best thing you can do is maintain business as usual. That means eating regular meals and sticking to a gym routine, even when all you want to do is wallow in your PJs. "When one facet of your life is off balance, it's that much more important to focus on stabilizing other dimensions of your well-being," says Brian Secemsky, a San Francisco MD. "That includes regular exercise, healthy eating, and spending meaningful time with family and friends."
We're all guilty of losing a bit of ourselves in relationships; now is the time to rediscover how much you have to offer.
"After a breakup, the reflex is to go straight to self-pity, self-blame, and negative thinking when you should really spend that time on self-love," says Alexis Atwater, an MD in Washington, DC. "Take this opportunity to build yourself up and focus on your goals."
6. Consider this your chance to start fresh
Didn't stick to your New Year's resolution (did anyone)? Then consider this an opportunity to wipe the slate clean.
"Use this as a chance for a new beginning," Sauers says. "Try something you've always wanted to do or learn so that you can create new memories and experiences."
You may even stumble upon something that turns out to be a therapeutic tool, and maybe even a way to meet potential friends or partners. "One of my patients always wanted to learn to ride a horse and his ex would always pooh-pooh that idea," Sauers recalls. "So after the breakup, he used the horseback riding as therapy. He now loves it and continues to ride horses and has a new partner who enjoys it too."
The One Medical blog is published by One Medical, a national, modern primary care practice pairing 24/7 virtual care services with inviting and convenient in-person care at over 100 locations across the U.S. One Medical is on a mission to transform health care for all through a human-centered, technology-powered approach to caring for people at every stage of life.
Any general advice posted on our blog, website, or app is for informational purposes only and is not intended to replace or substitute for any medical or other advice. 1Life Healthcare, Inc. and the One Medical entities make no representations or warranties and expressly disclaim any and all liability concerning any treatment, action by, or effect on any person following the general information offered or provided within or through the blog, website, or app. If you have specific concerns or a situation arises in which you require medical advice, you should consult with an appropriately trained and qualified medical services provider.